Creamy Sweet Corn Soup Recipe with Kefir
Our articles may contain affiliate links. For more information, view our policies.
Nothing tastes better than fresh, sweet corn kernels in summer. But for lactose-intolerant people like me, a sweet corn soup recipe made with cream or milk is out of the question. That's why this summer corn soup recipe is such a unique treat.
A healthy kefir soup with the essence of summer
When I discovered Green Valley Organics' lactose-free kefir, I saw a host of possible tangy, kefir-based soups in my future. The favorite of my experiments was this fresh corn soup. I liked it so much that I even added a version of this tasty soup to my aphrodisiac foods cookbook, Romancing the Stove.
You don't have to be lactose intolerant to appreciate this summer soup recipe. And you don't have to use lactose-free kefir to make this velvety soup with sweet corn. The combination of refreshingly tangy kefir with fresh summer corn and a pinch of savory coriander is a complex and totally unique soup recipe you'll want to make over and over every July and August.
Fresh corn soup ingredients
With less than 10 ingredients, this soup recipe is simple. Most of the ingredients are things you already have in your pantry, with the exception of the sweet summer corn, which must be bought fresh – straight from the farm is best, and the kefir.
To make this soup recipe, you need:
Avocado oil – You can use any neutral oil, such as grapeseed oil or canola oil. I just prefer avocado oil for the health benefits.
1 Small Onion – You can use a yellow onion or a sweet onion. I've tried it with both and both work.
Chicken stock – If you want to make a vegetarian soup, use vegetable stock instead.
2 Ears fresh, sweet corn
Cumin – Just a pinch!
Coriander powder
Salt – Even if you're watching your sodium, do not skip the salt. What you can do is use a reduced-sodium chicken stock, or make your own, to reduce the overall sodium content.
Kefir – See my notes below on this unique dairy product. Unfortunately, I don't have a substitute to make this soup vegan.
Fresh chives
Ingredients FAQ
Over the years, I've gotten a few questions about my corn soup ingredients. Here's everything you need to know to make a fantastic bowl of soup every time.
What is kefir?
If you don't eat many Eastern European foods, you might not be familiar with kefir. This recipe calls for what's known as milk kefir. But you should note that there's also a product called water kefir. Although it won't work in this recipe, water kefir is a nutritious drink. If you're interested in probiotic beverages, you should check it out.
Milk kefir, the thin, yogurt-like beverage you'll use for this soup recipe, is made by putting something called kefir grains into milk. (Note that kefir grains aren't actual grains at all but just the right combination of yeast and bacteria to cause the drink to ferment.)
Kefir is noted as having several health benefits. It is a good source of calcium, vitamins D and B12. This fermented drink is similar to yogurt in terms of benefits but has more probiotics than are found in yogurt.
Once fermented, kefir has a thick, pourable consistency similar to buttermilk. Tasted plain, it will probably remind you of an unflavored smoothie.
For making sweet corn soup, you'll use the milk kefir to finish the soup and add creaminess and weight to the texture. (Note that you do not add the kefir until the end.)
Can you use frozen corn?
This recipe calls for fresh, sweet corn kernels not just because peak-of-season corn has a delicious flavor like no other but because you will use the cobs to season the soup. Although you could make this soup with frozen corn kernels, I don't recommend it. Save this recipe for when corn is in season. Whatever you do, do not substitute with canned sweet corn. You will not get the desired flavor and texture.
How do you remove the corn from the cob?
For this recipe for sweet corn and kefir soup, you'll need to remove the fresh corn kernels from the cobs. This is actually very simple to do. The most popular method is to stand an ear of corn up in a shallow bowl and slice it downward with a sharp knife, turning the ear of corn as you go until all the kernels have been removed.
However, getting the corn off the bottom of the ear can be tricky if you're using a chef's knife. My preferred method is to take a heavy chef's knife and cut the ear in half crosswise, making two small ears.
Then you can use your chef's knife off the ears on a flat surface without having stray kernels bouncing away.
TRY NEXT: Grilled and Raw Corn Salad
Can you make this a vegetarian corn soup?
If you want to make it a veg sweet corn soup, simply use veggie broth instead of chicken stock. Unfortunately, you can't make this soup vegan because of the kefir. But if you want a vegan summer soup, try my peach gazpacho.
Serving suggestions
When I started experimenting with kefir soup recipes, I learned that the probiotic benefits of kefir are ruined if you boil it. So it is important that you remove the soup from the heat before you add in the kefir. That's why you don't return the soup to the heat after you blend it.
The soup will still be warm when you stir in the kefir. You can serve it this way, as a warm, not hot soup. Or you can chill it as a refreshing cold soup on a hot summer day. It's kind of like a corn gazpacho.
Whichever way you choose to serve it, this soup offers the "pop" of fresh kernels between your teeth combined with an energizing tang from the kefir and the earthy pull of coriander and cumin.
You can use it as an appetizer before a summer barbecue. Or serve the soup as a main course for two with a side of crusty bread.
I made the recipe for two, (one whole ear of corn per person) because I believe it's one that should be enjoyed with someone special, just the two of you – no distractions. It is a unique soup, one that truly showcases the sweetness and delicacy of corn just cut from the cob. And served in the right setting, it may even be a gateway to romance. Enjoy!
Love soup? Check out all of our soup recipes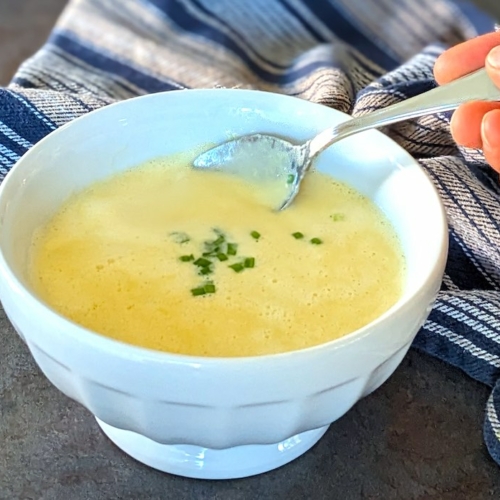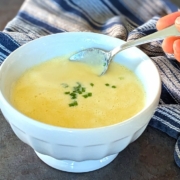 Creamy Sweet Corn Soup with Kefir
Print Recipe
This complexly flavored sweet corn soup combines the tangy flavor and creamy texture of kefir with the pop of fresh corn and savory goodness of coriander.
Ingredients
2

tsp

avocado oil

1

small onion

chopped

2

cup

chicken stock*

2

ears corn plus cobs

1/8

tsp

cumin

1/4

tsp

coriander

1/4

tsp

salt

3/4

cup

kefir

1

tsp

fresh chives

optional, finely chopped
Instructions
Cut corn from cob and reserve both corn and cobs.

Heat oil in a stock pot over medium-high heat. Saute onion for 2 minutes. Add chicken stock and bring to a boil. Turn heat down to simmer and add corn, cobs, cumin, coriander and salt. Simmer for 15 minutes.

Turn off heat. Remove 2 tbsp of corn from the pot and set aside. Remove cobs and pour the remaining soup into the blender. Blend until smooth.

Stir in kefir, reserved corn kernels and chives. Season with additional salt to taste.

Serve immediately with a side of warm, crusty bread or chill at least 2 hours for a cold soup.
Notes
* To make a vegetarian version, substitute with vegetable stock. 
A note on the provided nutrition information
The nutrition information provided has been estimated by an online nutrition calculator and is not a substitute for a professional nutritionist's advice.
Nutrition
Calories:
207
kcal
|
Carbohydrates:
19
g
|
Protein:
10
g
|
Fat:
11
g
|
Saturated Fat:
3
g
|
Polyunsaturated Fat:
1
g
|
Monounsaturated Fat:
5
g
|
Cholesterol:
18
mg
|
Sodium:
683
mg
|
Potassium:
341
mg
|
Fiber:
1
g
|
Sugar:
11
g
|
Vitamin A:
219
IU
|
Vitamin C:
5
mg
|
Calcium:
136
mg
|
Iron:
1
mg
Love this soup recipe? Get more of my unique, aphrodisiac recipes. Order your copy of Romancing the Stove from Amazon:

Latest posts by Amy Reiley
(see all)
Get on our mailing list
Subscribe and get our exclusive list of Six Great Sex-Boosting Snack Foods for FREE! Unsubscribe at any time - privacy policy