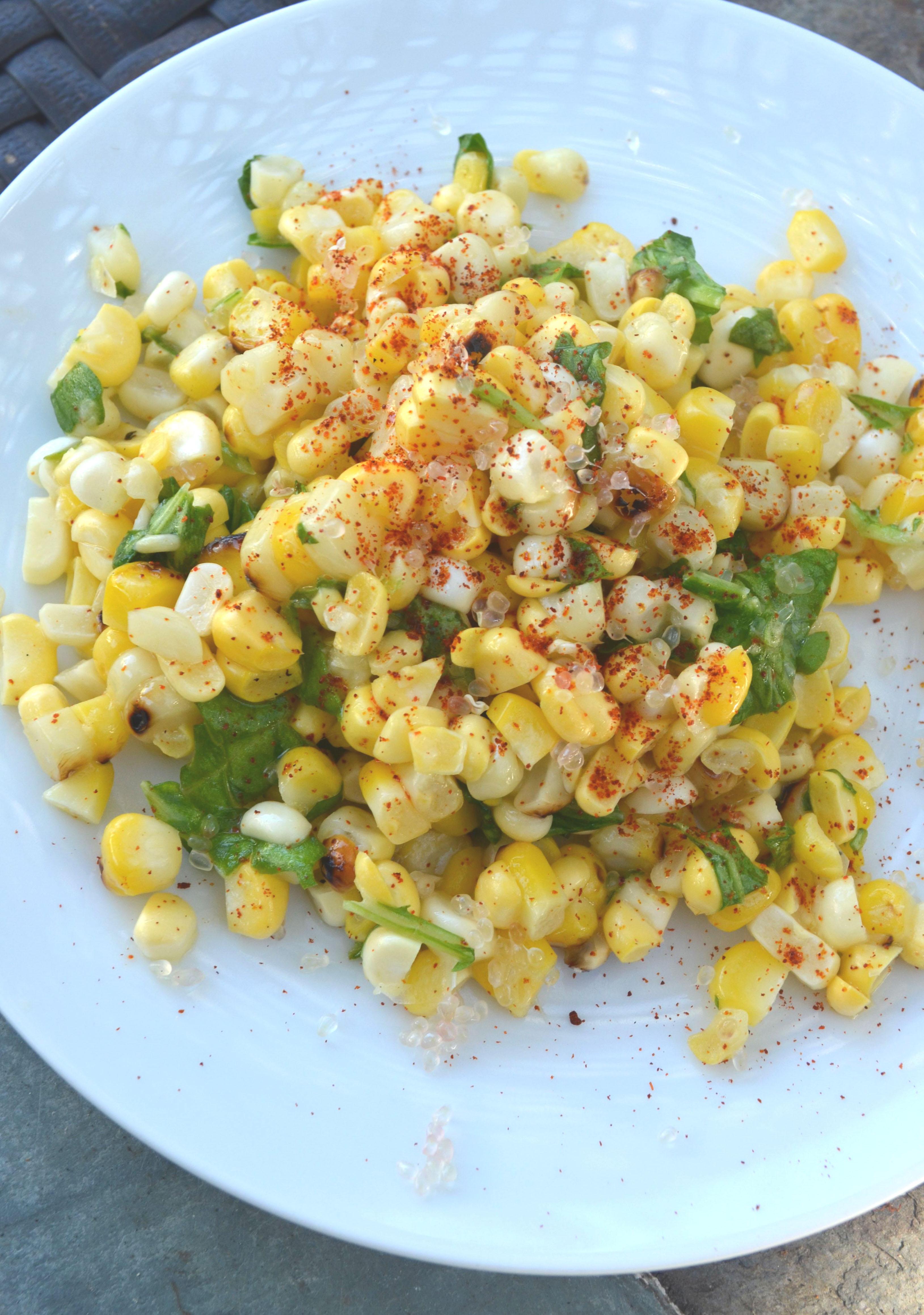 Grilled and Raw Corn Salad with Wild Arugula and Finger Lime
Our articles may contain affiliate links. For more information, view our policies.
This grilled and raw corn salad is a salad for the sensualist.
It is layered with textures from the softness and char of grilled corn to the sweet crunch of the raw, the slippery leaves of wild arugula and, best of all, the burst of tiny finger lime pearls.
This bright and zesty corn salad, layered with aphrodisiac ingredients, offers a sweet celebration of summer produce.
About eating raw corn
You may have never tried raw corn before. If you're asking yourself, "Wait. Can you eat raw corn?," you're not alone. It's a common question. But the answer is yes!
Peak-of-season, raw sweet corn has a delicate sweetness and an almost milky quality.
Just make sure that you get an ear that's ripe if you're going to serve raw corn. It should feel dense and firm in the husk if you squeeze. When you pull back the husk, make sure the corn is plump. If you find an ear that looks a little shriveled, don't use it for raw corn salad.
Of course, many people prefer the flavor of corn when its cooked. And there may actually be some benefit to cooking corn instead of eating it raw. According to Vegetarian Times, cooking boosts the antioxidant activity in corn.
Luckily, this recipe offers the advantages of both raw and cooked corn.
In fact, we love the combination of the raw corn with the grilled corn in this summer salad recipe. When the corn is served raw, the flavor is more sweet, although slightly green. And it has an unbeatable "pop" when it is chewed.
And of course, if you've ever tried grilled corn, you understand the treat of blending the sweetness of the kernels with the slightly bitter char from the grill.
TRY NEXT: Watermelon Skewers with Chile and Lime
What is a finger lime?
Finger lime is a type of citrus native to Australia. It's named after its shape, which resembles a small, slender finger.
It is the fruit of a thorny shrub. Although it is a citrus, it doesn't look much like an ordinary lime. Not only does it have an unusual shape but its skin comes in colors ranging from the purple of a bruise to deep, blackish-green.
In terms of flavor, this is one of the most remarkable fruits you'll ever try. Finger limes taste like lime but pop like caviar. (In fact, the nickname for finger lime is vegan caviar.)
How to eat finger limes
To release the citrus pearls from their skin, just cut your finger lime in half and squeeze gently from the bottom, so as not to crush any of the "caviar."
Finger lime just might make the ultimate garnish. These fresh, tiny pearls of citrus look like tiny glass beads and add a burst of acidity to any dish. They're also fat free and packed with nutrition. A single finger lime offers over 30% of your daily vitamin C intake.
Use finger limes in place of lemon on top of grilled fish or even smoked salmon. They're also sensational on top of oysters and if you like cocktails, just wait until you try them with gin. Of course, they also brighten the flavor of salads and are absolutely incredible with corn, which is why you must try this finger lime salad.
Is there a good substitute for finger lime?
According to Wikipedia, there's been a surge in the commercial production of finger limes since the 1990's. However, depending on where you live, you might find this exotic fruit hard to get.
If you can afford to have them shipped, I've found finger limes for sale on Amazon.com.
But if you can't find finger lime, you can substitute with lime zest. (Sorry, there simply is no other citrus that offers the same freshness and pop of texture of a finger lime.)
Any lime will do if you're looking for health benefits. All citrus makes our list of the Best Foods for Women.
And if you ever happen upon finger limes at the market, be sure to make this grilled and raw corn salad recipe!
RELATED: Love corn? Check out this recipe for Pasta with Sweet Corn & Carrot Greens
Grilled and Raw Corn Salad with Wild Arugula and Finger Lime
Print Recipe
This easy grilled and raw corn salad celebrates the best of end-of-summer ingredients with a variety of textures and unforgettable, bold flavor.
Ingredients
2

ears fresh, sweet corn

husked and washed

1

tbsp

unsalted butter

1

tsp

lime juice

1/4

tsp

salt

1/4

cup

wild arugula

coarsely chopped

1

finger lime

substitute with the zest of ½ lime

pinch

smoked paprika
Instructions
Over high heat, cook one ear of corn for 2 minutes on each of four sides.

Remove from heat and rest until cool enough to handle.

While corn is cooling, make a lime butter by melting the butter and adding the lime juice and salt.

Remove kernels from both the raw and grilled ears of corn and transfer to a mixing bowl.

Toss with the lime butter.

Just before serving, toss in the arugula then fold in half the finger lime pearls. If you don't have finger lime, you can fold in the zest from ½ lime for a similar flavor effect.

Top with a pinch of smoked paprika, (a little less than ¼ tsp) and the rest of the finger lime.
Pin this corn and finger lime salad recipe:
Latest posts by Amy Reiley
(see all)
Get on our mailing list
Subscribe and get our exclusive list of Six Great Sex-Boosting Snack Foods for FREE! Unsubscribe at any time - privacy policy