Caprese Salad with Cherry Tomatoes For Two
Our articles may contain affiliate links. For more information, view our policies.
This Caprese salad with cherry tomatoes recipe comes to us from Christina Barrueta. She is one of our favorite freelance food & beverage writers covering the Southwest. She is also the creator of the award-winning Arizona-based food blog WriteOnRubee.com.
She recently tried serving this salad recipe on a romantic picnic for two. The dish was such a success that she offered to share it with our readers.
The tomato salad recipe is a simple one. The key to making this tomato mozzarella salad a memorable dish is choosing high quality ingredients. Showcasing great ingredients is, in fact, what Caprese is supposed to be about.
What is a Caprese salad?
Caprese is a traditional Italian salad made with tomatoes and mozzarella cheese, along with a splash of green from fresh, sweet basil. (Variations of the salad, which involve pesto, arugula or, as is the case with this recipe, a variety of fresh herbs, are also considered acceptably authentic.)
The salad is named for the island of Capri, where it supposedly originated. According to Wikipedia, the salad's exact origins are unknown. However, a common story is that it was created to represent the Italian flag on a plate.
But any lover of Italian food will agree that this simple, summer salad is designed to to be built from the best, peak-of-season ingredients.
The secrets to a great Caprese
Use excellent tomatoes
The tomatoes for a Caprese must be flavorful. This salad should only be served when tomatoes are in season. They should be ripe but not overripe. A good, ripe tomato should feel like a dense water balloon, almost ready to burst. Note that for this Caprese recipe, you should use a variety of tomato shapes and sizes, including cherry tomatoes.
Do not serve a Caprese with cold tomatoes
Normally, tomatoes should be stored on the counter and never chilled. The only exception is if you have really ripe tomatoes, which may need refrigeration. If your tomatoes are refrigerated, make sure you take them out of the refrigerator at least one hour before making the salad. (Several hours is optimal.)
Use high-quality, fresh mozzarella
The quality of the cheese is of equal importance to the quality of the tomatoes when making a tomato and mozzarella salad. If you can find a cheese from a local dairy, choose this over one imported from Italy. The local cheese will generally be fresher than anything that's been shipped overseas. If you can't get a local mozzarella, consider buying water-packed, buffalo mozzarella. This is cheese made from Mediterranean buffalo milk and it tends to make a more creamy cheese than what you'll find from cow's milk mozzarella.
Use good olive oil
Olive oil is what gives this tomato salad balance. It should offer a faintly peppery, slickly textured counterpoint to the tomatoes sweetness and acidity. For this mozzarella and tomato salad recipe, use extra virgin olive oil. Extra virgin is unrefined, cold-pressed olive oil, which means it tends to have a more peppery, pronounced flavor than regular olive oil. You don't have to buy anything too fancy, though. Just find an extra virgin olive oil with a flavor you enjoy.
For this cherry tomato mozzarella salad, Christina recommends using a variety of summer's best, vibrantly colored, vine-ripened tomatoes, including cherry tomatoes. Then she adds fresh mozzarella and garden-fresh herbs to really make the flavors sing.
Why you should serve this summer salad on your next date night
You might be thinking this salad recipe sounds like a simple, summer appetizer or light, picnic dish. But why is this tomato mozzarella salad a recipe for two?
It isn't common knowledge today but the plump, juicy flesh of the tomato has a legendary history as an aphrodisiac. And it turns out, the nutrients in tomatoes really can boost sexual health and possibly libido.
Then sprinkling tomatoes with fresh herbs adds another layer of aphrodisiac ingredients. Fresh herbs like rosemary, basil and tarragon are also noted aphrodisiacs, which helps to make this the best tomato mozzarella salad for a romantic occasion.
Lastly, you might be surprised to learn that the ingredient at this Caprese salad recipe with cherry tomatoes base, the musky, creamy cheese, is also historically aphrodisiac – and for fascinating reasons.
Did you know that cheese keeps your mouth healthy by making you salivate? Cheese causes your mouth to water, which actually helps cut down on gum disease. But beyond healthy gums and a kissable mouth, cheese can replicate the scent of human pheromones and trigger your brain's attraction centers.
Of course, the way tomato benefits sexual health and cheese can turn on your sense of attraction goes on at a subconscious level.
But sitting down to share a dish with the aroma of summer, the burst of cherry tomatoes on your tongue, the sensual combination of creamy mozzarella and buttery olive oil, is what makes this dish sexy to me.
Check out my 5 favorite picnic recipes
Serving suggestions
Man (and woman) cannot exist on salad alone.
But this portable, picnic salad recipe has far more weight and heft than a bowl of greens. Served with a loaf of fresh-baked, crusty bread for a textural context and paired it with the right wine, perhaps a dry rosé, this summer tomatoes and mozzarella salad can stand alone as the main course of a summer meal.
RELATED: How to Choose a Picnic Wine for Your Next Romantic Picnic
But if you want to serve this ripe tomato salad as an appetizer, as it is often served in Italy, serve it before a light pasta dish. Or you can serve it before the main course of simple, grilled meat like this marinated bison steak recipe.
Caprese Salad with Cherry Tomatoes For Two
Print Recipe
Turn a simple salad into a catalyst for romance with this easy, summer recipe.
Ingredients
1/2

cup

extra-virgin olive oil

1

tsp

minced herbs

1

clove

minced garlic

2

tbsp

sherry or balsamic vinegar

3

lg

tomatoes

1

pint

of cherry tomatoes

1

large ball of fresh mozzarella

fresh herbs to garnish
Instructions
In a glass jar, combine olive oil, minced herbs, garlic, vinegar and a pinch of salt and pepper. Cap jar and shake to emulsify.

Core and slice larger tomatoes.

For smaller tomatoes, halve or cut into wedges and toss with a little vinaigrette.

Slice cheese into disks and layer with the large tomato slices on a platter.

Arrange the cherry tomatoes around the dish.

Sprinkle with sea salt, drizzle with vinaigrette, and shower with a garnish of fresh-cut herbs.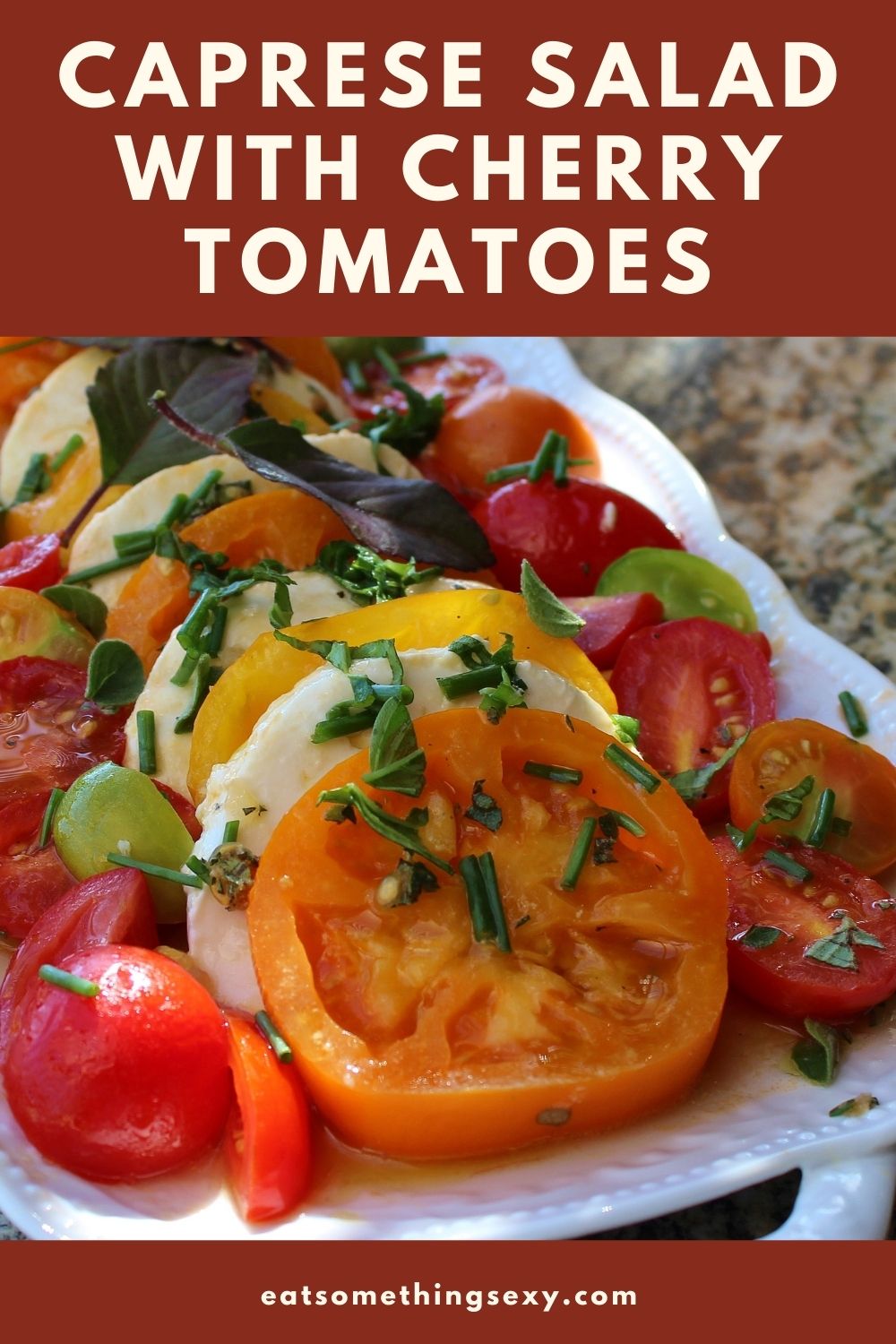 Latest posts by Amy Reiley
(see all)
Get on our mailing list
Subscribe and get our exclusive list of Six Great Sex-Boosting Snack Foods for FREE! Unsubscribe at any time - privacy policy