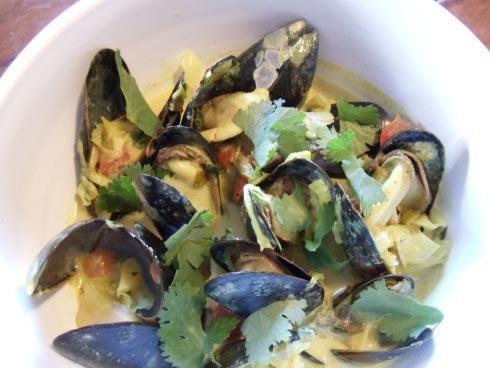 Recipe for Cockles, Mussels and Clams with Green Cabbage and Coconut Curry
Our articles may contain affiliate links. For more information, view our policies.
An easy seafood recipe for a romantic dinner
Chef and cookbook author Diane Brown loves to spend a Sunday visiting the fishmonger and cooking up the catch of the day. One of her favorite things to make is this recipe for cockles, mussels and clams because it's a one-pot dish.
The liquid inside the shellfish helps flavor the sauce and the vegetables. (When shellfish cook, they release flavorful, briny liquids.) And because all of the shellfish cooks together, there's less to clean up.
RELATED: Love shellfish? Try our Scallop Pizza recipe
This recipe features some of the most aphrodisiac gifts of the sea. Mussels, clams and cockles are all believed to help raise sexual hormone levels. (Learn more  about the scientific study that shed light on the aphrodisiac potential of shellfish.)
Incidentally, did you know that clams make our list of the 10 Best Foods for Men?
And then there are the chiles. The recipe uses a green curry paste, made with the heat of green chiles. Whether your Sunday plans involve a night of passion or not, paired with a glass of crisp, white wine, this sultry seafood dish will make an unforgettable end to any weekend.
What are cockles?
If you've heard of cockles but aren't sure what they are, you're not alone. Often mistakenly spelled cockels, cockles are just another type of bivalve, like mussels and clams. In fact, they look like a lot like clams with almost round, ridged shells. But viewed from the end, the shell's shape looks almost like a heart. I think it adds to their romance.
Like clams and mussels, cockles have a lovely, subtle and briny flavor.
One of the best known varieties of cockles, the common cockle, is native to northern Europe. But the variety used to make torigai sushi is the Japanese egg cockle.
Like mussels and clams, cockles are available year-round. They should be cleaned as you would a clam, by soaking in fresh water for several hours before cooking.
Shellfish substitutions
If you can't find one of the three shellfish ingredients for this easy seafood stew, you can double up on one of the other two shellfish.
You can also just make a whole pot of cockles, or mussels, or clams, whichever bivalve you prefer! Diane loves the subtle variety in textures and flavors you get from combining all three. But this recipe's all about easy, so do what works for you. (Note that if you're using mussels, you need to allow a few extra minutes to debeard the shellfish. See the recipe notes for instructions.)
Some notes on using green curry paste
As for this fragrant stew's spicy flavoring agent, the curry paste, Diane recommends using a pre-made paste in order to save time. She recommends using a fairly modest amount to allow the natural briny flavor of the shellfish shine through.
However, green curry is not a difficult flavoring paste to master. Recipe Tin Eats has a nice and easy to follow recipe. And if you want to make your own from scratch, it is sure to bring a freshness and more intense chile flavor to the final dish.
TRY NEXT: If you love mussels, be sure not to miss Diane's recipe for Tequila Mussels with Jalapeños and Tomatoes
Cockles, Mussels and Clams with Green Cabbage, Cilantro and Coconut Curry
Print Recipe
This simple, one-pot recipe combines the ocean flavor of shellfish with coconut, cilantro and green curry. 
Ingredients
1

15-oz can

coconut milk

2

garlic cloves

grated

1

1-inch section

peeled, fresh ginger

cut into slices

1-2

tbsp

green curry paste

4

cup

of shredded cabbage

small bunch of cilantro stems and leaves

1

tbsp

Asian fish sauce

3

lbs

cleaned, live shellfish

such as mussels, clams or cockles*

juice and zest of one lime
Instructions
In a Dutch oven or skillet with a fitted lid, heat 2 tablespoons of the fat cap of the coconut milk (when you open the can, there is a thick layer of coconut oil that has risen to the top.) Reserve the remaining coconut milk.

Add the garlic and ginger, heating until fragrant, about a minute, then add the curry paste, cabbage and half of the cilantro stems and leaves.

Cook until the cabbage starts to wilt, then add the remaining coconut milk, fish sauce and shellfish.

Cover the pan and bring to a boil, then reduce to a simmer (liquid should still be moving) and cook the shellfish for about 3 minutes.

Use a large spoon or ladle to stir the bottom layer of shellfish to the top, and cover again, continuing to cook until the shellfish starts to open.

Remove from heat and stir in lime juice and zest. Eat immediately, discarding any shellfish that didn't open.
Notes
*To clean the shellfish, soak them in fresh water for several hours. This will help to remove any sand. If you are using mussels, they must be debearded. Clean off any debris under cool, running water. Then grab the little tuft or beard sticking out and tug it toward the hinge until it releases. Discard any shellfish that are open and won't shut when tapped. 
Do not eat any shellfish that don't open during cooking. 
Pin this recipe for Cockles, Mussels and Clams with Green Cabbage and Coconut Curry:
Latest posts by Amy Reiley
(see all)
Get on our mailing list
Subscribe and get our exclusive list of Six Great Sex-Boosting Snack Foods for FREE! Unsubscribe at any time.