Homemade Scallop Pizza, an Easy Seafood Pizza Recipe
Our articles may contain affiliate links. For more information, view our policies.
When friends invited me over for a scallop pizza, I thought it was a weird autocorrect. Scallop pizza? Although my favorite food on earth may be a big, juicy scallop, I never pictured scallops on pizza.
Well, it turns out that the sea scallop pizza served at that get-together may be the best pizza I have ever tasted. Everything I like is on it, (scallops, pesto, sun-dried tomatoes, Kalamata olives) and some of the ingredients, including the scallops, have a history as aphrodisiacs.

When I posted this photo on social media the next day, everyone went gaga over how decadent it looked – and it tasted exactly the same way…a combination of flavors that are memorable and work well when melded together as a simple, yet extraordinary pizza.
RELATED: Our favorite ricotta pizza recipe
How do you make this sea scallop and pesto pizza?
Because this homemade pizza recipe starts with a pre-made crust, it's an incredibly quick pizza to assemble but it tastes like you slaved over it. Use your favorite pizza crust. (We use Boboli thin crusts refrigerated pizza dough also works well. If you're feeling particularly ambitious, feel free to make your own dough!)
If you have a pizza stone, use it! But if you don't have one, you don't need to go buy one just to make this seafood pizza recipe. A pizza stone retains heat and mimics that crisp-edged crust of a pizza oven. But you can invert a baking sheet on a low rack of your oven to make a sort of pizza table. Do this before you preheat the oven then slide the pizza onto the upside-down baking sheet. It's not quite the same effect as you'll get from using a stone but it's close.
Possibly the most tricky step in making this recipe is toasting the pine nuts. If your heat gets too high, the pine nuts will burn very quickly. So make sure to gently toast them over low heat, stirring frequently.
Before you assemble the pizza, you're going to lightly sear the scallops, for about 45 seconds to one minute per side depending on thickness. You don't want the scallops to get cooked through at this stage or they will become rubbery in the oven. Be sure to let the scallops rest before you cut them.
Brush the crust with olive oil before you start topping. You'll top this pizza like you would any pizza. First add the sauce, which in this case is pesto. Then evenly space the tomatoes and scallops. Next, you're going to cook it for five minutes before adding the olives, pine nuts and the light sprinkling of Parmesan cheese. You'll cook it for an additional five minutes or until the cheese begins to bubble. Then let it rest before cutting.
Scallop pizza and wine pairing
The first time I tried this pesto-based seafood pizza, we drank Shannon Ridge Sauvignon Blanc which complemented the fresh saltiness of the scallops. The Shannon Ridge High Elevation Chardonnay or a crisp Italian white wine would work well, too.
Savor this pizza and keep the recipe around to impress and amaze friends….even explain how sexy this pizza is and how it may help to make the night a bit more interesting. Or keep it in your back pocket for a last-minute romantic dinner for two. In fact…
Why you should serve this seafood pizza to your date
Scallops and their shells have a history as a symbol of good luck and as a symbol of femininity. They were sold to visitors for good health when visiting the tomb of St. Jacob in Santiago de Compostela, a popular place even today.
Scallops are scientifically proven to increase sexual function in men and keep sexual levels increasing over time. (Read more on the scientific study that helps support this centuries-old claim.) In Asian countries, scallops are believed to increase male potency. They are also good sources of nutrients including omega-3 fatty acids.
This scallop recipe also includes tasty pine nuts which are full of zinc. (Zinc is believed to aid in testosterone production and stimulates libido.) Since medieval times, people have been grinding pine nuts into love potions but they are equally effective tossed on a salad or pizza.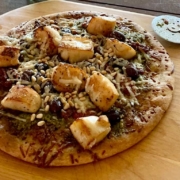 Homemade Scallop Pizza
Print Recipe
A quick recipe for a gourmet dinner, this seafood pizza features the unique flavor of scallops. Make it for a party or a low-stress date night dinner.
Ingredients
olive oil

6

large

sea scallops

pre-made pizza crust

Boboli thin crust will work

1/3

cup

pesto sauce

use your favorite recipe or pre-made

1/3

cup

sun dried tomatoes in oil

sliced into bite-sized pieces

1/4

cup

pitted Kalamata olives

1

oz

pine nuts

1/2

cup

Parmesan cheese

shredded
Instructions
Preheat the oven to 450 degrees.

Toast the pine nuts by placing them in a dry skillet. Toast, stirring frequently over medium-low heat, until they begin to turn golden. Remove from heat and set aside.

To prepare the scallops, remove the small side muscle, rinse with cold water and pat dry.

Coat the sauté pan with olive oil and heat on high. Lightly salt the scallops on both sides and place in the hot pan, cooking for 45 seconds to 1 minute per side. (Scallops should be undercooked.) Do not crowd the pan. The scallops should not be touching.

Remove from heat. Let the scallops rest for a few minutes before cutting each in half.

If you're using a pizza stone, put it in the preheated oven for 8-10 minutes to warm.*

Brush your crust with olive oil. Top with pesto, sun dried tomatoes and scallops.

Cook the pizza in the oven five minute.

Remove it from the oven to top with olives, pine nuts and Parmesan.

Return it to the oven for five minutes, until the cheese just starts to bubble.

Let the pizza rest for 5 minutes before serving.

Serve with a crisp white wine like Shannon Ridge Sauvignon Blanc.
Notes
*If you don't own a pizza stone, just use a regular baking sheet. Invert the baking sheet on a low rack of the oven before you start to preheat. Then slide the pizza onto the upside-down baking sheet to cook. 
A note on the provided nutrition information
The nutrition information provided has been estimated by an online nutrition calculator and is not a substitute for a professional nutritionist's advice.
Nutrition
Calories:
160
kcal
|
Carbohydrates:
5
g
|
Protein:
8
g
|
Fat:
12
g
|
Saturated Fat:
3
g
|
Polyunsaturated Fat:
2
g
|
Monounsaturated Fat:
3
g
|
Trans Fat:
0.002
g
|
Cholesterol:
14
mg
|
Sodium:
484
mg
|
Potassium:
195
mg
|
Fiber:
1
g
|
Sugar:
1
g
|
Vitamin A:
446
IU
|
Vitamin C:
6
mg
|
Calcium:
129
mg
|
Iron:
1
mg
Next time, make it a vegetarian pizza with our favorite cauliflower crust pizza recipe
Latest posts by Barbara Barrielle
(see all)
Get on our mailing list
Subscribe and get our exclusive list of Six Great Sex-Boosting Snack Foods for FREE! Unsubscribe at any time.