Our articles may contain affiliate links. For more information, view our policies.
As legend has it, the goddess Aphrodite first appeared emerging out of the sea on the shell of a scallop. And, thanks to this very high profile job of one lowly bivalve, scallops have enjoyed an aphrodisiac reputation since the time of ancient Greece.
Are scallops aphrodisiac?
If you're wondering "Are scallops aphrodisiac?," using history is your guide, the answer is a resounding yes. As I mentioned, the ancient Greeks believed that the goddess of sexual love, Aphrodite, was born of the sea, and therefore all seafoods are foods of love. This legendary reputation still holds true today. In her book Aphrodite, author Isabel Allende recommends keeping scallops on hand for romantic dinners.
RELATED: Easy Scallop Pizza Recipe
And if a little folklore isn't enough to make you a believer that the scallop is an aphrodisiac seafood, a recent scientific study should have you convinced.
In 2005, a group of young American and Italian researchers investigated two amino acids found in bivalve mollusks, (a category of seafood that also includes mussels, clams and the famed aphrodisiac oysters). They demonstrated that these amino acids raised sexual hormone levels in rats. This is part of the reason we've named clams to our list of the 10 Best Foods for Men's Sexual Health.
However, although the research made a promising argument for the notion that scallops and other bivalves could increase sex drive, no follow-up studies have pinpointed exactly how or how much sexy shellfish it would take to produce the desired effect.
RELATED: Mussels Benefits and Aphrodisiac Use
Are scallops good for you?
So now we understand that scallops are linked with the goddess of love and that they may contain amino acids that can turn you on, but are scallops actually healthy?
There was a time when doctors discouraged patients from eating too much shellfish for fear of raising cholesterol levels. But we now understand that cholesterol in shellfish tends not to impact blood cholesterol. In fact, the Harvard Medical School now encourages eating shellfish for heart health.
But scallops benefits don't just impact the heart. In fact, scallops are so good for women that we named them among our 10 Best Foods for Women's Sexual Health.
However, scallops aren't just an aphrodisiac for women. Many of the nutrients in scallops also impact men's sexual health.
Scallops testosterone
Scallops are among the foods that help support testosterone production. That's because scallops contain zinc. According to Nature's Aphrodisiacs by Nancy L. Nickell, zinc is a nutrient essential to men's sexual function. But they may also be good for testosterone production because these shellfish offer a high concentration of protein with very little fat. According to research, simply maintaining a healthy weight and fat levels can optimize sexual hormone production.
More nutrition in scallops
Scallops provide the body with several other nutrients proven essential to sexual health. These include vitamin B12, selenium, magnesium and potassium. For more information on scallops nutrition information, check out my article Scallop Nutrition for Women's Health.
Scallop flavor & sexy texture
It is easy to see the attraction of these tiny fruits of the sea. Their flesh is far milder than many of the ocean's creatures. Their texture is soft – voluptuous on the tongue. Their shells make beautiful serving vessels. And, when served at their freshest, scallops offer a flavor that is the essence of the briny sea.
Discover more of the world's greatest aphrodisiac foods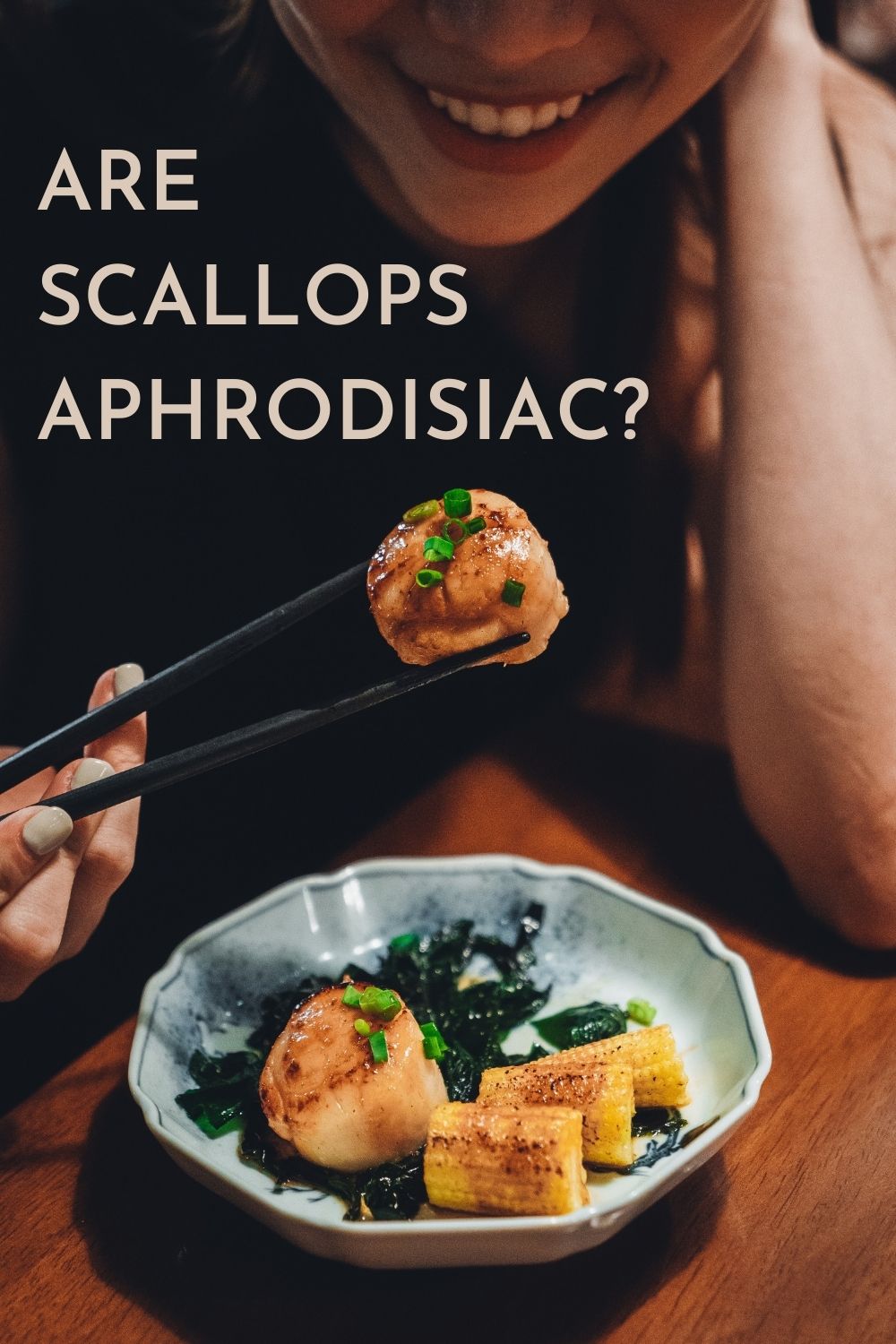 Scallops photo by jirayu koontholjinda
This article was written in 2010 and most recently updated in April, 2021.
Latest posts by Amy Reiley
(see all)
Get on our mailing list
Subscribe and get our exclusive list of Six Great Sex-Boosting Snack Foods for FREE! Unsubscribe at any time - privacy policy