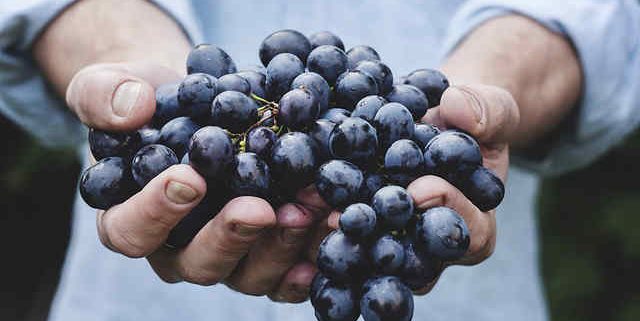 Our articles may contain affiliate links. For more information, view our policies.
If you want to look at an ingredient with a long and fascinating history, it doesn't get much better than a grape. And if you want to eat a seasonal ingredient in autumn that packs a nutritional punch, well, that would be the grape again. The health benefits of grapes are as impressive as this fruit's history. But if you truly want to understand man's love affair with grapes, you need to start with the fruit's history as an aphrodisiac.
Some historical background on the cultivation of grapes
The aphrodisiac history of grapes is as old as the history of mankind. The evidence stretches all the way back to ancient Egypt. It entwines the history of man with that of wine. How? When archeologists unlocked the mysteries of ancient Egyptian tombs, they found traces of wine. And that discovery revealed that man had indulged in the elixir of romance, also known as fermented grape juice, since the beginning of civilization.
Since those first attempts at fermenting the fruit into an alcoholic beverage, wine has served as the muse of poets, songwriters and dreamers. And in most cases, the drink is mentioned in the context of romance, eroticism and sometimes downright debauchery.
But even without the transformation into a drink of love and song, the aphrodisiac history of grapes is linked symbolically with romance, fertility and virility.
The ancient Romans, acknowledged as the first civilization to cultivate grape vines, declared both wine and fresh grapes emblems of Bacchus, God of Ecstasy. (He was also the God of Fertility.)
And pre-dating the Romans, the ancient Greeks made it a tradition to give clusters of freshly picked grapes to newlyweds. This custom was somewhat of a fertility right. You see, it was believe that the grape seeds would bless the happy couple with many children.
What are the nutritional benefits of eating grapes?
When you consider the grape, it's easy to see why this summer and autumn fruit was first regarded as an aphrodisiac. The sweet jewels make a perfect finger food.  The grape is a plump, luscious fruit. And for this reason, it is often used in romantic literature to symbolize a woman.
But a fruit so sweet and juicy, well it may leave you wondering, "Are grapes good for you?" The short answer is "Yes!" In fact, you may be shocked at all the health benefits of grapes.
For starters, grapes do have fiber. Unlike some fruits, which are preferable when peeled, we typically eat grapes skins and all. And grape skin is where you get the fiber.
The vitamins in grapes are not as remarkable as some other fruits. But they are a good source of vitamin K and vitamin B2. They also offer some vitamin C and vitamin B6 as well as copper, potassium and manganese. (And don't forget that both potassium and manganese are important for sexual health. It certainly lends to the fruit's aphrodisiac history.)
But the best known health benefits of grapes come from their antioxidant content. You may have heard of resveratrol. This is a polyphenol found in grapes linked with many health benefits, particularly heart health. However, the resveratrol and other antioxidants in grapes is found primarily in the skins and seeds, which means that different types of grapes have different nutritional benefits.
Benefits of purple grapes (or red grapes)
Dark skinned, such as purple or red grapes have health benefits greater than those found in white or green grapes. That's because darker skinned grapes are more dense in phytonutrients than lighter-skinned grapes, this includes having a higher resveratrol content.
Interestingly, these benefits are also found in red and purple grape juice and red wines. According to the Mayo Clinic, grape juice health benefits include promoting healthy blood pressure and heart health.
White grape benefits
Of course, this isn't to say that there aren't health benefits of white grapes. White grapes do have antioxidant benefits but not generally in the same concentration as in found in darker-skinned grapes. However, skin color is not the only factor that influences the nutrition value of grapes. Geography and variety of grape also impact the health benefits of grapes.
Grapeseed oil benefits
Unfortunately, the greatest of the health benefits of grapes doesn't come from the sweet flesh. The part of a grape that has the most potential to impact libido–and overall health–is a part usually not eaten. It turns out that the oil found in grape seeds has the potential to offer the body a lot of nutrition, beneficial to overall and reproductive health.
Modern science reveals that grapeseed oil is an even greater source of antioxidants with free radical-fighting effects than is the fruit of the grape. And it's a source of vitamin E, a nutrient known for its role in supporting the health of your reproductive organs.
But since you probably don't crunch the seeds when eating a grape, you may be wondering how you are supposed to get the benefits of grapeseed oil.
For one thing, you can use grapeseed oil in cooking and those antioxidants will set to work while you up your daily vitamin E intake. I like to use it as a base for a salad dressing. Alternatively, you can grapeseed oil for your skin health–perhaps as a massage oil–and your skin will reap the benefits of the oil's moisturizing and anti-aging effects.
Lastly, you can always try taking it as a supplement, like this one I reviewed to improve the circulation and appearance of your legs.
The aphrodisiac ways to serve grapes
One of the most powerful images of seduction is that of hand feeding the aphrodisiac of grapes to your reclining lover. Or you can try making this aphrodisiac chicken grape salad. And in summer, freezing the grapes can prove a sinful way to beat the season's heat.
Discover more of the world's greatest aphrodisiac foods
FREE APHRODISIAC NEWSLETTER
Subscribe to our free aphrodisiac newsletter