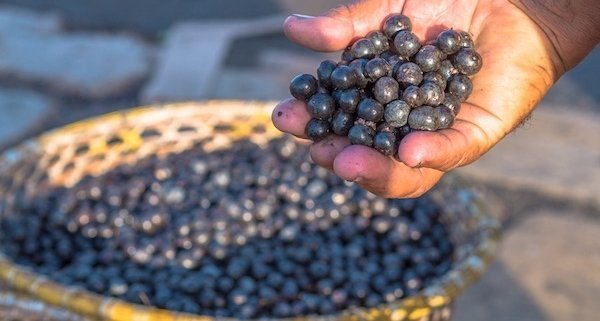 Our articles may contain affiliate links. For more information, view our policies.
One of the most recent buzzwords of the food business is acai. Reported acai benefits are impressive. And if you're wondering, "Is acai aphrodisiac?" you're going to love this article!
What is acai?
If you've never encountered acai, then you may not know that it is a tropical fruit. This exotic berry grown in the rainforests of South America. More specifically, it is the fruit of the acai palm tree. And is a very popular breakfast food in Brazil. (In its homeland, it is known as an excellent "recovery food" at the end of a long night of partying.) Until about the 1980's, shipping of the fruit from the fragile Brazilian rainforests was close to impossible.
Once manufacturers perfected the packaging of frozen acai puree as well as drying the fruit and grinding it up to make acai powder, this superfruit went global, and so did the notion that it could benefit health in a number of ways.
How acai benefits your health – including your libido
Acai berries are nutrient-dense. Many of the health benefits of acai berry come simply from a host of nutrients delivered in a low-calorie package. One cup of acai fruit puree offers fiber, calcium, a modest amount of protein and 15% of your daily intake of vitamin A. Vitamin A is linked with skin health as well as eye health. This is why many beauty brands promote acai benefits for the skin.
But the most notable health benefit of acai is its antioxidant power. (More on this later.)
RELATED: Discover the Baobab Fruit
Acai anthocyanins may reduce cholesterol
A huge potential benefit of acai is this fruit's reported ability to lower cholesterol naturally. Unfortunately, the only study with remarkable results was very small and it really indicates that much more research is needed to understand how successful this fruit can be in actually reducing cholesterol levels.
However, what we do know is that this superfood is rich in anthocyanins. Anthocyanins are compounds noted for antioxidant effects. In addition to being linked with an ability to reduce inflammation, anthocyanins are known to reduce LDL cholesterol. And anything that can support your heart by promoting healthy cholesterol levels can improve blood flow. And good blood flow not only benefits your heart but is also good for sexual performance.
Discover the antioxidant benefits of moringa powder
A potential memory booster
The antioxidants in acai are also believed to make this fruit a memory booster. Studies show that acai may counteract the effects of oxidative stress on the brain.
Our brains are effective at cleaning up cells that are no longer functioning but that process slows as we age. However, acai appears to have the ability to stimulate the brain's natural housekeeping process, at least in lab studies. This is promising news for those of us facing cognitive decline.
More health benefits of acai berry
One surprising acai fruit benefit, there are indications that acai berry fruit may have powers to fight certain types of cancer. Anthocyanins are thought to have some cancer-prevention abilities. But too little is known to make the recommendation of eating acai to prevent cancer. If this is a benefit of acai berries that interests you, I recommend consulting your doctor.
Although there is still much to be learned, it is believed that the anthocyanins in acai have such great health potential that some of the biggest names in American medicine, including Dr. Perricone, put acai berry on the list of the world's most nutritious foods.
By the way, if you're drinking red wine for the antioxidants, it's worth noting that acai has 10 times the antioxidant potency of red wine.
RELATED: Red Wine – Aphrodisiac & Sexual Benefits
Is acai an aphrodisiac?
For those wondering what acai is good for, you might be pleased to learn that in addition to its ability to aid circulation, acai is considered one of South America's hottest aphrodisiacs. One of its most popular, rumored effects on the body is a marked increase in stamina.
In addition, acai berry benefits include the fact that it is low in saturated fat and high in fiber. It could be considered the perfect snack for keeping you looking and feeling your sexiest.
Acai benefits for men
Men seem to have a greater interest in the use of acai as an aphrodisiac than women. The benefits of acai for men tend to be the same as the nutrient-dense fruit's benefits for women. However since acai is linked with heart health, it is easy to see why any man with erectile function issues would have an interest in acai. (See the previously mentioned study on acai's impact on cholesterol.)
And since acai is also linked with improved stamina, it is easy to see how a man could be interested in using this fruit for the potential of sustaining sexual performance.
Although it doesn't appear to have any scientifically proven benefits to athletic performance based on current studies, acai is a nutrition-dense fruit with few known side effects. (Unless you have a pollen allergy, you're probably in the clear.)
Acai berries and fertility
If your goal for employing aphrodisiacs is improved fertility, then acai berry might be the superfood for you. It is rumored to boost a couple's chances of conceiving.
But is acai good for fertility?
The acai fertility link looks promising. A study published in 2015 demonstrated that acai improved the outcome of IVF treatments. It is believed that women eating this fruit can potentially improve the quality of her eggs.
Although you should consult a doctor before incorporating acai fruit into fertility treatment, there are indications that eating this superfruit can help improve your chances of conceiving.
RELATED: 5 Foods to Eat For Fertility
Flavor profile, uses and how to buy acai
The Brazilian superfood is most commonly used in a juice or puree form. The berries are close to 90% pit and skin and stain as badly as pomegranate, so serving whole fruits isn't exactly practical. In fact, you'll be hard-pressed to find a retailer selling the whole fruit. (Acai berry fruits are not only messy but also difficult to transport. And they don't grow well in most North American climates.)
What does acai berry taste like?
Acai has a mild but earthy berry-like flavor. Imagine if you mixed black raspberries with cacao nibs or really dark chocolate.
Acai fruit has both of those fruity and earthy elements but the flavor of this Amazonian superfruit is very subtle.
Where to buy acai
Although it is almost impossible to buy fresh acai, you can still reap all the health benefits of acai berry by purchasing the superfruit in a pureed form or as acai juice. (Just be aware that most acai juices are blended with other ingredients like sweeter fruit juices and even added sugar.)
Many retailers also sell powdered acai. One of the benefits of acai powder is that you can just add a scoop to any smoothie.
Cooking with acai fruit
You can find frozen acai in the freezer section of health and gourmet grocery stores. This is the best way to buy this Amazonian superfruit for use in cooking. I use frozen acai pure in smoothies.
One of the most popular ways to eat the frozen acai pulp is in an acai bowl, topped with granola and chopped fruits. One of the acai bowl benefits is that you can layer in even more nutritious ingredients like chopped almonds, banana and antioxidant-rich blueberries.
A similar recipe is my Strawberry Chia Pudding with Acai Puree. You can eat this addictive pudding on its own or make it into a chia bowl like an acai bowl.
I have one very unique use for acai. It's the (not so secret anymore) ingredient in my favorite chili recipe. Before serving, I blend in acai pure to accentuate both the sweet and earthy elements of the chili's flavor. Trust me, it's a chili like no other.
Discover more of the world's greatest aphrodisiac foods
This article was written in 2015 and most recently updated in May 2021. 
Disclaimer: Please note that the information provided in this article is intended for informational purposes only and not to replace medical care. It is important to consult your physician before making dietary changes. More information
Latest posts by Amy Reiley
(see all)
Get on our mailing list
Subscribe and get our exclusive list of Six Great Sex-Boosting Snack Foods for FREE! Unsubscribe at any time.