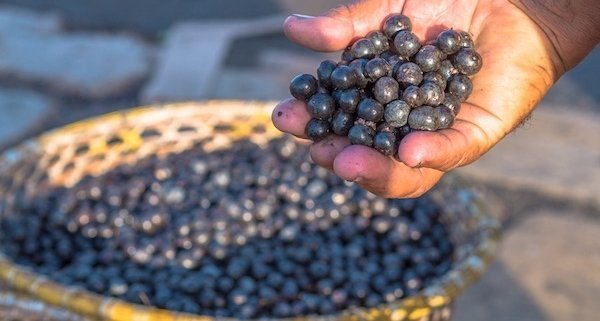 The aphrodisiac power of acai berry
One of the most recent buzz words of the food business is acai
. It's a berry grown in the rainforests of South America. It is the fruit of the acai palm tree and is a very popular breakfast food in Brazil. (It is a popular recovery food at the end of a long night of partying.) Until about the 1980's, shipping of the fruit from the fragile Brazilian rainforests was close to impossible. But communities in close proximity to the palm's growing regions have been enjoying acai berry for centuries.
But what made acai suddenly hit the big time?
The secret is anthocyanin
This superfood is rich in anthocyanin, an antioxidant known to reduce cholesterol and has the potential to prevent blood clots. Oh, and it doesn't hurt that some of the biggest names in American medicine, including Dr. Perricone, put it on the list of the world's most nutritious foods.
Best of all, in addition to its ability to aid circulation, etc, acai is considered one of South America's hottest aphrodisiacs. One of its most notable effects on the body is a marked increase in stamina–heaven knows we could all use that! In addition, it is low in calories and high in fiber, the perfect snack for keeping a long, lean, sexy self. And as far as antioxidants go, acai has 10 times the antioxidant potency of red wine.
How to use it
The Brazilian superfood is most commonly used in a juice or puree form. The berries are close to 90% pit and skin and stain as badly as pomegranate, so serving whole fruits isn't exactly practical.
Discover more of the world's greatest aphrodisiacs
FREE APHRODISIAC NEWSLETTER
Subscribe to our free aphrodisiac newsletter