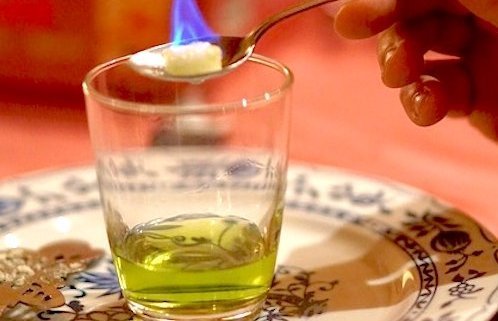 Our articles may contain affiliate links. For more information, view our policies.
The Western world's most notorious elixir, absinthe hit its popularity peak around the turn of the twentieth century. In the early 1900s, it was outlawed in most nations. This is because of its reputation for making men go mad. But what keeps an interest in this drink even today is the reputation that absinthe is an aphrodisiac.
Absinthe aphrodisiac history
So is absinthe aphrodisiac?
An ultimate aphrodisiac of the decadence of La Belle Epoque, it was the cocktail of choice on Paris' wealthy nightclub scene. Mixed with water dripped over a sugar cube on a specially designed silver spoon, the drink was an ultra-chic fashion statement.
But absinthe's true power lies not in presentation. Its reputation comes from the dangerous mix of distilled herbs used to make this legendary elixir. That's where you'll find the true absinthe sex link.
RELATED: Discover why The Connaught is the best cocktail bar in London
What makes absinthe an aphrodisiac?
Its ingredients include a mixture of chamomile, hyssop and other herbs. But its potency and supposed hallucinogenic capabilities are owed to the addition of wormwood, a shrub-like perennial containing thujone. (Thujone has a similar chemical structure to THC, the active ingredient in marijuana.)
Is wormwood an aphrodisiac?
In truth, we don't fully understand wormwood's full effect on the body or if it is absinthe's true aphrodisiac. It is a little tough to trace the use of wormwood in the history of this potent green drink since every manufacturer has a slightly different–often secret–recipe.
What is the sexy green fairy?
Despite the mystery, this almost magical drink is credited with everything from curing stomach ailments to inspiring great works of fiction. The most devout of absinthe's fans credit the drink with bringing them visions of a gorgeous green fairy, also known as La Fee Verte, (think Tinkerbell meets Barbie).
RELATED: Ready to taste? Then enjoy my reviews of popular absinthe brands
Are there absinthe benefits?
Because absinthe is known as an aphrodisiac, I'm often asked if you can get any health benefits from drinking it.
Absinthe has a reputation as medicinal. (I can attest to the fact that many modern absinthes leave a medicinal taste in your mouth.) But just because something tastes like medicine doesn't mean it has health benefits.
Wormwood has actually been used throughout history to treat a variety of ailments. It is a noted remedy for digestive issues. And wormwood oil is even used to increase sexual desire. (Note that I cannot find any studies to confirm the effectiveness of wormwood oil for treating sexual disorders.) So there is some sense to the thought that absinthe is good for you.
However, keep in mind that little wormwood remains in modern absinthe. So you aren't likely to experience any wormwood benefits from drinking absinthe.
And remember that absinthe is a distillation with really high proof. So it is a drink best enjoyed in moderation, not as a treatment for your ailments or even to drown your sorrows.
How the film industry made absinthe sexy again
A sexy representation in recent films From Hell with Johnny Depp and the movie musical Moulin Rouge sparked a recent absinthe revival and a thirst for the history of this glamorous and mysterious drink. It may also be a key to the link between absinthe and sex.
Luckily, as the interest in this dangerous drink rises, so does availability. Right around the time absinthe made this emergence in popular cinema, many countries, including the U.S. revoked previously strict bans on this spirit with a dangerous reputation.
And though it may sound exciting to recreate the glamour and danger of La Belle Epoque, only absinthes with thujone measuring at or below a permitted level may be sold in the United States. So are these modern absinthes aphrodisiac? Well, that's up to you to decide!
Discover more of the world's greatest aphrodisiac foods
This article was written in 2010 and most recently updated in June 2021. 
Latest posts by Amy Reiley
(see all)
Get on our mailing list
Subscribe and get our exclusive list of Six Great Sex-Boosting Snack Foods for FREE! Unsubscribe at any time.