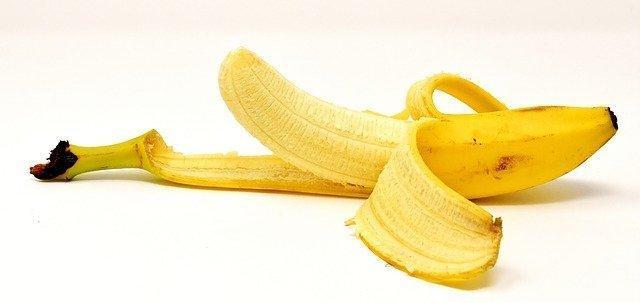 Our articles may contain affiliate links. For more information, view our policies.
Its shape makes this phallic, yellow fruit a shoo-in for the world's most suggestive food. But aside from resembling a male member, banana has a lot to offer to the world of romance. That's why we're exploring the benefits of banana sexually.
RELATED: What is an aphrodisiac food?
Some banana aphrodisiac history
Bananas originated in Asia, where they are known as one of the earliest cultivated fruits. (And one of the earliest aphrodisiacs.)
In India, where many of the earliest references to banana as an aphrodisiac were made, the yellow, phallic fruit was known as a favorite food of sages. And in a ritual that started centuries ago and carries on even today, bananas are included in Indian offerings to the fertility gods.
But this sexy reputation extends to many other cultures. In Islam, the banana, not the apple, was believed to be the forbidden fruit of the Garden of Eden. And according to Temptations: igniting the pleasure and power of aphrodisiacs, at one time the yellow fruit was off-limits to women in native Hawaiian culture just because of its shape.
RELATED: The aphrodisiac potential of a Hawaiian mushroom 
The fruit was introduced to the Caribbean and Central America by early Portuguese and Spanish explorers. And the link between banana and sex quickly took hold and still remains today. In fact, in Central America, the sap of the red banana tree is sipped as an aphrodisiac elixir.
Incidentally, did you know the fruit of the banana plant – that's right it's a plant, not a tree – is classified as a berry?
Did you know you can grow your own bananas indoors or outdoors? Click here to buy your own banana plant.
The benefits of bananas to overall health
Behind that slick peel, the slender banana's fruit is packed with nutrients. Many of these nutrients are essential to sexual hormone production, including potassium and manganese.
RELATED: Why Potassium is Important for Sexual Health
But we'll get to the sex benefits of bananas later. For now, let's take a look at some general health benefits of eating bananas.
Some key banana nutrition facts
An average banana is only around 110 calories but offers 3 grams of fiber.
So if you eat a banana, it can help you feel full but may also help prevent bloating and the uncomfortable feeling that comes with a lack of fiber in the diet. (You may have heard that eating bananas are linked with weight loss. This is why.)
Fiber may also have a benefit specific to your sex life. It is believed that a high-fiber diet can lead to a healthy level of sex hormones.
A snack packaged by nature in its own vibrant yellow peel, a banana also provides the body with a dose of vitamin C, an important nutrient for fighting the effects of aging. This is obviously beneficial to both men's and women's health.
Bananas are also a source of copper and biotin. And they offer 25% of your recommended daily intake of vitamin B6.
And it is also believed that the pectin and resistant starch in bananas can help control blood sugar levels.
It's also worth keeping in mind that bananas contain tryptophan, an amino acid known to promote relaxation.
The nutritional benefits of banana sexually
Aphrodisiac bananas have a wealth of benefits to sexual health. And in addition to the many nutrients mentioned above, these tropical fruits also contain magnesium. This essential mineral is involved in the production of sex hormones.
The magnesium in bananas may also help women by reducing the symptoms of PMS.
Sex and banana benefits for women
The benefits of magnesium is not the only benefit of bananas for women.
An amusing 2009 health article declared, "Sex and Bananas Shown to be Good for Women's Health." And although it's true that the fiber, vitamin B6 and tryptophan in bananas are great for supporting women's overall health and stress levels, these attributes are equally important for men.
The article might have been better to point out that the B6 in bananas is remarkably good for pregnant women as it helps support a healthy fetus. (Here's a link to a version of the article.)
Benefits for men
But one of the best banana nutrition benefits when it comes to a man's sex life is that the fruit offers 14% of the recommended daily intake of manganese. This mineral is a nutrient noted for its ability to support men's sexual health and libido. Some nutrition authorities have even gone so far as to say that the manganese in bananas can improve men's sex drive.
In other good news for men, the potassium in bananas may be an aid in lowering blood pressure and reducing the risk of heart disease. This is not only great for the heart but also for anyone suffering from erectile dysfunction. That's because a healthy heart and good blood flow are essential for sexual arousal and sexual performance.
Can this fruit actually increase testosterone production?
And there are even more benefits of bananas for men. Bananas also contain a protein-digesting enzyme called bromelain. This enzyme is one of the main nutritional benefits of pineapple which gives it a reputation as a superfood for men's sexual health. But bromelain is also found in bananas.
RELATED: The Benefits of Pineapple for Men
Bromelain is best known for helping with muscle recovery in athletes. But studies like this Tasmanian research experiment, have found that bromelain also appears to spark the production of the male sex hormone testosterone. In other words, eating bananas can potentially increase testosterone levels.
What the heck is banana sex?
There's one last topic to cover if we're going to thoroughly explore the relationship between bananas and sex. I'm loathed to talk about it because none of the uses of bananas in sexual acts are particularly aphrodisiac nor are they healthy. But the reality is, they exist. So in case you were wondering…
According to the urban dictionary, the term "banana sex" refers to when a man feigns interest in having sex with a woman only at the last minute substitutes a banana for his member.
Please do not try this!
Another sexual banana act that should never be attempted by any human being, ever, is a solo act. A man will discard the fruit and use the banana peel to masturbate. This can lead to infection and painful allergic reactions.
If the appearance of a banana really turns you on, you can always invest in a safe and hygienic banana-shaped sexual aid, like this one sold on Amazon.com.
But I say, the best way to enjoy the sexual benefits of bananas is to eat them!
How to incorporate bananas into your diet
For a sexy, year-round treat, try freezing bananas, then dip the frozen fruit in hot fudge and feed your lover. But if you want to cook with them, here are some of my favorite recipes featuring bananas:
Two-Ingredient Banana Pancakes
Easy Vegan Banana Bread
Morning Mango Nice Cream
Pumpkin Pie Smoothie
Discover more of the world's greatest aphrodisiac foods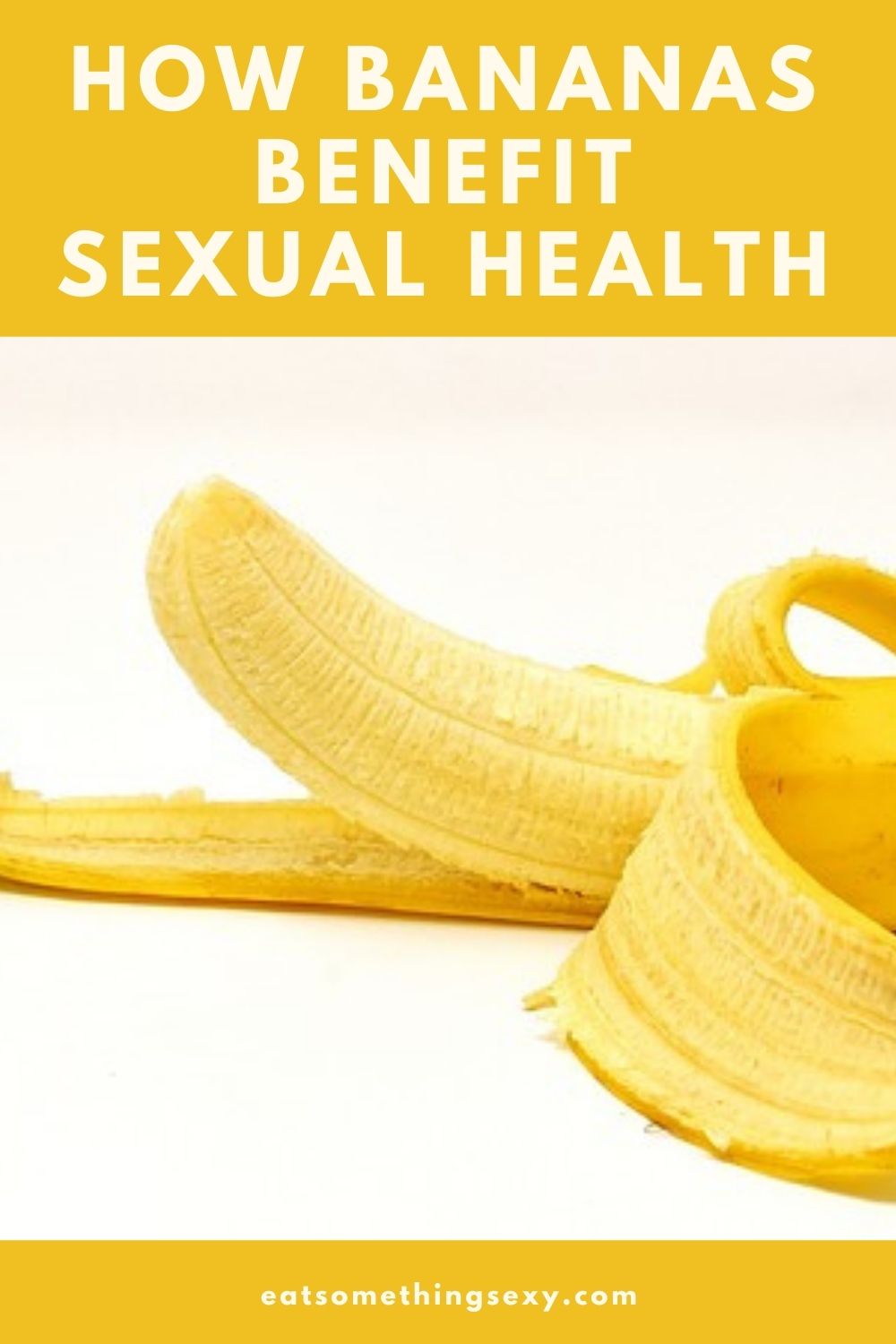 This article was written in 2010 and most recently updated in July 2022. 
Latest posts by Amy Reiley
(see all)
Get on our mailing list
Subscribe and get our exclusive list of Six Great Sex-Boosting Snack Foods for FREE! Unsubscribe at any time - privacy policy