Two Ingredient Banana Pancakes Recipe
Our articles may contain affiliate links. For more information, view our policies.
Pancakes with only two ingredients
This recipe is one of the breakfast world's best kept secrets. Two ingredient banana pancakes? With no flour or oil or sugar filled store-bought mixes? It's all true. Bananas and eggs. That's all you need for this delicious and healthy gluten free start to your day.
Bananas and your health
First off, bananas are magical. They are potassium powerhouses, they sustain blood sugar, they contain tryptophan which increases serotonin production AND the bromeliad enzyme, said to enhance the male libido. No wonder they're shaped like a smile! And in this recipe, they're what brings a hint of sweetness to the banana pancakes.
Some things to love about eggs
Eggs have gotten a bad rep in the past due to their higher than other foods amount of cholesterol, however, it has been proven, time and time again, that eggs and dietary cholesterol do NOT adversely affect cholesterol levels in the blood.
In fact, eggs raise your good cholesterol! And eggs offer so  many more benefits, some of which might surprise you. They even have a place on our 10 Best Foods for Women list. They contain powerful antioxidants, iron and B vitamins, and choline, which is a very important nutrient for your brain. Don't forget, they're a symbol of fertility, which lends to their aphrodisiac reputation.
These pancakes are naturally gluten free
In this recipe, the eggs are both the binder and raising agent. They give the pancakes their fluffy texture. No flour needed, which means these eggs are naturally gluten-free! They're also what makes these banana pancakes make you feel full and satisfied. Of course, you can always top them with a few aphrodisiac blueberries to really sweeten the deal.
So not only are these pancakes incredibly easy to make they are sexy AND smart.
Want more pancake recipes? Check out some of our best breakfast ideas.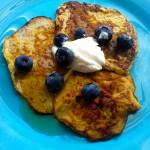 Two ingredient banana pancakes
Print Recipe
gluten free pancakes made with banana and eggs
Ingredients
1

very ripe banana

2

farm eggs

Coconut oil
Instructions
Mash the banana and the eggs together very well, no lumps.

Heat coconut oil on low.

Make tennis ball size pancakes and cook well.
Notes
Have fun with toppings! I like to eat mine with maple syrup, greek yogurt, and berries. Or you could always try topping them with this Passion Fruit Curd. 
Pin this recipe for Banana Pancakes: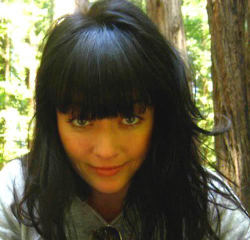 Latest posts by Vanessa Vanya
(see all)
FREE APHRODISIAC NEWSLETTER
Subscribe to our free aphrodisiac newsletter