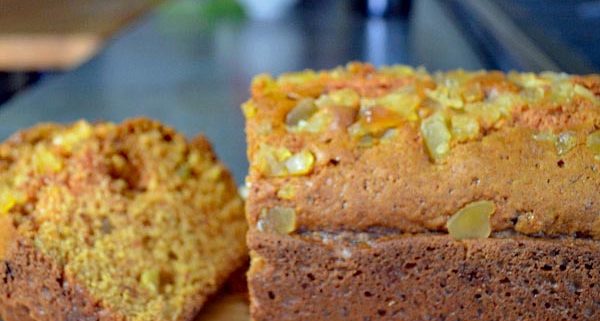 Triple Ginger Gingerbread Loaf Recipe
Our articles may contain affiliate links. For more information, view our policies.
This is truly one of my very favorite baking recipes. I wish I could claim it as my own, but my friend, Chef Sondra Bernstein gave me this gingerbread loaf recipe for my first cookbook, Fork Me, Spoon Me: the sensual cookbook.
Click the book to order your copy of Fork Me, Spoon Me.

What makes this gingerbread breakfast recipe so special? This sexy breakfast-in-bed cake showcases three forms of ginger. (And ginger is considered one of the world's greatest aphrodisiac foods.) The recipe not only calls for fresh and powdered ginger but a sprinkling of chopped, candied ginger on top. So good!
A loaf cake with a candied ginger topping
That candied ginger topping is, to me, what makes this a stand-out loaf cake recipe. It adds a chewy texture as well as that head-clearing zing you get when you nibble a piece of candied ginger. I love the effect! If ever a loaf cake could be labeled "sexy gingerbread," this would be it.
Ginger enjoys a long history as an aphrodisiac–and for good reason. It has the ability to raise body temperature and make your tongue tingle. But that's not all it has to offer. Ginger is associated with improving brain function. That's a lot of benefits for a ginger loaf cake!
This recipe is an easy gingerbread quick bread
Many gingerbread recipes call for making the spice cake in a cake pan. But Sondra's easy gingerbread recipe is a quick bread made in a loaf pan. The slices are great for toasting and work not just as a breakfast food or even a midnight snack. (You can see my recurring theme here of eating this cake in bed.)
Alternatively, you could divide the batter among mini loaf pans to make individual ginger cakes. And because this homemade gingerbread loaf has a candied ginger topping, there's no need for having to make a cream cheese frosting to top the cake. This loaf cake is basically self-topping.
When to serve this tasty gingerbread loaf
It's a surprisingly simple ginger loaf recipe. But one that has a powerful ginger flavor and just the right balance of sweet.
Serve it with breakfast or as a morning snack.
It's also a smart choice for a low-stress brunch dessert.
And it even makes a nice side for a salad with a vinaigrette.
Grill leftover slices, (if you have any leftovers), and serve them with eggs and bacon.
Breakfast in Bed Triple Gingerbread Loaf
Print Recipe
This gingerbread recipe from the cookbook Fork Me, Spoon Me features three kinds of ginger for the most powerfully spicy flavor. It's a super-moist bread perfect as a breakfast or snack.
Ingredients
1 1/2

cup

all purpose flour

1

tsp

ground ginger

1

tsp

ground cinnamon

1

tsp

baking soda

6

tbsp

crystallized ginger

minced

1/2

cup

unsalted butter

room temperature, 1 stick

1/2

cup

packed brown sugar

1/3

cup

sugar

2

large eggs

3

tbsp

ginger

peeled and grated)

1/2

cup

buttermilk
Instructions
Preheat oven to 350 degrees.

Grease and flour an 8 1/2 x 4 1/2 inch loaf pan. Mix the first 4 ingredients in a medium bowl. Add 3 tablespoons crystallized ginger.

Beat the butter and both sugars in large bowl until the mixture becomes light and frothy. Beat in eggs, 1 egg at a time. Mix in fresh ginger.

Stir the dry ingredients into the creamed butter and egg mixture, alternating with buttermilk, beginning and ending with dry ingredients.

Transfer batter to waiting pan. Sprinkle remaining 3 T crystallized ginger over batter.

Bake until a toothpick, gently inserted into the cake's warm center, comes out clean, about 50 minutes.

Turn out onto rack and cool completely. Serve slices with vanilla yogurt and a bowl of strawberries.
If you like this easy loaf cake recipe from Fork Me, Spoon Me: the sensual cookbook, try the whole book!
Pin this gingerbread breakfast loaf recipe:
Latest posts by Amy Reiley
(see all)
Get on our mailing list
Subscribe and get our exclusive list of Six Great Sex-Boosting Snack Foods for FREE! Unsubscribe at any time - privacy policy