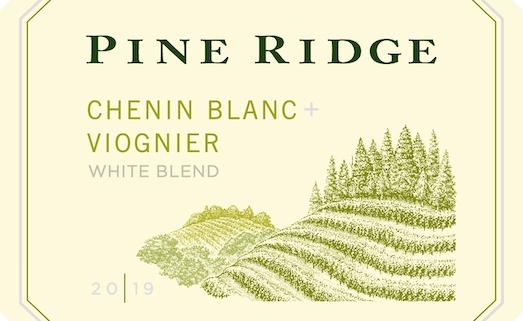 Pine Ridge Chenin Blanc-Viognier
Our articles may contain affiliate links. For more information, view our policies.
Wine of the Week: 2019 Pine Ridge Winery, Chenin Blanc-Viognier, Clarksburg, CA
I spent the past month reviewing a series of four limited-production wines… that I loved, by the way. So now, I thought we might all like something a bit less precious. Something nice and easy.
This Chenin Blanc-Viognier blend is easy to find in your neighborhood. And it's a bit closer to most of our mid-week wine budgets. Don't we all need a grocery store go-to wine that we can rely on? This one has been my "vino della casa" for over 20 years.
Pine Ridge Vineyards was founded in 1978. The main winery is in the Stag's Leap District of Napa Valley. They also have vineyards in five of Napa Valley's premier appellations. Pine Ridge is known for exceptional wine-making. Especially, its flagship Stag's Leap Cabernet and Bordeaux-style Merlot.
Then, in 1995, Pine Ridge tried something completely different. In the then-unknown area of Clarksburg, they started making their Chenin Blanc-Viognier. Not only were these grapes outliers, but the combination was also truly peculiar at the time.
Chenin Blanc is native to the Loire Valley in France; you may know it as Vouvray. It also grows well in South Africa. Viognier, on the other hand, comes from further south in the Rhône region. It produces a much fuller-bodied white wine. A Chenin Blanc-Viognier blend that brings together the light with the rich was unheard of in 1995. Today, you'll still only find one or two other wineries bringing this odd couple together.
My Review of Pine Ridge Chenin-Blanc Viognier
Pine Ridge Chenin Blanc-Viognier (aka CB+V) has aromas of ripe melon, pear, and zippy lime zest. It will have your mouth watering before you take your first sip! On the palate, the melon and pear persist. You'll also find plenty of zing from mildly astringent grapefruit. This is mellowed with a touch of something tropical – papaya maybe? This Chenin Blanc-Viognier is a medium-bodied dry wine with plenty of acidity. It finishes with a peppery tingle and non-stop mouthwatering – you can't wait for the next sip!
Over the years, I've enjoyed this wine in many ways with many types of food. It's great as a summer sipper on its own. Even better with fresh mozzarella, heirloom tomatoes, and tender basil on crusty baguette. Because there's good body and sweet fruit aromas here, Chenin Blanc-Viognier stands up to spicy. Try it with Thai green curry, or our Spicy Thai Fish Cakes. For something milder, how about our Scallop Pizza?
Pine Ridge Chenin Blanc-Viognier can be purchased at most Trader Joe's stores, as well as on Wine.com.
Note: I was the chef at Pine Ridge Winery under original owners, Gary and Nancy Andrus, in the earliest years of the 2000s. These wines are always close to my heart!
Latest posts by Annette Tomei
(see all)
Get on our mailing list
Don't miss out on a thing! Get news, deals & more!