4 Foods That Lower Sex Drive and Kill a Romantic Evening
Our articles may contain affiliate links. For more information, view our policies.
If you're worried about low libido or even if you're just trying to create an evening of seduction, there are certain foods you shouldn't serve. Although there are many foods that can have a negative impact on your overall sexual health, these are the four foods to avoid serving your lover on a romantic date.  Why? Because all four of these are foods that lower sex drive can have an almost instant, negative impact on sexual desire. And without question, these foods that kill sex drive need to go on your date night what not to eat list for all time!
Anaphrodisiac foods
Food and sex are linked in history since the beginning of recorded time. Most of the food we hear about as associated with sex today are foods that increase sex drive. However, there are also foods that are recognized as libido killers. Historically, these are the kinds of foods that would fall into the category of anaphrodisiac foods. (Anaphrodisiac means a substance, food or otherwise, associated with reducing sexual desire.)
RELATED: What is an aphrodisiac food?
Anaphrodisiacs are more often drugs than foods. Think of all the drugs with side effect warnings that they can reduce sex drive. However, if you or your partner has a low libido and you know it isn't drug-related, taking a look at diet can be key to improving sexual health. The four libido-killing ingredients below make a great place to start.
Foods that increase sex drive
But if your concerns about low libido go further than just making sure date night is a success, consider changing to a more heart-healthy diet. Foods that support heart health are frequently the same foods that improve sex drive. That's because they are involved with improving blood flow. And without good blood flow, sexual satisfaction is difficult.
All of the foods in the Mayo Clinic's heart health recommendations are foods that will also support sexual health. And, of course, our site is filled with recipes and pointers for eating the best sex foods for females and males. In fact, we even have a list of the 10 Best Foods for Women and a separate list of the 10 Best Foods for Men.
RELATED: A Valentine's Day menu for two
The top four sex drive killers
1. Never serve steak to a date
If you've ever caught one of my radio or live appearances, you probably already know about this one. When it comes to romance, I'm anti-steak. This red meat is harder to digest than many forms of protein. So your body works a little harder to break down your meal. But that's energy you don't want to waste on digestion. You want it for much more gratifying activities.
At the same time, protein–and this goes for any protein-rich food, not just beef–contain amino acids that cause the body to produce serotonin. At the end of a long day, that extra serotonin is likely to make you feel drowsy. In addition, consumed in excess, steak can knock male hormone levels out of balance.
2. Sugar can kill sexual desire
Did you know that both Corn Flakes and Graham Crackers were invented to reduce sexual desire? A little sugar is a sweet tease but an overabundance causes a sugar spike (which can, admittedly, be fun), followed quickly by a depressing crash.
Anyone who passed eighth-grade health class understands the effect of sugar, but what you may not realize is that the crash is followed by a drop in testosterone. And this hormone irregularity can negatively impact both the male and female libido. This doesn't mean you have to skip the sweets altogether. But keep the portions small, like a dark chocolate truffle or two or an ethereal soufflé, to ensure desire stays on a high.
3. Fried chicken decreases libido
Deep-fried food in general is bad for your sex life. The saturated fats found in deep-fried foods can impede blood flow, making orgasm difficult, if not impossible. As for the chicken part, that's just my personal prejudice. It is hard to look seductive on Valentine's Day while gnawing on the greasy, disembodied leg of a bird.
4. Cocktail shots can destroy date night
A glass of Champagne, even a classic cocktail can help make a romantic meal complete. But there are only two reasons to do shots. The first is to anesthetize. The second is to get drunk as quickly as possible. In neither case has the alcohol helped prepare you for a romantic interlude.
The use of aphrodisiacs is all about heightening the senses and priming the body for action. Drunk and numb, your mind and body are essentially useless. So skip the shots on Valentine's Day and invest in a lovely bottle of wine with the potential to seduce and delight.
RELATED: How to seduce a woman…or man…with wine.
More tips on foods that lower sex drive
Other foods with purported anaphrodisiac effects include:
hops – sorry, no Valentine's Day keggers
marjoram
coriander
licorice
saltpeter
For some inspiration on foods you SHOULD serve on Valentine's Day or any romantic occasion, check out our guide to the world's greatest aphrodisiac foods.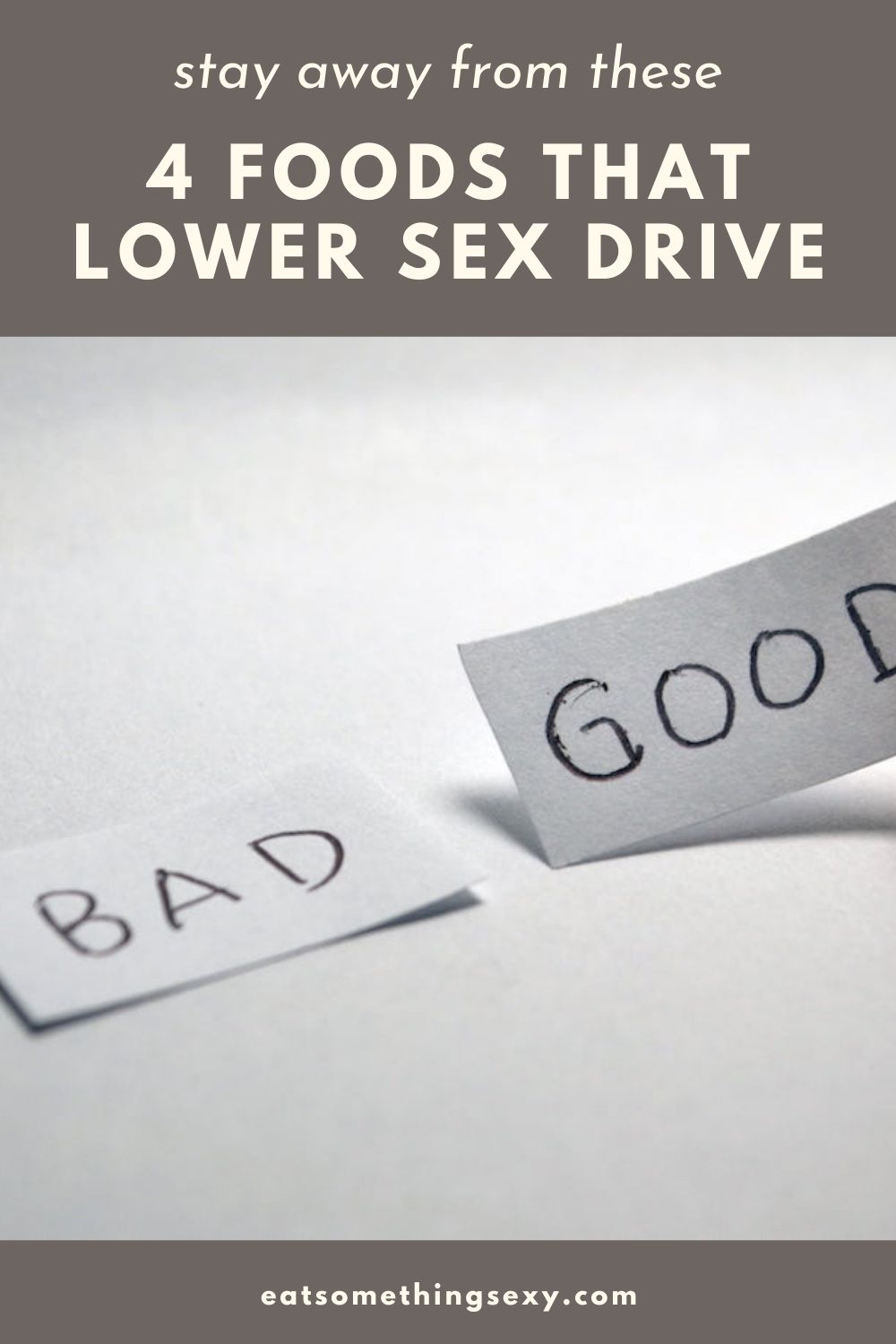 Latest posts by Amy Reiley
(see all)
Get on our mailing list
Subscribe and get our exclusive list of Six Great Sex-Boosting Snack Foods for FREE! Unsubscribe at any time.