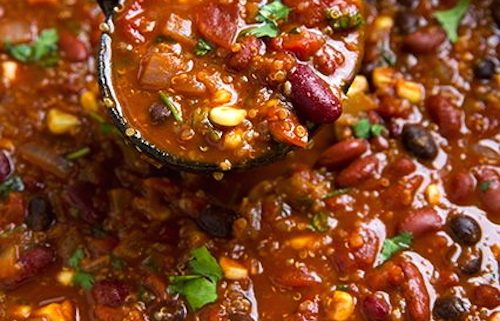 Quinoa and Vegetable Chili Recipe
Tis the season for my favorite vegan chili
Autumn is one of my favorite times of the year, when it starts to cool off and I can start making hearty soups and stews again. This week I wanted to use up the last of my summer corn and poblano peppers and decided to revamp the traditional chili into a little bit of a lighter–yet still as delectable–dish, Quinoa and Vegetable Chili. For this version, I'm trading in the classic carne for quinoa and adding a ton of vegetables and a little extra spice.
Why add quinoa to your chili?
Quinoa is one of the most protein-rich foods available. That's because it's a complete protein, containing all nine essential amino acids. In addition, it has twice the fiber content of most other whole grains. And this ancient grain is a source of iron, magnesium, riboflavin. Not to mention that quinoa contains lysine, which is essential to the human body for tissue growth. So it's pretty easy to see why, especially if you're making a vegetarian chili, you would want to make a Quinoa and Vegetable Chili.
Incidentally, did you know that quinoa can be popped like popcorn? Just another fun fact about quinoa to help inspire you to go out and buy this grain.
The heat of chile pepper adds an aphrodisiac effect
Since this Quinoa and Vegetable Chili is minus the meat I added extra vegetables and upped the chile pepper count. And since hot peppers are among the oldest most recognized aphrodisiacs, it definitely adds to the dish's allure. By the way, do you know what makes chiles so sensual?  They contain a chemical called capsaicin which, when eaten, increases heart rate, induces sweating and increases the sensitivity of nerve endings. Basically, chili's stimulate endorphins, they're the Marvin Gaye of the savory fruit world. (Learn more about what makes chile peppers so aphrodisiac.)
With the right combination of veggies, the health benefits of quinoa and the sexy heat of chile peppers, this Quinoa and Vegetable Chili will really heat up a chilly fall evening!
Want more great quinoa recipes? Check out this side dish recipe for Meyer Lemon Quinoa with Basil, Black Pepper and Turmeric.
Quinoa and Vegetable Chili
A hearty pot of vegetarian chili made with quinoa and vegetables.
Cooking Style:
Easy, vegan, Vegetarian
Diet and Health:
gluten-free, Healthy, low fat
Ingredient:
kidney beans, quinoa
Ingredients
2

cups

cooked quinoa

1

tbsp

extra virgin olive oil

1

large yellow onion

diced (1 3/4 cup)

4

cloves

garlic

minced

2

cans diced tomatoes

1

cup

chopped fresh spinach

1

can tomato sauce

2

cups

vegetable broth

4

ribbed and chopped poblano peppers

1

chopped red jalepeno

substitute habanero if you can handle it!

2 1/2

tbsp

chili powder

2

tsp

ground cumin

1

tsp

cocoa powder

1 1/2

tsp

paprika

1/2

tsp

ground coriander

1/2

tsp

cayenne pepper

or more if you're wild

salt and freshly ground black pepper

to taste

2

15-oz can

kidney beans

drained and rinsed

1

15-oz can

black beans

drained and rinsed

1 1/2

cups

fresh or frozen corn

1/2

cup

cilantro

chopped

Juice of 1 lime
Instructions
Heat olive oil in a large enameled cast iron pot over medium-high heat.

Once oil is hot add onion and chopped peppers and saute until tender, about 4 minutes.

Add in garlic and saute for 30 seconds.

Add in diced tomatoes, tomato sauce, cooked quinoa, and broth.

Add chili powder, cumin, cocoa, paprika, coriander, cayenne pepper and season with salt and pepper to taste.

Bring mixture just to a boil, then reduce heat to a simmer, cover pot and allow to simmer 30 minutes.

Add in all beans, corn, spinach, cilantro and lime and cook until heated through.

Serve with cornbread and avocado.
Pin this recipe:
FREE APHRODISIAC NEWSLETTER
Subscribe to our free aphrodisiac newsletter