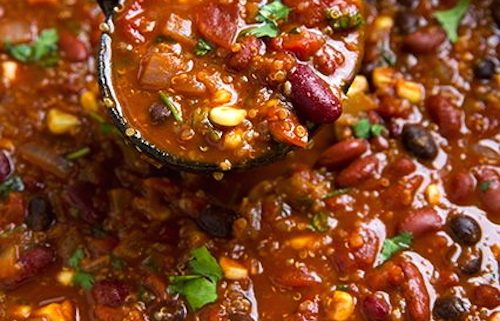 The Best Plant-Based Chili Recipe (Vegan)
Our articles may contain affiliate links. For more information, view our policies.
Autumn is one of my favorite times of the year. This is when it starts to cool off and I can begin making hearty soups and stews again. But since I'm a vegetarian, hearty takes a little bit different form than what you might think of when you conjure up the aromas and textures of a classic chili recipe. That's right, I only make plant-based chili.
However, all the elements that make chili a favorite from October until spring, the spices, the inexpensive ingredients and the ease of throwing together this filling stew are equally satisfying whether you make beef chili or my quinoa chili. In fact, I'll even be so bold as to say that once you try my version, you'll never miss the meat!
How to make a great veggie chili
For this plant-based version of an easy chili recipe, I'm trading in the classic carne for quinoa and adding two beans, (red kidney and black beans), with slightly different sizes, flavors and textures. That's really the key!
And to make it a somewhat sexy version of chili, (after all, this site is called Eat Something Sexy!), I added extra spice, but we'll get to that later. I think these flavorful additions make for the best vegan chili around.
TRY NEXT: Meatless Chili with Chocolate
Organization tips
This chili is a one-pot recipe, so get ready for simple. Before you start adding ingredients to the pot, make sure you cook the quinoa. You're going to add fully-cooked quinoa to the chili ingredients, so you need to make it in advance. (You can cook the quinoa as much as 24 hours in advance, which can help you get good food on the table faster.)
The next tip is to keep a pair of disposable, food handling gloves next to your cutting board. I highly recommend wearing gloves when handling the chiles. If you're bare-handed, the oils from the chiles can get onto your skin. And then if you touch your eye, watch out! (If this happens, never rub your eye. You can dab it with a cotton ball dipped in milk. This can help reduce the pain.)
The other trick to simplifying the cooking process is to chop the onion, garlic and peppers in advance. Just don't forget to slip on those gloves!
How long should you cook chili?
Once you've put the ingredients in the pot to simmer, you can relax for 30 minutes while the chili cooks. This recipe makes a chunky vegetarian chili but if you like it when the tomatoes break down and form a more saucy texture, you can feel free to cook the chili longer than thirty minutes, up to an hour, until it achieves a softer, more soup-like texture.
A note on beans
I prefer a firm texture to my beans so I don't add the red kidney beans and black beans until the very end so that they don't break down. However, if you prefer your chili with beans that have softened, you can add them when you add the quinoa, tomatoes and broth. But no matter when you add the beans to your pot, make sure they are thoroughly drained and rinsed.
Why I add quinoa
Quinoa is one of the most protein-rich foods available. That's because it's a complete protein, containing all nine essential amino acids. In addition, it has twice the fiber content of most other whole grains. (Did you know that getting enough fiber is one of the steps in our 10 Steps to Sexy diet?)
In addition, this ancient grain is a source of iron, magnesium, riboflavin. Not to mention that quinoa contains lysine, which is essential to the human body for tissue growth. So it's pretty easy to see why, especially if you're making a vegan chili, you would want to add quinoa to make a super healthy vegetarian chili.
Incidentally, did you know that quinoa can be popped like popcorn? Just another fun fact about quinoa to help inspire you to go out and buy this grain. Here's a step-by-step guide, in case you want to try it.
Want more great quinoa recipes? Check out this side dish recipe for Meyer Lemon Quinoa with Basil, Black Pepper and Turmeric
Why I use so many chile peppers
Since this vegan quinoa chili recipe is a meatless dish, I added extra vegetables and upped the chile pepper count. And since hot peppers are among the oldest, most recognized aphrodisiacs, it definitely adds to the dish's allure.
By the way, do you know what makes chiles so sensual?  They contain a chemical called capsaicin which, when eaten, increases heart rate, induces sweating and increases the sensitivity of nerve endings. Basically, chiles stimulate endorphins, they're the Marvin Gaye of the savory fruit world. (Here's some more information about what makes chile peppers so aphrodisiac.)
Of course, you can adjust the spice level of your chili to your taste by reducing the amount of chile powder or omitting the jalapeno. Just remember that the greater the heat, the more chances you have for the aphrodisiacs of the chili to spark desire. So if you're looking for some after-dinner romance, you might want to swap a habanero for the jalapeno and really bring some fire to your pot of chili.
Is plant-based chili good for you?
If you're concerned that taking out the meat also takes some of the nutrition away from your chili, rest assured that meatless chili will provide you with fiber, vitamin C and many other nutrients that come from the diced tomatoes, chiles and other spices and vegetables in this two bean chili recipe. But the beans and quinoa in this chili recipe will provide you protein without the saturated fat of red meat.
Both of these key ingredients in my spicy quinoa chili will help you feel full and satisfied. This seriously is the best vegan veggie chili recipe!
Serving suggestions
I like to serve my chili just the way it is written, straight from the pot while you can still smell that bright tang of fresh lime juice. But if you like your chili recipes with more traditional fixings, here are some suggestions for ways to make a traditional bowl of chili while still keeping the recipe vegan:
Slices of ripe avocado
A dollop of vegan sour cream substitute
Shredded vegan cheese
With a side of tortilla chips and an extra wedge of lime
With a side of vegan cornbread, (my favorite)
Finely chopped sweet onions
Chopped, fresh cilantro
With one of these sophisticated margaritas on the side
With the right combination of veggies, the health benefits of quinoa and the sexy heat of chile peppers, this spicy, sexy chili recipe will really heat up a cool fall evening. So get ready for sweater weather with this spicy vegan bean chili recipe!
Get more great vegetarian and vegan recipes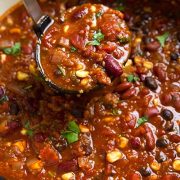 Hearty Quinoa Vegan Chili
Print Recipe
A hearty pot of vegan chili made with quinoa and vegetables.
Ingredients
1

tbsp

Olive oil

1

Large yellow onion

diced (1 3/4 cup)

4

Ribbed and chopped poblano pepper***

1

Chopped red jalepeno***

substitute habanero if you can handle it!

4

cloves

Garlic

minced

2 1/2

tbsp

Chili powder**

2

tsp

Ground cumin**

1

tsp

Cocoa powder

1 1/2

tsp

Paprika**

1/2

tsp

Ground coriander**

1/2

tsp

Cayenne pepper**

or more if you're wild

2

14.5 oz

Cans diced tomatoes

1

8 oz

Can tomato sauce

2

cups

Cooked quinoa*

2

cups

Vegetable broth

plus one cup in reserve

Salt and freshly ground black pepper

to taste

2

15-oz can

Kidney beans

drained and rinsed

1

15-oz can

Black beans

drained and rinsed

1 1/2

cups

Fresh or frozen corn

1

cup

Chopped fresh spinach

1/2

cup

Cilantro

chopped, (optional)

Juice of 1 lime
Instructions
Heat olive oil in a large enameled cast iron pot over medium-high heat.

Once oil is hot add onion and chopped peppers and saute until tender, about 4 minutes.

Add in garlic, chili powder, cumin, cocoa, paprika, coriander, cayenne pepper and saute for 30 seconds.

Add in diced tomatoes, tomato sauce, cooked quinoa, and broth. Season with a pinch of salt and black pepper.

Bring mixture just to a boil, then reduce heat to a simmer, cover pot and allow to simmer 30 minutes. If chili gets too thick, add 1/4 cup additional vegetable stock at a time, up to 1 cup in total. Adjust flavor with additional salt and pepper to taste.

Add in all beans, corn, spinach, (optional) cilantro and lime and cook until heated through.
Notes
*Don't forget to cook your quinoa in advance. (You can cook it up to 24 hours in advance and store it in a sealed container in the refrigerator.)

**Make sure your spices are fresh. If you aren't sure how old your spices are, check the color and give them a sniff test before using them. Fresh spices should still have a vibrant color and aroma. If you can't tell by smelling, taste the spices to ensure that your chile still has bite and none of the spices faded or turned bitter. 
***I recommend wearing disposable gloves when handling chile peppers. 

This recipe makes a very chunky chili. If you prefer a soupier texture, you can simmer the chili for an hour to allow the tomatoes to break down. 
Pin this spicy vegetarian chili recipe: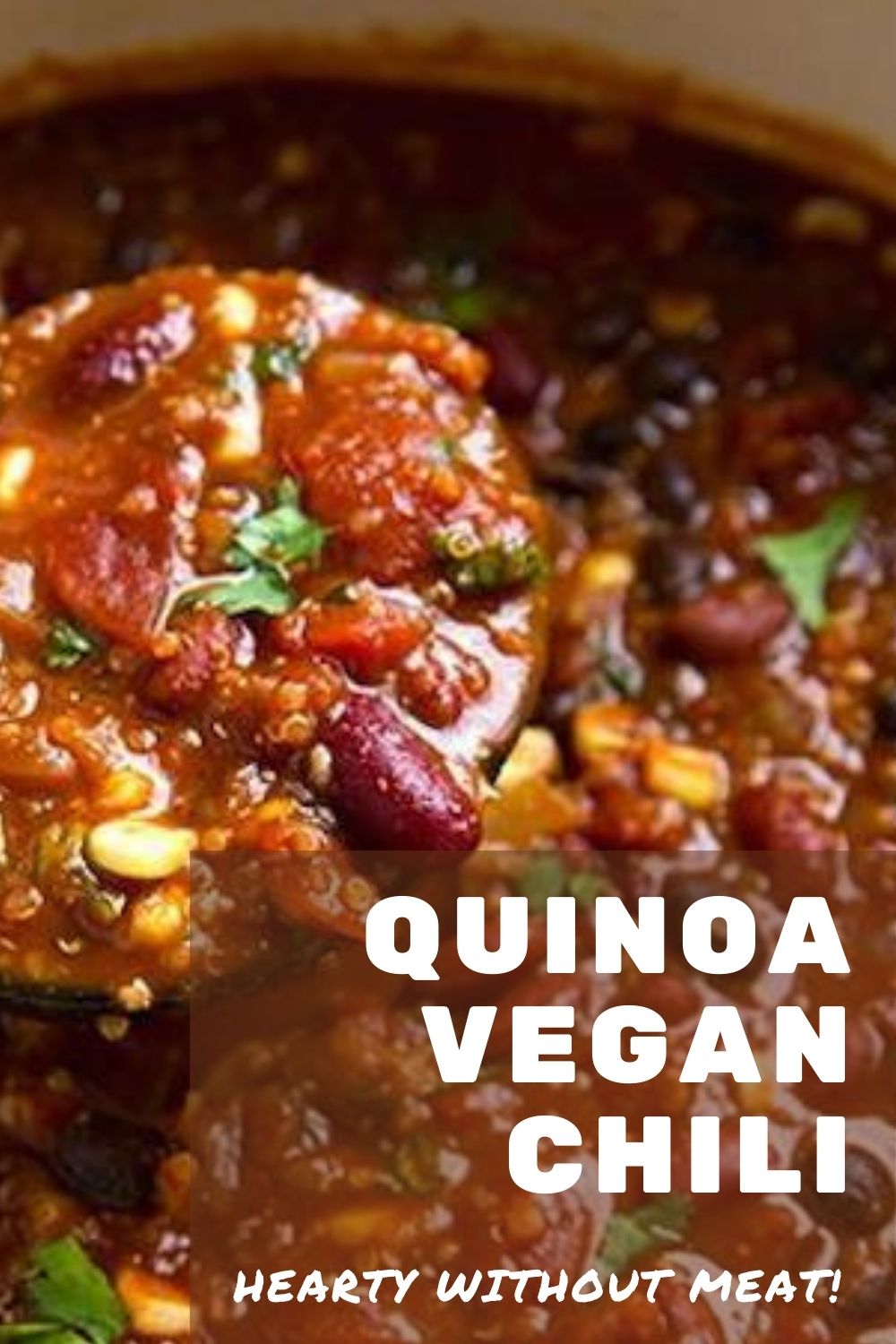 This homemade vegan chili recipe was first published in 2014 and most recently updated in October 2022.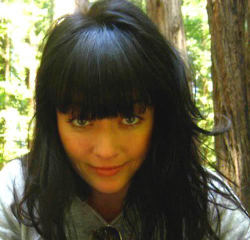 Latest posts by Vanessa Vanya
(see all)
Get on our mailing list
Subscribe and get our exclusive list of Six Great Sex-Boosting Snack Foods for FREE! Unsubscribe at any time.