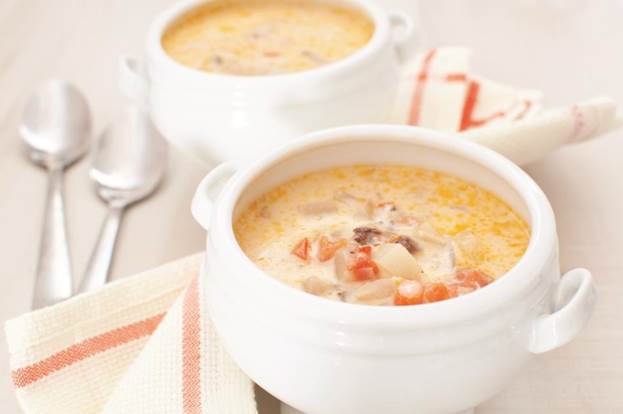 How to Make a Decadent Lobster Stew with White Wine
Our articles may contain affiliate links. For more information, view our policies.
I cannot resist a good lobster recipe. And when I saw this lobster stew recipe, its decadence and layers of flavors made me instantly crave a bowl of this luxury comfort food. I knew that I had to share it with you so that we can sip, slurp and enjoy this incredible, creamy lobster soup together.
TRY NEXT: The Best Lobster Sandwich That's Not a Lobster Roll
I wish I could take credit for this hearty and fairly healthy stew recipe. But it comes from a family-owned winery in Sonoma County, California, Donelan Family Wines. They offered me this decadent, Chardonnay-laced lobster meat recipe as their suggestion for a Sonoma-style Thanksgiving dinner appetizer. Could a soup recipe get much better?
How to make this Maine lobster stew with potatoes
This delicious stew recipe is surprisingly straightforward. If you have any experience making soups, you'll find it delightfully easy to make a seafood stew layered with so many flavors. The only possibly tricky part is cooking and shelling the lobster.
Equipment
You'll need two pots for this recipe, one for the lobster and one for everything else.
Large stockpot for cooking the lobsters – I love a simple pot like this one for lobsters
Medium stockpot for making the stew – this is what I use
Baking sheet with a rim – these Wilton sheet pans are great
Other than that, you should have everything you need already. Just make sure you have a good knife for dicing and a ladle for serving.
Where to get live lobsters
If you live in New England or a nearby state, you'll have no problem getting a two-pound lobster for this recipe. However, for the rest of us, Maine lobster isn't something always sold at the local fish shop or specialty store.
Luckily, there's online shopping! You can get a lobster shipped to your door from a reputable retailer. There are a number of lobster retailers to choose from. One good choice is Maine Lobsters Now. They overnight sustainably sourced lobsters and guarantee that the lobsters will be alive when they arrive. And they do sell two-pound lobsters. (I recently discovered that you can also order lobster through Amazon.com but I can't speak to the quality.)
It's important that you purchase a whole lobster not lobster meat for this stew recipe because you will incorporate the lobster cooking juices into the soup. This brings us to the one slightly tricky part of making this stew, removing the lobster shell.
How to prep the lobster
Once your fresh lobster arrives safely at your doorstep, you're going to cook it in three cups of boiling water. Remember to return the lid to the pot after you put the lobster in the water. You aren't going to cook the lobster through at this time, just cook it for 5 minutes then let the cooked lobster cool on your sheet pan.
You're only going to use the tail and claw meat for this recipe. You can use a lobster cracker to open the claws. But if you don't have one, you can give them a gentle whack with a meat hammer. I've also seen people put the claws in a ziplock bag and run them over with a rolling pin. I've never tried this method myself but I'm impressed by the results I've seen.
As for the tail, you don't need any tools. Just twist the tail off of the body. Then twist the flipper end off of the tail. Now you can just push the whole tail out of the shell with your fingers, starting at the smaller opening at the bottom, pushing it out the other end. It may sound weird but it's fast and easy!
I want to mention that this recipe leaves a lot of lobster in the shell. There's quite a bit of meat in the knuckles, body and legs. If you don't have time to remove it before making the stew, store the remainder of the body in a sealed container in the refrigerator until you have time to remove it from the shell. Just make sure you do it the same day that you cooked it.
What white wine should you use?
Once the lobster and the lobster cooking liquid are ready, the rest of this stew recipe is incredibly straightforward. The only ingredient that might confuse you is the direction to use oaked Chardonnay for the white wine. If you aren't sure what this is, just ask someone at a good wine shop and explain that you need it for cooking but you want something you'll also drink.
The specific Chardonnay the recipe creator calls for, Donelan Nancie Chardonnay, is an incredible wine but it's also fairly expensive, (in the $50 range). But it is among California's most critically acclaimed Chardonnays. So if you want a truly decadent experience and can afford to splurge on lobster and great Chardonnay, go for it!
But for everyone who just wants to enjoy a good pot of seafood stew, you just need to find a pleasant Chardonnay that's been fermented in oak, not stainless steel. (Chardonnay made in oak has a bigger flavor and more weight on the tongue than the lighter, fruitier wines made in stainless steel tanks. While it may seem like white wine is white wine, this difference will actually impact the final flavor and texture of your stew.)
Get Chardonnay delivered to your door with Drizly
When to add the lobster and cream
One last tip for making this creamy lobster soup is to make sure you wait to add the heavy cream and the lobster meat. You can make the soup in advance, which is great for dinner parties and it can give you a little time to freshen up if you're serving it for a romantic evening. But let the soup cool and sit for about 30 minutes, or more depending on your timing, then right when you're ready to serve, bring it back to a simmer and stir in the cream and cooked lobster meat at the last minute. Then remove the stock pot or dutch oven from the heat before you ladle the stew into your soup bowls.
Is this soup a lobster bisque?
You might be wondering why the name of this lobster soup recipe is "lobster stew" rather than "lobster bisque." You could call the soup a bisque if you like, but the title would be inauthentic. According to The Spruce Eats, a bisque is a traditional, French seafood soup made from crustaceans, such as lobster or crab, and thickened with cream.
TRY NEXT: Easy, Oven Roasted Dungeness Crab
That would describe this soup, however, while this seafood stew uses chicken stock as a base and potatoes to thicken the soup, a bisque only uses lobster stock, (or a stock made from whatever crustacean you're using). A bisque is traditionally thickened with the crushed shells of the lobster, or crab or shrimp.
However, it is perfectly acceptable to thicken a bisque with rice. But a lobster stew recipe is a slightly simpler thing with a more rustic, but still creamy and decadent flavor. The good news is that it's quite a bit easier to create than a classic lobster bisque recipe.
And in case you're wondering, it wouldn't qualify for a lobster chowder recipe, either. Although this Maine lobster stew recipe shares many characteristics with a good chowder, it lacks the salt pork traditional in New England chowder recipes.
When to serve this lobster recipe
As I mentioned, the Donelan family recommends this stew as a starter for Thanksgiving dinner. And if you're wondering if lobster belongs at a traditional Thanksgiving table, the answer would be yes. Lobster was once a prolific food source for New Englanders and was a part of the early settlers' table year-round. In fact, it was the Native Americans who taught the Pilgrims about lobsters and likely brought them to the first Thanksgiving.
However, though I agree that it would make a decadent, not to mention a traditional starter for a Thanksgiving feast, this lobster stew is my pick for a more romantic evening.
Why it's a recipe for a romantic evening
Date night and soup might not be two phrases you'd normally connect. But a lobster stew with Chardonnay finished with a touch of cream for a velvety texture is certainly an exception! Let's not forget that not only is it one of the most indulgent ingredients, but Maine lobster is also one of the world's most legendary aphrodisiacs. (The recipe also includes several other noted aphrodisiacs including 2 of my favorites, fennel and saffron.)
Serve this velvety and indulgent soup on your next date night or file this recipe away for Valentine's Day. Just know that whenever you serve it, there might be romance on your horizon.
Check out all of our best soup recipes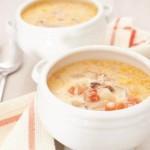 Decadent Lobster Stew with Chardonnay
Print Recipe
This sensual lobster stew is a perfect warm-up on a cold winter evening. It features the aphrodisiacs of lobster, saffron and Chardonnay wine and the richness of a touch of cream.
Ingredients
2

lb

Live lobster

6

tbsp

Unsalted butter

2

Medium yellow onions

finely chopped

3

cloves

Garlic

coarsely chopped

1

cup

Celery

cut into thin slices, then halved

1

cup

Carrot

cut into rounds, then quartered

1

cup

Fennel

finely chopped

3

tbsp

Brandy

28

oz

Canned plum tomatoes

with the juice

1

cup

Donelan Nancie Chardonnay

or your favorite oaked Chardonnay**

2

cups

Chicken stock

2

Sprigs thyme

2

Dried bay leaves

1/2

tsp

Saffron threads

2

Medium round white potatoes

peeled and cubed

1/2

cup

Heavy cream

Sea salt

Freshly ground white pepper
Instructions
Bring 3 cups water to a boil in a large pot.

Add lobster and cook until shells are red but meat is not yet cooked through, about 5 minutes.

Remove with tongs to a rimmed baking sheet, save cooking liquid.*

When cool enough to handle, crack the shells over a bowl, saving as much juice as possible. Extract the tail and claw meat, chop it into 1 or 1/2 inch chunks, and reserve.

In a second, medium-sized stock pot, melt the butter and add the onion, garlic, celery, carrots, and fennel over medium heat.

Sauté the vegetables for about 10 minutes or until they are soft.

Remove pot from heat and add brandy, return to heat and cook until brandy is almost evaporated.

Add 1 cup of the lobster cooking liquid,* the plum tomatoes and juice and bring the mixture to a simmer.

Add the Chardonnay, chicken stock, bay leaves, thyme and saffron.

Bring the mixture to a simmer; cover it and cook for about 40 minutes.

After the 40 minutes is up, add the potato and cook until the potato is soft. Remove the bay leaves.

Remove the soup from the stove and let it cool.

Just before serving, return the soup to the stove and slowly bring it to a gentle simmer.

Stir in the heavy cream, cooked lobster and season to taste with sea salt and ground white pepper.

Immediately ladle into warm soup bowls.

Serve hot, paired with a glass of the Chardonnay used to make the stew.
Notes
*Be sure to save the juices in the pan as well as the pot. Combine these juices, along with any that drip when you're shelling the lobster. You're going to combine this liquid with enough of the lobster cooking liquid to make one cup of lobster cooking liquid. 


**See the notes on choosing a Chardonnay in the introduction if you are not sure what is meant by an oaked Chardonnay.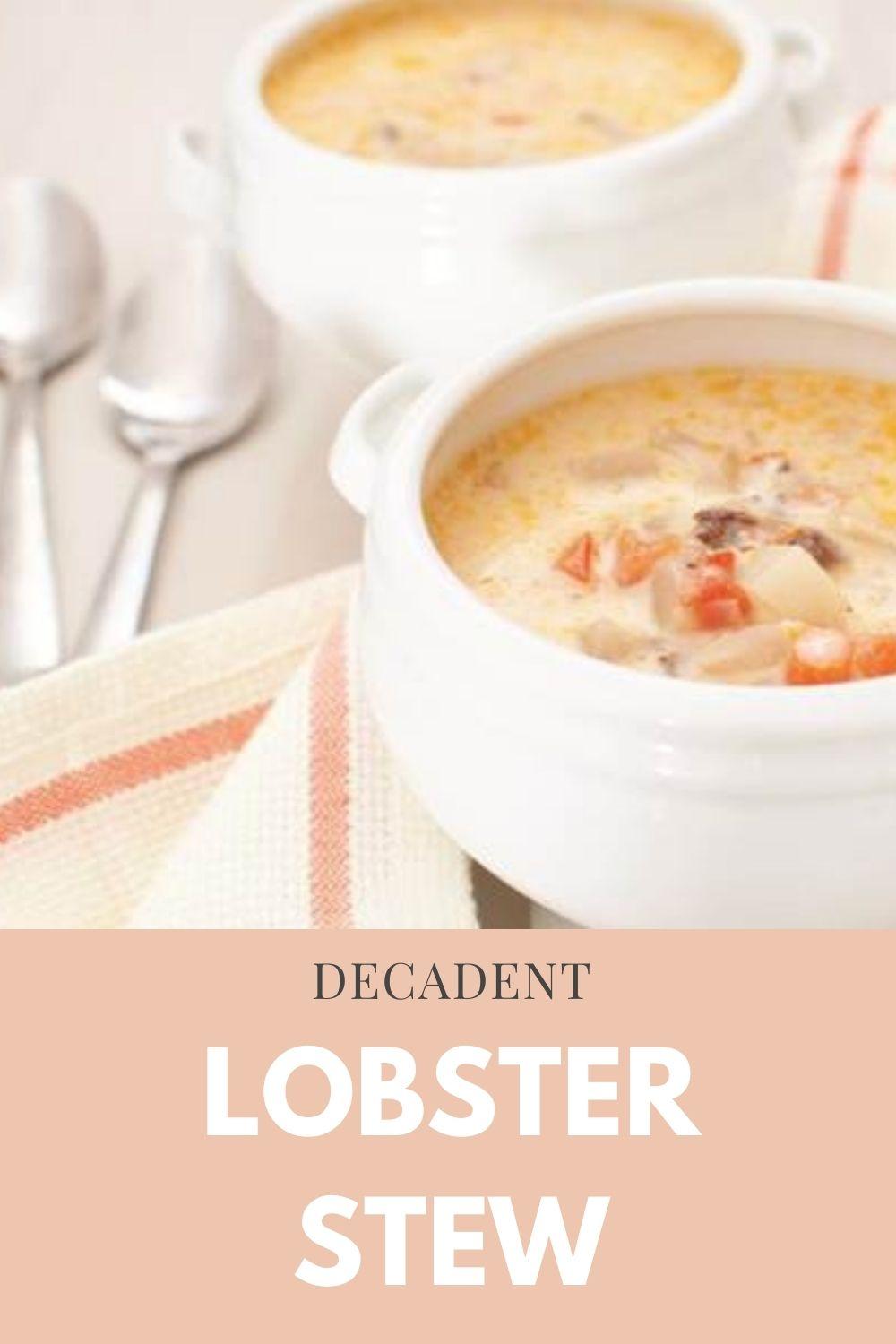 Latest posts by Amy Reiley
(see all)
Get on our mailing list
Subscribe and get our exclusive list of Six Great Sex-Boosting Snack Foods for FREE! Unsubscribe at any time - privacy policy