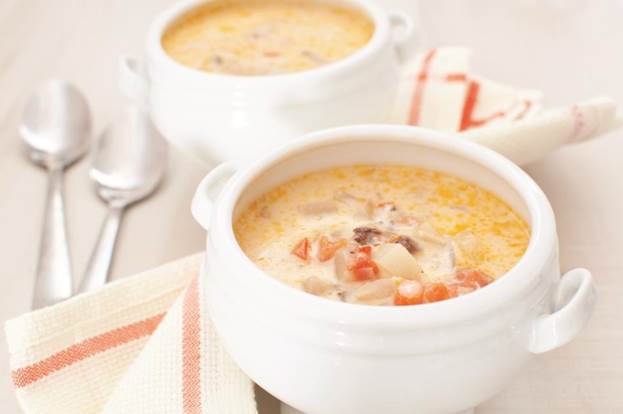 A Lobster Stew from Sonoma Made with Chardonnay
Our articles may contain affiliate links. For more information, view our policies.
I'm always on the lookout for a good lobster recipe. And when I saw this recipe for a lobster stew, the decadence and simplicity made me instantly crave this luxury comfort food.
I wish I could take credit for this hearty and fairly healthy stew recipe. But it comes from a family-owned winery in Sonoma County, California, Donelan Family Wines. They offered me this decadent, Chardonnay-laced lobster meat recipe as their suggestion for a Sonoma-style Thanksgiving dinner appetizer. Could a soup recipe get much better?
RELATED: If you love lobster, don't miss this recipe for the best lobster sandwich ever!
Is this soup a Lobster Bisque?
You might be wondering why the name of this recipe is "Lobster Stew" rather than "Lobster Bisque." You could call the soup a bisque if you like, but the title would be inauthentic. According to The Spruce Eats, a bisque is a traditional, French seafood soup made from crustaceans, such as lobster or crab, and thickened with cream.
TRY NEXT: Easy, Oven Roasted Dungeness Crab
That would describe this soup, however, while this seafood stew uses chicken stock as a base and potatoes to thicken the soup, a bisque only uses lobster stock, (or a stock made from whatever crustacean you're using). A bisque is traditionally thickened with the crushed shells of the lobster, or crab or shrimp.
However, it is perfectly acceptable to thicken a bisque with rice. But a lobster stew recipe is a slightly simpler thing with a more rustic, but still creamy and decadent flavor. The good news is that it's quite a bit easier to create than a classic lobster bisque recipe.
A date night lobster stew recipe
Date night and soup might not be two phrases you'd normally connect. But a lobster stew with Chardonnay finished with a touch of cream for a velvety texture is certainly an exception! Let's not forget that not only is it one of the most indulgent ingredients, but Maine lobster is also one of the world's most legendary aphrodisiacs. (The recipe also includes several other noted aphrodisiacs including 2 of my favorites, fennel and saffron.)
When to serve this stew recipe
As I mentioned, the Donelan family recommends this stew as a starter for Thanksgiving dinner. And if you're wondering if lobster belongs at a traditional Thanksgiving table, the answer would be yes. Lobster was once a prolific food source for New Englanders and was a part of the early settler's table year-round. In fact, it was the Native Americans who taught the Pilgrims about lobsters and likely brought them to the first Thanksgiving.
However, though I agree that it would make a decadent, not to mention a traditional starter for a Thanksgiving feast, this lobster stew is my pick for a more romantic evening. Serve this velvety and indulgent soup on your next date night or file this recipe away for Valentine's Day. Just know that whenever you serve it, there might be romance on your horizon.
Check out all of our favorite soup recipes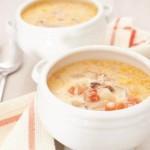 Donelan Lobster Stew
Print Recipe
This sensual lobster stew is a perfect warm-up on a cold winter evening. It serves 8 as an appetizer or 4 as a main course. 
Ingredients
2

lb

live lobster

6

tbsp

unsalted butter

2

medium onions; chopped

3

cloves

garlic; coarsely chopped

1

cup

chopped celery

1

cup

chopped carrot

1

cup

chopped fennel

3

tbsp

brandy

28

oz

canned plum tomatoes

with the juice

1

cup

Donelan Nancie Chardonnay

2

cups

chicken stock

2

sprigs thyme

2

bay leaves

1/2

tsp

saffron threads

2

medium round white potatoes; peeled and cubed

1/2

cup

heavy cream

Sea salt

Freshly ground white pepper
Instructions
Bring 3 cups water to a boil in a large pot.

Add lobster and cook until shells are red but meat is not yet cooked through, about 5 minutes.

Remove with tongs to a rimmed baking sheet, save cooking liquid.

When cool enough to handle, crack the shells over a bowl, saving as much juice as possible. Extract the tail and claw meat, chop it into 1 or 1/2 inch chunks, and reserve.

In a second large stock pot, melt the butter and add the onion, garlic, celery, carrots, and fennel over medium heat.

Sauté the vegetables for about 10 minutes or until they are soft.

Remove pot from heat and add brandy, return to heat and cook until brandy is almost evaporated.

Add 1 cup of the lobster cooking liquid, the plum tomatoes and juice and bring the mixture to a simmer.

Add the Donelan Nancie Chardonnay, chicken stock, bay leaves, thyme and saffron.

Bring the mixture to a simmer; cover it and cook for about 40 minutes.

After the 40 minutes is up, add the potato and cook until the potato is soft. Remove the bay leaves.

Remove the soup from the stove and let it cool.

Just before serving, return the soup to the stove and slowly bring it to a gentle simmer.

Stir in the heavy cream, cooked lobster and season to taste with sea salt and ground white pepper.

Immediately ladle into warm soup bowls.

Pair with the rest of the Nancie Chardonnay.
Pin this lobster stew recipe: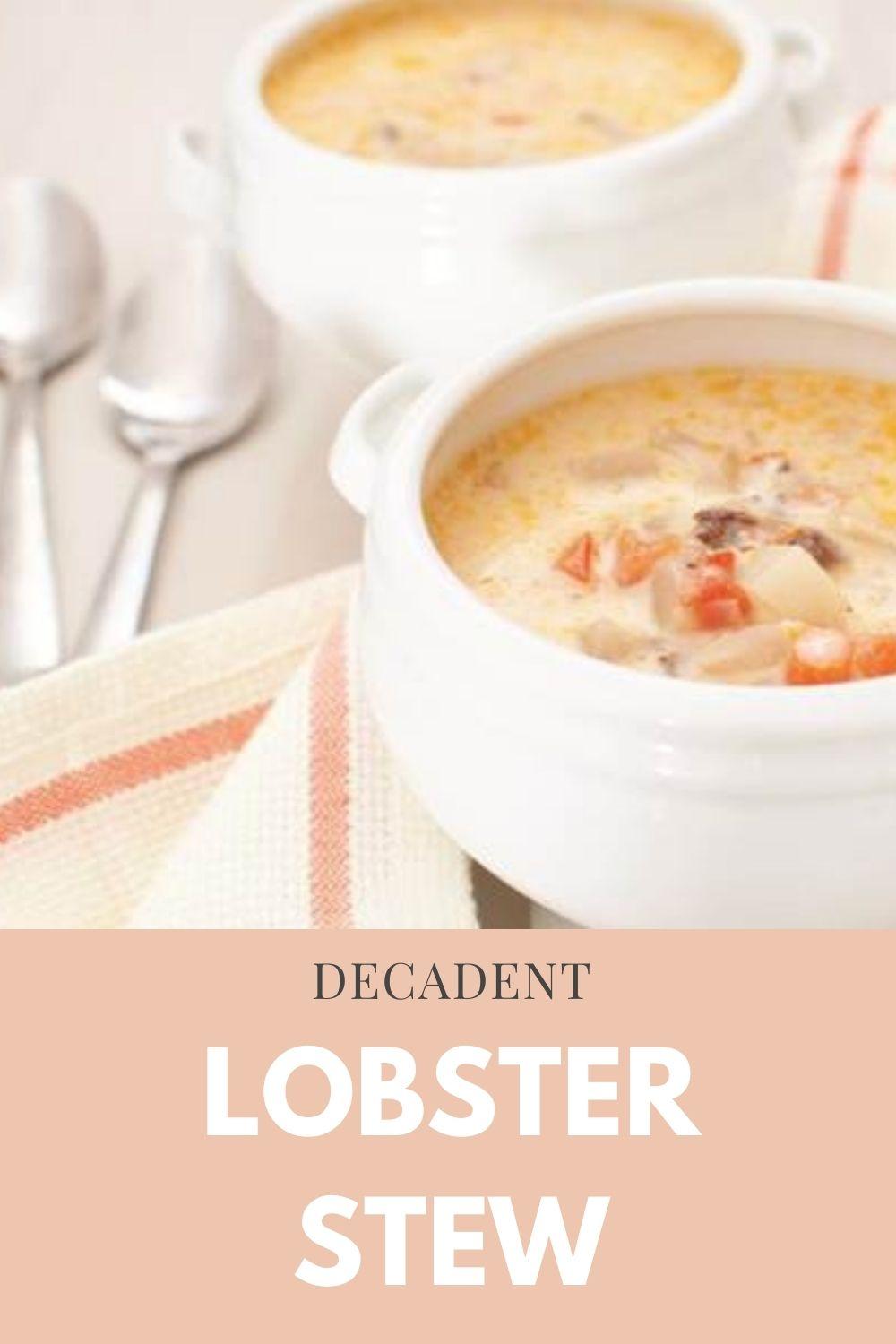 FREE APHRODISIAC NEWSLETTER
Subscribe to our free aphrodisiac newsletter