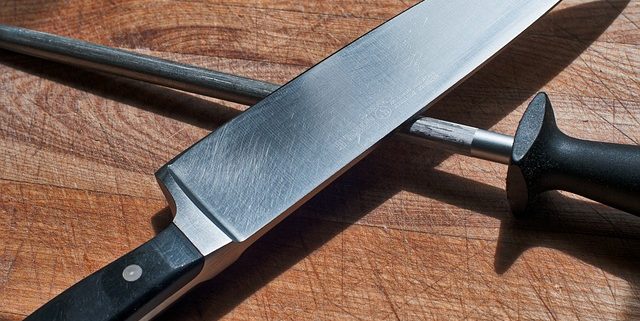 How To Choose Kitchen Knives: a simple guide for home cooks
Our articles may contain affiliate links. For more information, view our policies.
The relationship between home cooks and their knives is a funny thing. Every home cook needs them. But few bother to invest in quality and maintenance. Indeed, the manufacturers of quality knives don't make it easy on us consumers with a dizzying array of choices, all claiming to be the "best knife" or the "only knife you need."
But the truth is, the enjoyment of cooking and of great food starts with having equipment you can count on. So even though our site focuses on the role of food in romance, we understand that you can't get there without enjoying the journey. And good knives are essential to that pleasure.
That's why I've put together this comprehensive guide on how to choose kitchen knives, starting with the best knife for cutting meat, boning meat and cutting raw fish and moving on to fantastic knives for every kitchen task. To come up with the list we gathered input from professional chefs and tested products over time to come up with recommendations of knives that represent value and quality.
What to look for when knife shopping
Although I stand behind all of my knife recommendations below, they are mostly affordable options for the best home kitchen knives. But you may be ready to upgrade to a more serious knife investment. The tricky part about buying knives as the choice isn't necessarily a one-size-fits-all. If you are ready to invest in a quality knife of two, you really need to try out knives for yourself before buying high-quality home kitchen knives.
How to buy a good knife
Instead of shopping from a catalog, find a store with a good variety of knives and knowledgeable staff. Is there a Sur la Table store in your area? This kitchenware chain can make a good starting point when shopping for knives. Particularly when looking for a chef's knife, you need to make sure the size and weight are a fit for your hand and wrist. Make sure that the knife feels balanced in your hand, not to mention comfortable.
You will also want to consider how you want to use the knife before you buy a new knife. If you value a sharp blade and spend many hours a week chopping, you might want something lighter weight. If you cook a lot of meat, you may need a boning knife and a slicing knife. And if you cut a lot of delicate fruits, you definitely want to find something that won't bruise as it slices. But if you just want a workhorse that can do anything from slicing a whole melon in half to slicing chicken breasts into cutlets, then you may want a classic, Western-made chef's knife. I've worked to recommend something for everyone in the list below.
RELATED: How to Build a Charcuterie Board for Two
What are forged knives?
If you are ready to invest in quality, you should understand the difference between stamped and forged knives. These knives are made from a single bar of metal that is heated and pounded into shape. (The alternative, stamped knives, are cut out from a big piece of metal, then heat-treated to form their shape.) Forged knives are not only known for being the most durable, they tend to hold a sharp edge very well.
The process of making forged knives is more time-consuming than the process of making stamped knives. But as a result, a good forged knife tends to have great balance and better durability, not to mention a higher price tag, than a stamped knife. That being said, you can find high-quality stamped knives and badly made forged knives, so don't let this be your only factor in choosing a knife to buy.
Western-style vs Japanese knives
The knife recommendations in this article are all for Western-style knives. These knives are thicker than Japanese knives and tend to be more durable and suited to more tasks. (For example, you can't use a Japanese chef's knife for a task like cutting through a butternut squash.) Japanese knives, however, are wonderful for cooks who value precision. They feature a thinner blade made of carbon steel and tend to be lighter than Western-style knives. If you are interested in learning more about investing in a Japanese knife, this article from School of Sushi is a good place to start.
What is the best knife for cutting meat? (carving)
Mercer Culinary 10-inch Forged Carving Knife


This carving knife is fantastically affordable for what it can do. It's a long-lasting knife that holds an edge well. Its high carbon steel blade honestly provides professional quality for under $40. A comfortable knife, it has a grippy, black handle. It feels very no-nonsense in your hand and very secure in the grip. This is my pick for an affordable, durable and user-friendly meat-cutting knife for carving turkeys and hams.

However, if you plan on making a lot of prime rib, you might want a slicing knife. I recommend the Mercer Culinary Renaissance 11-Inch Granton Edge Slicing Knife.
It is definitely among the most popular meat-cutting knives for slicing tasks. This knife's even width allows you to make beautiful, even slices of prime rib or smoked brisket. And at under $35, it is another great choice for cutting like a pro without breaking the bank.
What is the best knife for cutting fish and raw meats?
Viking 7″ Santoku Knife


If you think Viking was a manufacturer of quality large appliances, you're right. But they also produce a line of highly-regarded, German knives. To be honest, I never considered this brand until the company sent me a knife to try. It was a traditional chef's knife with Santoku-style dimples down the blade. That knife, with its weight and balance, quickly became my go-to. Unfortunately, Viking no longer sells this knife. But they do sell a 7″ Santoku that is an excellent meat knife.
Hand-forged with dimples down the blade, this Viking knife is designed in the Japanese Santoku style. The tiny indents making a pockmark pattern down the blade create air pockets during slicing to help reduce friction, softening the blow to delicate fish and meats. It makes my list of knife recommendations as the best knife for cutting meat because it is a dream for slicing pheasant breast or raw tuna. But I also like it for chopping onions and most other vegetables with precision and ease. This Santoku-style knife from Viking also comes with a lifetime guarantee against manufacturing defects.

This is the best Santoku knife for my hand but if you find the weight and feel aren't right for you, other knives that make the list of best Santoku knives include Zwilling  J.A. Henckels Signature Santoku Knife; Zelite Infinity 7-inch Santoku Knife and the Mac Knives MSK-65 Professional Hollow Edge Santoku Knife. Or just buy my recommendation for the best chef knife set below, which comes with a 5-inch Santoku knife. 
Shop for more Santoku knives on Amazon.com
What is the best boning knife?
Victorinox Fibrox Pro 6-inch Curved Boning Knife
This Swiss knife is pretty amazing for the price. This little butcher knife isn't pretty to look at but it feels good in your hand and it's very easy to use. It has a six-inch stainless steel blade and is both tough enough to work in meats but delicate enough to debone fish. It's popular with professionals and for good reason! I could suggest some alternatives but there's really no reason. At around $30, this knife is affordable enough for everyone and widely distributed.

What is the best knife for cutting fruit?
Kyocera 3-inch Ceramic Pairing Knife
This knife may be as fragile as fine china but it is the indispensable small, sharp knife in my kitchen. (Luckily, it is also relatively inexpensive.) Ceramic knives are made with a thin and almost razor-sharp ceramic blade. This means that if you drop one, it will shatter. These pairing knives can also get nicked but with careful handling, they'll last for decades and retain their edge without sharpening.
I've had one Kyocera ceramic knife for over 15 years. It shows little wear other than some staining on the blade from cutting tomatoes. And speaking of tomatoes, that's exactly why I love this knife. It is the perfect tool for cutting soft fruits like strawberries and tomatoes, even mangoes, with a clean edge, no bruising or crushing.

What is the best knife for cutting lettuce and other greens?
This is a goofy-looking knife. But this plastic lettuce knife is one of my favorite knives in the kitchen. It was created purely for the purpose of cutting lettuce. Think of it as the carving knife for vegans. (The plastic blade prevents the bruising of the lettuce caused by metal knives. But if you prefer more sustainable options, several companies now make this style of salad knife in bamboo.)
Now, you may be thinking, "What self-respecting cook regularly chops instead of tears lettuce?" Look, I'm a tearer, too. But this inexpensive knife makes my list of knife recommendations because I've found a number of uses for this colored plastic blade. It's klutz (and child) proof. It is durable, easy to maintain, doesn't lose its blade and doesn't nick countertops.
My favorite use is for Oxo's lettuce knife chopping herbs, as the plastic blade tends to cause less browning when you use this knife for chopping herbs than will a traditional metal edge.

What is the best knife set for home cooks?
Wusthof Classic Ikon 10-Piece Block Set
Wusthof is one of my favorite knife companies because they make knives light enough to be manipulated by small, female hands like mine. And although the brand represents quality, these are good value knives. In fact, most knife reviews put Wusthof on the list of the best knives for cooking at home.
I'm recommending the Wusthof Ikon Classic 10-piece block set because it offers absolutely everything you need in a home kitchen at a fair price. This really is one of the best knife sets you could hope to find and as far as I'm concerned, it is the best-value kitchen knife set. It comes with all the usual suspects: paring knife, bread knife, kitchen shears and honing steel, all made from single shafts of high-carbon stainless for better balance. (The Wusthof bread knife that comes with this knife block is a particular favorite of mine. It offers a slim line and excellent balance. Although I own several bread knives, this is the knife I reach for most often.)
But this Wusthof knife set also brings a twist to the typical block. In addition to an 8-inch chef's knife, this set has a 7-inch hollow edge Santoku knife, perfect for precision chopping veg or thinly slicing fish. And I've already talked about how I love Santoku knives for cutting meat as well as seafood.
And in case you want to expand your knife collection later, the block comes with additional slots so you can grow your collection of kitchen knives as needed.

But if you aren't ready to invest in a full-block set of knives, consider starting with the cook's knife. Wusthof is known as one of the best chef knife brands for home cooks when it comes to value. So if you just want to start with one knife, you might want to consider the Wusthof Classic 8-inch Chef's Knife. It is one of the most popular chef's knives for home cooks for a reason. (Check out the chef knife reviews on Amazon for details on why home cooks love this knife.)
The judging criteria
The criteria we used to come up with this list of great knives included:
Value – Although not all of the knives on this list are the most affordable, all of these kitchen knife recommendations represent great value for money.
Durability – Some of the knives on my list are more fragile than others, (like my beloved ceramic Kyocera knife), but all of them have stood the test of time. Most of them have been in my kitchen for at least 15 years.
Functionality – These knives are all sold for a specific purpose and every knife on this list performs its function exceptionally well.
Caring for your knives
Once you find knives you love, it's important to care for them so that they last and you minimize the chance of injury. Knife maintenance begins with always washing your knives by hand. Dry them right away instead of letting them air dry. And never use your knives on a surface that's harder than the knife, like a tile or granite countertop. Use cutting boards instead.
The most important part of knife care is keeping your knives sharp. Professional chefs often use something called a whetstone. This simple stone block requires learning a little technique but offers a low-tech way to keep your knives in great shape. Another, easier option recommended for home cooks is an electric knife sharpener. The right sharpener can keep your knives looking like new. The one I use from ChefsChoice has three stages and even works with serrated knives. It keeps my knives remarkably sharp and is extremely easy to use. Check it out on Amazon: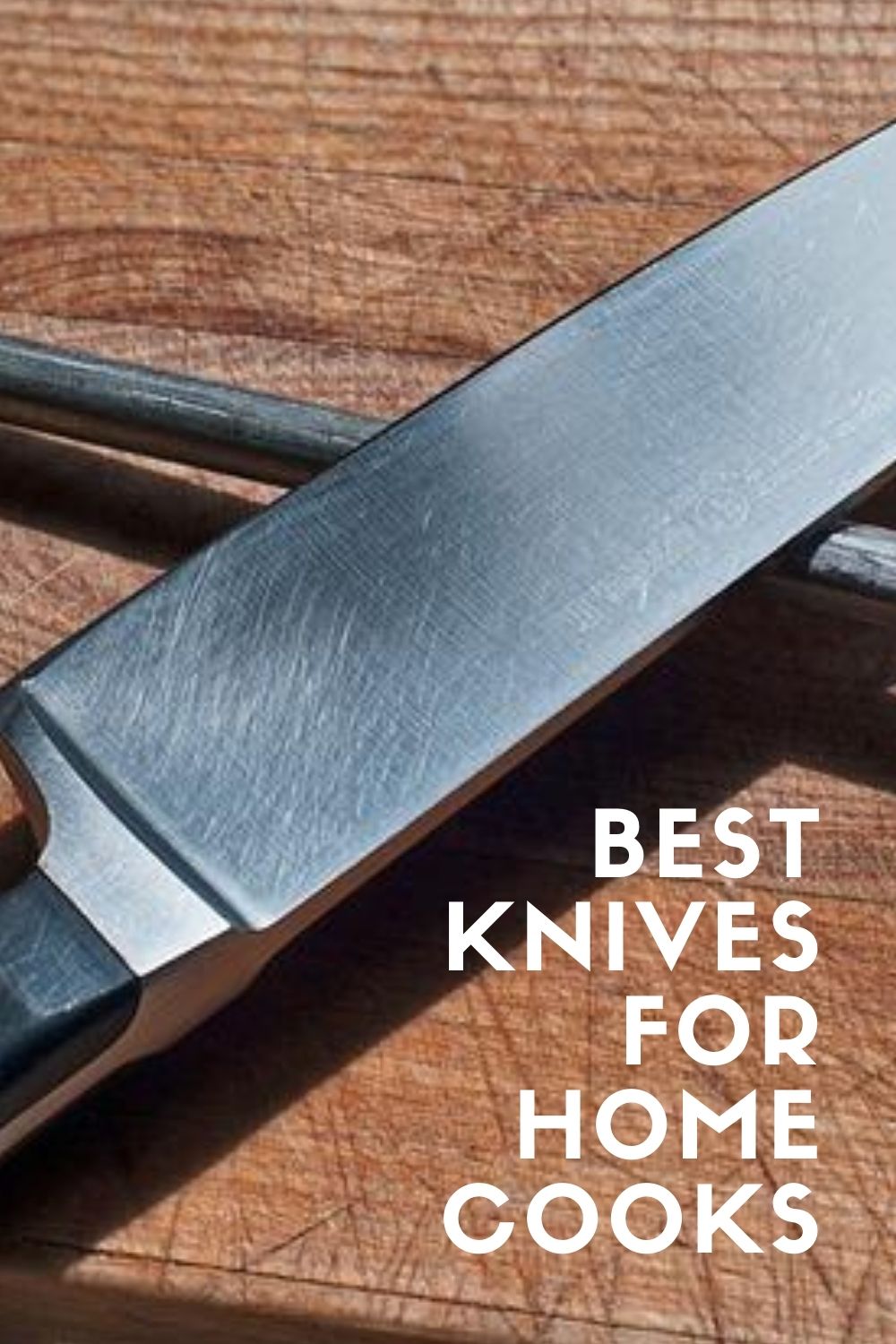 We originally published these knife recommendations in 2007 and figured we were due for an update. I've actually kept (almost) all of my original knife recommendations. These are still solid knife choices and represent good value. 
Latest posts by Amy Reiley
(see all)
Get on our mailing list
Subscribe and get our exclusive list of Six Great Sex-Boosting Snack Foods for FREE! Unsubscribe at any time.