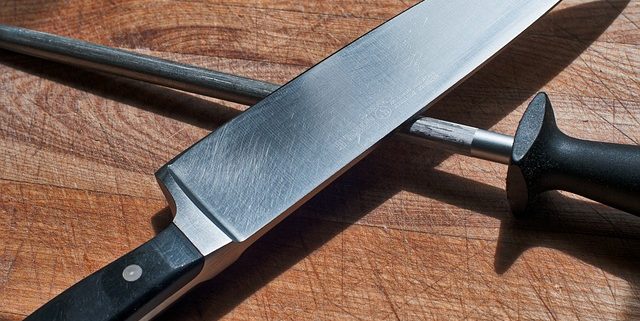 Our articles may contain affiliate links. For more information, view our policies.
One of the most important investments in your kitchen
We originally published these knife recommendations in 2007 and figured we were due for an update. I've actually kept all of my original recommendations. Although they were new on the market at the time, these are still solid knife choices and represent a reasonably good value. What I've added is a little more information on what to look for in a knife, in case the selections below don't fit your needs. 
The relationship between the home cook and their knives is a funny thing. Every home cook needs them. But few bother to invest in a fine set. Certainly, the manufacturers of quality knives don't make it easy on us consumers.
Instead of enticing us with the seduction of their unique wares, they just continue to pump out more complicated and expensive sets while at the same time churning out cheap blocks full of plastic-handled knives. While Henckel once held a place as a top forger they now are just one of many manufacturers on a flooded market pushing a product that is marginal at best. That's why I've put together this list of knife recommendations focused on things we use in our own kitchen and have stood the test of time.
What to look for when knife shopping
Although I stand behind all of my knife recommendations below, they are mostly affordable options suitable for your average home kitchen use. But you may be ready to upgrade to a more serious knife investment.  If that's the case, you really need to try out knives for yourself before you invest in quality kitchen tools. Instead of shopping from a catalog, find a store with a good variety of knives and knowledgeable staff. Particularly when looking for a chef's knife, you need to make sure the size and weight are right for you. Make sure that the knife feels balanced in your  hand.
If you're looking to invest in quality and money is no object, then have a look at forged knives. Forged knives are not only known for being the most durable, they tend to hold a sharp edge very well. Of course, if you love a sharp edge, you also  need to check out ceramic knives. They have some drawbacks, as I explain in my review below, but their ability to hold an edge is unparalleled.
My knife recommendations:
Kyocera 3-inch Ceramic Pairing Knife $20
This knife may be as fragile as fine china but it is an indispensable work horse in my kitchen. Ceramic knives are made with a thin and almost razor sharp ceramic blade. This means that if you drop one, it will shatter. These knives can also get knicked but with careful handling, they'll last for decades and keep retain their edge without sharpening.
I've had one Kyocera ceramic knife for over 15 years. It shows little wear other than some staining on the blade from cutting tomatoes. And speaking of tomatoes, that's exactly why I love this knife. It is the perfect tool for cutting soft fruits with a clean edge, no bruising or crushing. Learn more at https://cutlery.kyocera.com
Viking Hollow Ground Chef's Knife $130
Hand-forged with dimples down the blade, this knife's design is inspired by the Japanese Santoku. The tiny indents create air pockets during slicing to help reduce friction, softening the blow to delicate fish and meats. It makes my list of knife recommendations because it is a dream for slicing pheasant breast or raw tuna. But it's shape still offers the full rocker of a traditional, 8" chef's knife. shop.vikingrange.com
Wusthof Classic 8-Piece Santoku Block Set $400
Wusthof is one of my favorite knife companies because they make knives light enough to be manipulated by small, female hands like mine. And I'm recommending this block set because it offers something interesting. It comes with all the usual suspects: paring knife, bread knife, sharpening steel all made from single shafts of high-carbon stainless for better balance. But it also brings a twist to the typical block.
In place of a chef's knife, the big boy in this set is a 7-inch Japanese knife, perfect for precision chopping veg or thinly slicing fish. But if you miss the feel of a bad boy chef's knife, the block comes with additional slots so you can slide any already treasured knives next to the original eight. www.wusthof.com
Oxo Lettuce Knife $5.00
This goofy looking little knife's raison d'etre is chopping lettuce. (The plastic blade is supposed to prevent the bruising of the lettuce caused by metal knives. But if you prefer more sustainable options, several companies now make this style of knife in bamboo.) Now, you may be thinking, "What self-respecting cook regularly chops lettuce instead of tears?" Look, I'm a tearer, too. But this inexpensive knife makes my list of knife recommendations because I've found a number of uses for this colored plastic blade. It's klutz (and child) proof. (And this is from a woman who once was rushed to the ER in a potato-slicing massacre.) And it doesn't nick counter tops.
My favorite use is for chopping herbs, as the plastic blade tends to cause less browning than a traditional metal edge. www.oxo.com
Now that you've invested in your knives, check out my favorite knife sharpener.
FREE APHRODISIAC NEWSLETTER
Subscribe to our free aphrodisiac newsletter