Our articles may contain affiliate links. For more information, view our policies.
A recent study shows that "vegan" is the least appealing of all food terms. Here's the thing: do most people really understand vegan food? Or are most of us saying, "Vegans eat what?"
What is veganism and why is it so misunderstood?
I'm troubled by a recent study, in which a technology and media company, Morning Consult, polled consumers on a series of terms, asking whether the terminology made food seem more or less appealing. The word vegan automatically turned off 35% of the participants! Only 17% found the term appealing. But the actual concept of vegan food? Well, it's really quite appealing, especially to anyone who wants to improve their libido.
So we're making vegan food accessible by trying to provide the most dynamic answer to what is vegan food and why should you be eating it…at least once in a while.
RELATED: A fantastic, vegan bone broth alternative
What can vegans not eat?
There are approximately 8 million Americans who have at one time been vegans. Veganism is defined as a diet devoid of animal products, including eggs, dairy and even honey. You might be surprised to learn that strict vegans also avoid figs. And some vegans also avoid avocados and almonds as well, although these are clearly plant-based ingredients. This topic is controversial and has to do with the potential exploitation of bees.
With such strict restrictions, why would you turn to a plant-based diet?
Many people turn to veganism because of the taste, the health benefits and for humanitarian reasons. After all, an organic, meatless diet puts less impact on the planet.
Health benefits of a vegan diet
Now it isn't necessarily true that vegans are more healthy than those who eat animal products. But vegan diets tend to be more rich in nutrients. (Notably, the average vegan diet is rich in many of the nutrients most essential to sexual health.) However, at times, staying on a vegan diet can be a challenge. This is especially true when eating out. Some menus will leave you wondering, "Vegans eat what in a restaurant?" But perhaps there are options that you hadn't considered?
Vegan options are getting more interesting
A vegan diet isn't as strict as you think. A positive rainbow of food choices are available on a vegan diet. As more consumers figure this out, more and more manufacturers, restaurants and caterers are offering foods you can eat on a vegan diet.
The production of vegan foods is undeniably on the rise. The plant based market is set to take control of one-third of the food market by 2050. Vibrant changes have been shaping up in the hospitality industry to cater for all diets including veganism. To remain competitive caterers are carefully selecting dishes that include a variety of exciting vegan ingredients. And now even Walmart has a whole section devoted to vegans. It includes creamy spicy burritos, a very buttery butter substitute and protein-packed quinoa.
What can you eat as a vegan for breakfast, lunch and dinner?
What does a plant-based breakfast look like?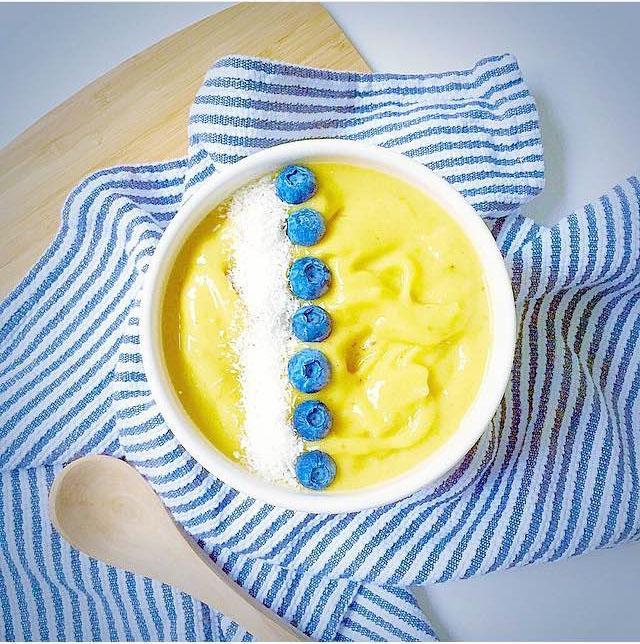 We all love variety in our food and we know that breakfast is the most important meal of the day. But what is vegan food when it comes to breakfast? There are two ways to pamper and indulge vegans at breakfast. The first option is useful if you need to show your special someone that you care about them starting the day with a healthy hit of vitamins.
Try a colorful Morning Mango Nice Cream (pictured)–inventive, healthy and something those among us are vegan shy would enjoy. A plethora of vitamins can be found in this mango, banana and blueberry recipe. For Sunday mornings, which often leave us time for a bit more romancing, why not start the day with indulgence? Waffles, non-dairy, vegan ice cream and hazelnut spread make the perfect breakfast in bed treat.
TO TRY: Our favorite vegan smoothie
What can vegans eat for lunch?
Half of workers take 30 minutes or less of their allocated lunch hour, while a disturbing 29% of workers 'just keep working' through lunch. Whatever the reason it is clear that a quick, healthy vegan lunch can be a challenge when you have a hectic work day.
Try this perfect trick that takes less than 15 minutes: Smash a half a cup of chickpeas with half of a ripe avocado, season with salt and roll into lettuce wraps. It's a complete meal that's perfectly crunchy, healthy and ready in 5 minutes or less.
Vegans eat what for dinner?
People use cooking to show loved ones how they feel, to nurture, entertain and to spend time together. Learning to cook a meat-free dish can be challenging and exciting. However, the time spent in the kitchen preparing food with others is equally important.
Adapting an old family recipe and recreating a vegan friendly roasted veggie strudel or a vegan lamb roast with pomegranate molasses as an alternative to a lamb roast is a fun inventive place to start.
Making vegan food accessible can be exciting. Don't think of the process as making a bowl of raw veggies "taste good." Because what is vegan food? It's a whole lot more than a bowl of vegetables, isn't it?
Think of preparing a vegan meal as a genuinely innovative cooking exercise. With a little thought and planning, there are many ways to enjoy vegan food. Banish the thought that plant based cooking is boring or limited and expand your ideas by searching out recipes that inspire and excite the taste buds.
Check out all of our vegan recipe collection for even more breakfast, lunch and dinner inspiration
Finding more inspiration for plant based cooking
If you need more inspiration, a good starting place is Pinterest. The social sharing site is packed with vibrant food images to spark your interest. Soon you'll be thinking like a vegan. Check out the The Big, Big Vegan Food Board.
Get on our mailing list
Subscribe and get our exclusive list of Six Great Sex-Boosting Snack Foods for FREE! Unsubscribe at any time.