Easy Oven Roasted Dungeness Crab Recipe
Our articles may contain affiliate links. For more information, view our policies.
The best Dungeness Crab recipe
There is a magic moment, usually in mid-November, when my Australian friend, Leanne Sarasy will call and say, "Come for dinner…we have crab!" Yesterday it was a text and I canceled any plan I had because the first oven roasted Dungeness crab of the season is truly close to a religious experience. And I particularly love the way Leanne serves them. Luckily, she's letting me share her roasted Dungeness crab recipe.
TO TRY: If you love crab, you won't want to miss our favorite Lobster Roll recipe!
Leanne's husband, Brian, is an avid fisherman and hunter so there is always something good in her kitchen from the land or sea. And Leanne is a magnificent chef, having cooked onboard yachts around the world for years. I always say, "Give her four ingredients and she can make a three-course meal." She's a culinary genius, especially when it comes to seafood recipes.
And I particularly love her genius with recipes for fresh, whole Dungeness crab. The version that I'm sharing with you is especially good for a date night because it layers fresh crab, (an aphrodisiac,) with several aphrodisiac herbs and spices. So if you're looking for a Valentine's day recipe or just something to make Saturday night more special, this might be THE ONE.
What are Dungeness crabs?
If you're not familiar with Dungeness crab, it's a variety of hard-shelled crab popular on the west coast of the United States. In fact, it is the most abundant crab in the state of California. And it's popular with both commercial and recreational fishermen.
Dungeness crab has a slightly sweeter and less briny flavor than snow crab. And this crab meat is considered among the most sustainable of seafood choices. If you don't live in California, Oregon or Washington, (or it doesn't happen to be Dungeness crab season where you are), you can actually order fresh, whole Dungeness crabs right on Amazon.com!
RELATED: Need a wine to serve with crab? Consider this Sauvignon Blanc
Why make baked Dungeness crab?
There are several ways you can cook Dungeness crab. The most popular way to cook crab is probably boiling. But this may not be the best method. Although it is straightforward, boiling can waterlog the delicate, and expensive seafood.
Roasting crabs is actually a process using two cooking methods.  First, you partially cook the shellfish in a way that retains their succulent, natural flavor, through steaming. And then with the second step of the cooking process, roasting the crab, you have the chance to introduce extra flavor and moisture with the butter and whatever herbs or spices you choose.
But once the crabs go in the oven, you're done! No worrying about making sauces or drawn butter at the last minute. You're free to go set the scene for a romantic evening or festive gathering of friends.
RELATED: If you love crab, don't miss this recipe for 5-Spice Crab Cocktails
How do you make baked crab legs?
Baking juicy, flavorful crab legs is a two-step process but one that is worth it when you taste the results.
Step 1
Cooking a Dungeness crab by roasting starts with a light steaming. This is a simple technique that helps the crabs retain their natural essence of the sea. But you only want to partially cook the crab meat through steaming, which is why you only want to steam them for 5 minutes.
Step 2
After you steam Dungeness crabs, you clean them. This might sound messy but it's actually far cleaner than serving whole crabs to your guests and making them clean them at the table. Have you ever been to a crab feast where they serve the crabs on tables covered in thick layers of newspaper? They're served this way because taking cooked crabs apart at the table makes a huge mess. But after they've been steamed, you can clean the crabs quickly and easily over the sink.
If you're not familiar with cleaning crabs, rest assured that it's easy. You're basically breaking the central body off and removing the gills. The Spruce Eats has an excellent step-by-step guide to cleaning crabs for novices or anyone who wants a review.
Step 3
When the steamed crabs are cleaned and ready for roasting, Leanne tosses them in an aromatic blend of aphrodisiacs including fresh garlic, chili flakes, Italian parsley, preserved lemons (but you can use fresh) that have been mixed in a combination of butter and olive oil.
At this point, the easiest thing to do is split the crabs in half, so that you have two sets of legs, each with the remaining body meat attached. Leanne spreads the butter and herb-coated Dungeness crabs out on a sheet pan. (I find this is easier to do with two sets of legs rather than whole crab bodies.) Then she sprinkles them with more parsley and garlic on top and throws the pan of partially cooked Dungeness crabs in the oven to bake 350 degrees.
As far as I'm concerned, this is the best way to cook Dungeness crabs.
How to eat Dungeness crab
Is there anything sexier to eat than fresh crab? Cracking it with a seafood cracker and tearing it apart with your hands, then stabbing it with the little seafood skewer or simply prying it out of its shell with your fingers. Consider lining your table with butcher paper or even newspaper. Then you can just dump the pile of crabs in the middle and let every man grab for himself. It's messy, delicious and always memorable. And when you're done you can just fold up the paper littered with discarded shells and throw it all away.
Click here to buy a great seafood cracker
This method for cooking Dungeness crab doesn't even call for clarified butter in which to dip the crab flesh. With this crab recipe, it doesn't need it! But you know what it does need? Plan on many napkins!
What goes well with Dungeness crab?
A dinner of Dungeness crab calls for a collection of simple side dishes. You don't want anything so heavy or spicy that it overshadows the sweet, delicate flavor of the seafood. Instead, opt for dishes with simple flavors that are easy to prepare and help keep the whole dinner low-stress. You might also want to add a side of lemon wedges for anyone who prefers their seafood with a squeeze of fresh citrus.
Some great Dungeness crab side dishes include:
Steamed artichokes
Potato chips
French fries
Green salad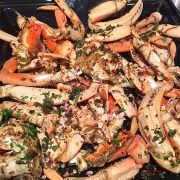 Easy Oven-Roasted Dungeness Crab
Print Recipe
Once you try your crabs oven-roasted, you'll never boil them again! 
Ingredients
Per 2-lb Dungeness Crab
1

tbsp

unsalted butter

softened

1

tbsp

olive oil

2

clove

garlic

finely chopped (divided

1

tbsp

Italian parsley

finely chopped (divided)

1

tsp

chili flakes

more or less to taste

juice of 1 fresh lemon
Instructions
Preheat oven to 350

Bring 1 inch of salted water to a boil in a large pot.

Add the crabs into a steamer basket or just pile them in the pot with the boiling water and steam with the lid on for 5 minutes.

Remove the crabs from the pot with tongues and let them cook until they can be easiliy handled.

Clean the crabs, removing the gils and rinsing out the yellow mush, (guts), before transferring to a sheet pan.

Combine the butter and olive oil in a small dish. Add half the garlic, half the parsley, the chili flakes and lemon juice.

Put the crab (or crabs) on a sheet pan and coat with the butter and olive oil mixture. Top with the remaining garlic and parsley.

Cook for 15-20 minutes. The cooking time will vary slightly based on how many crabs you're cooking and the size of the crabs. For 1-2 average-sized crabs, check for doneness after 15 minutes.
Notes
Plan on one 2-pound(ish) Dungeness crab for each diner as a main course. Half a crab per person works as an appetizer. However, if you're feeding a crowd, you may want to roast a few extra crabs as these crabs are hard to resist! 
Pin this tasty oven-roasted crab recipe:
Latest posts by Barbara Barrielle
(see all)
FREE APHRODISIAC NEWSLETTER
Subscribe to our free aphrodisiac newsletter