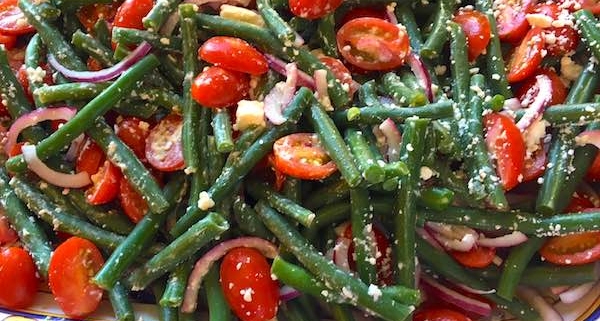 Greek Green Bean Tomato Feta Salad Recipe
Our articles may contain affiliate links. For more information, view our policies.
What vegetable do you serve with a summer meal of lamb and Pinot Noir? In Sonoma County, peak of season green beans with scarlet summer tomatoes tossed with salty feta cheese makes a great side dish. This green bean tomato and feta salad recipe with a touch of Greek flare is what we chose to round out the meal of my first Sonoma Wine Salon. (Here's the full story on how to plan a wine salon.)
We were trying to showcase the best of the Russian River Valley in a wine country-inspired menu and, in summer, that definitely includes produce!
The creator of the recipe, Allie Ketcham of Ketcham Estate Winery calls it her Greek green bean salad because the flavorings are distinctly Greek. A splash of olive oil, a squeeze of fresh lemon juice and, of course, a sprinkle of feta serve to showcase not only the natural flavors of red, ripe summer tomatoes and beans but also her Russian River wines.
How to make a great green bean salad with feta
Because of its simplicity, the most important thing in making this cold green bean salad with feta cheese is using great ingredients. Peak-of-season grape or cherry tomatoes and freshly picked green beans are a must. As is using fresh, not bottled, lemon juice.
Finding a good feta
Make sure that your feta isn't too salty. Some good grocery store brands include Greco, Valbreso, Whole Foods 365 feta and Mt. Vikos. Also, make sure that the color of the cheese is white, not yellow. A yellowish color means that the cheese was exposed to air. This will change the flavor.
How to choose your olive oil
Be sure to use good olive oil. You not only want to invest in a quality bottle of oil but if it's already open, taste it to make sure the oil is still fresh and not starting to oxidize.
A good brand to use for dressings is California Olive Ranch Extra Virgin Olive Oil. It has a nice, buttery texture and a fairly neutral flavor. Most importantly, the company notes the harvest date on each bottle so you know its age.
How to blanch green beans
In order to make this Greek bean salad, you'll first have to blanch the green beans. Blanching is a quick and simple cooking method that ensures the vegetables retain great color and texture. It only partially cooks the beans, so they will still have some crunch. But the quick cooking process will remove any bitterness.
To start, prepare the fresh green beans by washing them and then trimming off the ends.
To blanch your green beans, you'll need to bring two cups of water to boil in a small pot. While you wait for the water to boil, set up your ice bath. You will need a large bowl, like a mixing bowl, filled about half full with ice water.
Cook the beans in the boiling water for about 3 minutes. Drain the bean then quickly transfer them to the ice water. The shock of the ice bath will stop them from cooking further. And that's all you need to do to make deliciously crunchy, blanched green beans.
To make the dressing
Because this recipe uses a very simple dressing, you must be sure to taste it for balanced flavors before you add it to your salad. First, add the salt to the freshly squeezed lemon juice. But you aren't going to taste it just yet.
In order to get a well-blended dressing, you need to add the olive oil slowly in a steady stream, whisking as you go. It is important that you don't stop whisking while you add the oil or the dressing will separate. Once the oil is added, taste and adjust the salt as needed, keeping in mind that the feta cheese will add additional salty flavor to the final salad.
Gently toss the vegetables and feta with the dressing and adjust the seasoning with more salt and pepper as needed.
Why this healthy side dish is a recipe for a romantic evening
Green beans and seduction are not exactly two words you would normally pair. And although there's nothing particularly sexy about a green bean, I would like to suggest that this might be a great side dish for your next date night dinner.
After all, tomatoes, cheese, fresh citrus and even onions all have a history as aphrodisiac foods. And even green beans offer some nutrition to promote sexual health and fertility. Did you know that green beans are a source of folate? They're also a good source of fiber, which may not sound sexy, is actually essential to keeping you looking and feeling your sexiest.
Additional serving suggestions
Of course, this green bean tomato feta salad recipe is too good to just reserve for date night. In fact, it's also one of my favorite potluck recipes. It's the kind of side dish you take along to a barbecue and know you'll be bringing home an empty platter.
This feta green bean salad is also a great option for a healthy picnic side dish. It travels well and adds beautiful color to your picnic spread. (If you're planning to hike, you might want to keep the tomatoes and cheese separate from the rest of the salad then gently fold them into the green beans before serving.)
Check out our most popular picnic recipes
Green bean and wine pairing
As I mentioned earlier, this recipe was created by vintner Allie Ketchem to pair with her Russian River Valley wines. Yes! She pairs green beans with wine.
Of course, when Allie planned her menu, she was serving this green bean and feta salad with her fabulous garlic lamb loins and estate Pinot Noir. And the wine pairing was intended for the lamb. But there's a common misconception that green vegetables like green beans won't go with wine. And Allie clearly proves that theory wrong with her sensational food and wine pairings.
This salad is delicious with chilled, dry whites like New Zealand Sauvignon Blanc or its French counterpart, Sancerre. Or try it with a well-chilled rosé, like the Ketcham Estate Rosé di Pinot Noir. And if you're going to serve it with the lamb recipe, you should definitely experience the pairing of garlic lamb, Greek green beans and Pinot Noir. But really, with good company and great wine, anything you want to drink is the right choice. Enjoy!
Greek Green Bean, Tomato and Feta Salad
Print Recipe
This Greek green bean salad blends the best of summer produce with the distinctive flavors of Greece. A healthy lemon and olive oil dressing adds great flavor without guilt.
Ingredients
1

lb

green beans

trimmed

1

lb

grape tomatoes

halved

1

large red onion

thinly sliced

1/2

cup

Feta cheese

juice from one lemon

1/2

tsp

salt

1/4

cup

quality olive oil (extra virgin recommended)
Instructions
Bring 2 cups of water to a boil.

Add green beans and cook for 3 minutes.

Drain the beans and quickly put in a large bowl of ice water for two minutes.

Drain the beans thoroughly and lightly pat dry with a clean tea towel.*

Mix tomatoes, onion, and feta with the green beans.

Juice one lemon and add coarse salt. Let dissolve for a moment, stirring.

Continue to stir as you add the olive oil in a steady stream. Mix well.

Top salad with dressing and season with salt and pepper.
Latest posts by Barbara Barrielle
(see all)
Get on our mailing list
Subscribe and get our exclusive list of Six Great Sex-Boosting Snack Foods for FREE! Unsubscribe at any time.