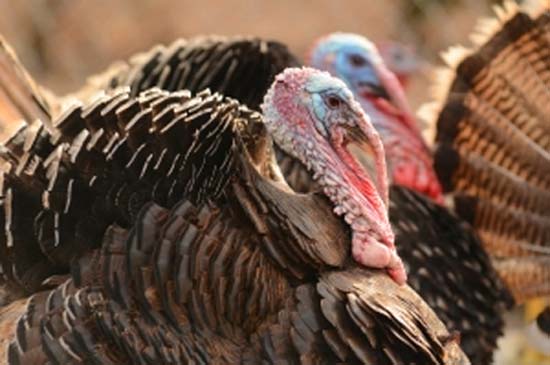 The aphrodisiac power of turkey
Venus in the Kitchen
, or love's cookery book, suggest wild birds, including turkey, can be presented in a number of aphrodisiac presentations. To maintain an appropriate zinc content in you system for sexual health–zinc is necessary for good blood flow, which is necessary for orgasm–a diet that includes lean meats such  as poultry at least twice weekly is recommended. (Of course, although Venus in the Kitchen touts wild birds, farmed turkey also offers this nutritional boost. Health food advocates recommend choosing organic birds because they generally have higher nutritional value.)
Turkey boosts sex drive?
In addition to promoting good blood flow, this bird promotes norepinephrine production. Norepinephrine boosts sex drive. (The old bird's looking pretty good right now, isn't it?)
Now, turkey doesn't boast a rich aphrodisiac history but it certainly does have one prominent fan. Salvador Dali, the great artist known for living on the edge, was a fan of the bird and in fact left several recipes starring this particular poultry as part of his legacy.
Whether or not this bird should top the list of natural aphrodisiacs is yet to be seen but combined with such known aphrodisiac foods as cranberries, sweet potatoes, nutmeg and wine, a Holiday feast may just make for more than a full belly.
Discover more of the world's greatest aphrodisiacs
FREE APHRODISIAC NEWSLETTER
Subscribe to our free aphrodisiac newsletter