Ricotta Toast Recipe with Asparagus, Lemon and Mint
Our articles may contain affiliate links. For more information, view our policies.
Move over avocado toast! There's another fancy toast taking center stage and it's called ricotta toast. Our version of this open-faced sandwich is an easy and healthy snack or breakfast treat that you're going to love just as much as that other toast…maybe more!
Our ricotta and asparagus toast recipe combines the creamy texture of ricotta cheese with spring asparagus, the zest of lemon and a hint of mint to wake up your senses with flavorful ingredients prepared simply. It was created by our friend, chef and food historian Maite Gomez-Rejon of ArtBites.
What is ricotta toast?
Simply put, ricotta on toast is just delicious, creamy ricotta cheese spread on toast. Of course, smearing ricotta on toast would be boring, so that's why we're dressing it up with veggies and fresh herbs.
If you've ever wondered, "What can I do with a little bit of ricotta?" Making this toast recipe is a great answer! That's because this flavorful snack uses just a little bit of ricotta. It's a great solution if you don't want to waste the last bit in the container.
Many recipes for ricotta cheese toast call for making whipped ricotta, which is ricotta cheese that's whipped with a whisk or food processor until it is creamy. (Some recipes add cream or oil but neither is necessary for producing creamy, whipped ricotta cheese.)
Our version keeps the ricotta spread simple. But if you prefer your ricotta whipped, by all means, feel free to make this a whipped ricotta toast.
By the way, we love all different types of toast. Don't think that because we're celebrating this breakfast ricotta cheese toast that we've forgotten about avocado toast. In fact, here's one of our other favorite savory toast ideas and yes, it involves avocado!
What bread should you use to make ricotta toast?
For this ricotta bread recipe, we're recommending sourdough. You can use whole grain bread if you prefer. You'll certainly get more nutrition. But there's something truly magical about the tang of sourdough bread when it's topped with light, faintly salted ricotta cheese.
It's a food combo we find irresistible.
What is the best ricotta cheese?
If you want to make the best breakfast toast, you have to start with the best ingredients. And we recommend using high-quality, full-fat ricotta cheese. Some good grocery store brands for whole milk ricotta include White Rose, Sorrento and Whole Foods 365.
Another option is to make homemade ricotta cheese. Here's a how-to from Serious Eats.
Vegan alternatives to fresh ricotta do exist but I've heard they tend to be chalky and lack the lightness of the original.
Buy ricotta cheese now from Amazon.com
Can you freeze ricotta?
You can freeze ricotta. If you've already used some of the package, you'll want to take it out of the original packaging and put it into a smaller container before freezing. Be sure to drain it and make sure it is tightly sealed.
Variations and Substitutions
Maite tops this ricotta cheese breakfast toast with a drizzle of avocado oil. (She also brushes the bread with the oil before toasting.) If you don't have avocado oil, you can use grapeseed oil or extra virgin olive oil if you prefer. But you should definitely consider buying some avocado oil after you read these surprising facts about avocado oil and your health.
If you love garlic, you can add a touch of finely chopped garlic to the pan when you sautee the asparagus. It will give the toast a more savory, less classically breakfast flavor. But you can serve this garlicky asparagus toast as an accompaniment to an Italian dinner.
Lastly, you can try swapping out the mint for fresh basil. (This is particularly delicious with the garlic version of this savory toast mentioned above.)
And of course, if you want to ditch the veggies, the ricotta and lemon zest mixture on toast with a touch of honey and the mint makes a great breakfast toast. (Be sure to omit the salt and black pepper if you're going to make a sweet version of this savory toast recipe.)
When to serve this fancy toast
We were, of course, envisioning you serving this toast to your lover as a romantic breakfast in bed. After all, although toast on its own may not be sexy, the slender spears of asparagus are historically aphrodisiac. In fact, nutrients in asparagus are linked with healthy hormone production.
In addition, did you know that cheese is an aphrodisiac?
And if that hasn't convinced you that you should serve this ricotta on toast recipe as a food of seduction, don't forget the mint. Although mint doesn't offer quite the nutritional punch as asparagus, you might be surprised to learn just how many benefits this fuzz-covered, green herb has to offer.
That being said, you don't have to serve this toast recipe for breakfast. Ricotta toast makes a great mid-afternoon or midnight snack. And as we mentioned above, the basil ricotta savory toast idea makes a great appetizer for an Italian dinner.
More ricotta recipes
Looking for more easy recipes with ricotta? Since cheese is an aphrodisiac, we think you should enjoy it as much as possible. Here are just a few of the ways we like to serve ricotta:
Baby Spinach and Ricotta Pizza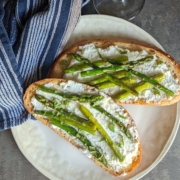 Asparagus and Ricotta Toast with Avocado Oil
Print Recipe
This fancy toast recipe is great for a romantic breakfast in bed or just a healhty snack. You won't believe how good this simple combination of asparagus, ricotta and lemon is until you try it on toast.
Ingredients
2

tbsp

extra virgin avocado oil

plus more for brushing and drizzling (substitute grapeseed or evoo)

4

slices

thick sourdough bread

3/4

lb

thin asparagus

cut into 2-inch lengths

salt and black pepper

2

tsp

freshly squeezed lemon juice

1/4

tsp

lemon zest

2

tsp

mint

finely chopped

1/2

c

fresh whole milk ricotta
Instructions
Preheat the oven to 350°.

Place the bread on a parchment-lined baking sheet and lightly brush with avocado oil.

Bake until toasted on one side – about 7 minutes – then turn over and bake a couple of minutes on the other side.

Meanwhile, in a medium skillet, heat the 2 tablespoons of avocado oil. Add the asparagus, season with salt and pepper and cook over high heat, stirring occasionally, until crisp-tender, about 1 minute.

Stir in the lemon juice and let cool slightly.

In a small bowl, stir the lemon zest into the ricotta and season with salt and pepper.

Spread equal amounts of the lemon ricotta on the toasted bread and top with the asparagus. Drizzle with a little avocado oil , top with fresh mint, sprinkle with salt and serve.
Pin this asparagus toast with ricotta:
Latest posts by Amy Reiley
(see all)
Get on our mailing list
Subscribe and get our exclusive list of Six Great Sex-Boosting Snack Foods for FREE! Unsubscribe at any time.