Butternut Squash Daal Recipe with Cashew
Our articles may contain affiliate links. For more information, view our policies.
Nandita Godbole, creator of Curry Cravings Kitchen is one of my favorite experts on the use of aphrodisiac, Eastern spices. This week she offers us a warming butternut squash daal recipe with incredible flavor from her cookbook, A Dozen Ways To Celebrate: Twelve Decadent Indian Feasts For The Culinary Indulgent.
Whether you're looking for a vegetarian dish for a date night meal or something healthy yet delicious for family dinner, this daal recipe is sure to please. And you're going to love just how easy it is to make this traditional Indian dish.
What is daal, (or dal or dahl)?
You might have heard of daal, also sometimes spelled dal or dahl. You might have even ordered one or two at your favorite Indian restaurant. But you may still be wondering what defines a daal.
Daal, dal and dahl all refer to both an ingredient and a dish. The dish called daal is made from the ingredient daal, dried split peas, lentils or other legumes at the base of the dish. Different varieties of legumes tend to be featured in different parts of India. But the method is still the same.
For any daal, the dried legumes are soaked and simmered to tenderness. This is the heart of a daal. What happens from here is up to the creativity and flavor preferences of the chef.
For this dahl recipe, Nandita uses split yellow pigeon peas. It's also called toor dahl.
Ingredients in this toor daal recipe
Nandita's Indian curry recipe starts with the yellow pigeon peas, of course. If you've never used this legume before, take note that you have to prep them in advance as Nandita instructs in the recipe below.
Yellow pigeon peas
You can buy these split peas at many grocery stores. They are often sold either in an ethnic foods section or wherever your store stocks beans. But they are sold under a variety of names. They may be called split yellow pigeon peas, or yellow split peas or toor daal, toor dahl or toor dal. Confused? You can also just click this link to buy split yellow pigeon peas online.
Once your split peas are precooked for 20 minutes, you can begin to make your daal. For this, you're going to have to use a few other ingredients that may not be familiar.
Ghee
Ghee, (pronounced like gee only with a hard g), is almost the same as the clarified butter used in French cooking. However, ghee is cooked longer than clarified butter and develops a more rich, slightly nutty flavor.
You can buy ghee on Amazon.com. Or you can try making your own. Here's an easy recipe for ghee from The Spruce Eats. But Nandita notes that for this particular dahl recipe, you can use regular butter if you don't have ghee or the time to make it.
Whole spices
You've probably cooked before with cumin and clove in powdered form, if not as an individual spice, then in a spice blend. Both of these spices are commonly used in powdered spice mixes. But you may be unfamiliar with using whole cloves and cumin seeds.
However, for this traditional Indian recipe, you're going to want both spices in whole form. You may not have realized it if you never looked for them before but both cumin seeds and whole cloves are commonly sold in the spice section of most grocery stores. But here are links to order whole cloves and cumin seeds from Amazon in case you can't find them at your neighborhood supermarket.
Why this butternut squash dal recipe is a great choice for date night
I like this warming recipe as a choice for an autumn or winter day. The heat from the chiles will warm the body from the inside out. That's one of the reasons the spice is among my favorite aphrodisiacs.
Clove, one of the other spices Nandita incorporates into this recipe, is also known for its powers to warm the body.
And the turmeric, also an aphrodisiac, will help naturally boost your immune system during the cold and flu months.
Nandita recommends serving this dish as a modest but complexly flavored romantic dinner. But it also works well as the main course of a vegetarian dinner party. And the leftovers make a sensational and nutritious lunch the next day.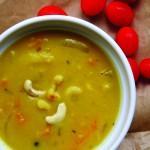 Vegan Cashew and Butternut Squash Daal
Print Recipe
This easy squash daal (or dal) is made with body-warming chiles and health-boosting turmeric.
Ingredients
2

tbsp

ghee or butter

2

tsp

cumin seeds

2-4

tbsp

cashew halves

1

large onion

slivered

3

large garlic cloves

3

cloves

2

dried red chilies

broken into bits

1/4

tsp

turmeric powder

1/2

cup

butternut squash

cut into small cubes, OR 2 yellow crookneck squashes, thinly sliced

4-5

cups

water

or as needed for precooking and cooking

2

cups

raw toor daal

split yellow pigeon peas

1

tsp

lemon juice

salt

to taste

5-10

stems of cilantro

trimmed for garnish
Instructions
Precook the toor daal in a pressure cooker with 4 cups of water for 20 minutes or boil on the stove top in a heavy-bottom pan until soft.

Whisk the daal until smooth and thin it out with ½ cup or more of water until its consistency is similar to heavy cream. Set aside.

In a heavy-bottom saucepan, warm the ghee (or butter) until it is melted and add cumin seeds.

As the seeds begin to sizzle, add the cashew halves and lightly sauté them until they are golden.

Remove the cashews from the ghee and save them for topping the daal.

Add the slivered onions to the remaining ghee and sauté them until they are lightly golden brown.

Add the garlic cloves, cloves and broken pieces of red chilies, and sauté for ½ minute. Take care at this point, as the cloves are likely to pop and sputter out of the pan.

Add the turmeric powder and squash of your choice and stir until the squash is coated with the spices.

Cook the squash on medium-low for 2-4 minutes until the edges are browned.

Slowly pour the cooked and whisked daal into this compote and stir in to ensure that the daal does not stick to the bottom of the saucepan.

Add water as needed to make a smooth consistency and to allow the daal to boil, the squash to cook and the flavors to combine. Since all the ingredients are mostly precooked at this point, the boil is only intended to help the squash cook through.

Stir every 1-2 minutes to prevent the daal from sticking to the bottom of the saucepan.

Finish the daal with lemon juice and salt, and sprinkle with cilantro leaves and reserved cashew for a final garnish. Enjoy hot.
Like the butternut squash daal recipe? Get the whole book!

Pin this vegan toor dahl recipe:
FREE APHRODISIAC NEWSLETTER
Subscribe to our free aphrodisiac newsletter