Red Wine Poached Eggs with Oat & Black Bean Cakes Recipe
Our articles may contain affiliate links. For more information, view our policies.
A Cal-Burgundian recipe mash-up
Annette Tomei innovated this recipe for us as a Californian twist on a French technique for red wine poached eggs. The result is a sumptuous layering of flavors and textures. It's a dish that works for brunch or a romantic dinner for two.
I love this dish. And I love red wine poached eggs. And the best part is that once you master the technique, you can use red wine poaching any time you're craving eggs, for a Salad Lyonnaise or even just eggs and toast.
Why red wine poached eggs are aphrodisiac
In case you're wondering what makes this dish worthy of feature on an aphrodisiac foods website, oh let me tell you! At the heart of this dish are two of the world's most highly regarded aphrodisiac ingredients. Firstly eggs. The egg is an international symbol of fertility. But that's not all. Eggs actually contain nutrition to help support your sex life. Learn more about the aphrodisiac power of eggs in my dictionary of aphrodisiac foods.
And then there's red wine. Like all alcohol, it's considered aphrodisiac. But red wine has some attributes hard liquor does not possess. You might be surprised to discover all that red wine has to offer.
Chef's tips for poaching eggs in red wine
Comments Annette, "This recipe has several components but each step is fast and easy. Poaching the eggs in red wine, (a Burgundian, classic technique), brings a unique, tangy flavor and is sure to wow any wine lover. Serve this dish with a glass of Pinot Noir for an unforgettable brunch, lunch or even dinner."
(And if you  want to get a jump start on a romantic meal, the oat cakes can be made in advanced and stored in the refrigerator for up to 5 days or frozen.)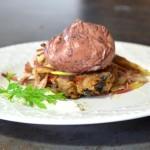 Red Wine Poached Eggs with Oat and Black Bean Cakes and Shaved Artichoke Salad
Print Recipe
This recipe is an unforgettable of Burgundy and California. The technique of poaching the eggs in red wine is pure France. but the bean cakes and artichokes make a nice, America touch. 
Ingredients
For the cakes:
2

tsp

grapeseed oil

1/2

cup

diced red onion

1

tsp

kosher salt

1/2

tsp

ground cumin

1/2

tsp

ground coriander

1/4

tsp

chipotle powder

1/2

cup

diced red bell pepper

1

clove

garlic

chopped

1/2

cup

old fashioned rolled oats

do not use instant

1/2-3/4

cup

simmering water

1

can low-sodium black beans

drained and rinsed

1

tsp

lemon juice

Salt and Pepper to taste

1/4

cup

flour (rice

oat or wheat)

1-2

tbsp

coconut oil
For the shaved artichoke salad:
12

baby artichokes or 1-2 standard size artichokes

I love using purple artichokes for the pop of color

1

in

Lemon

cut half – half for prep, half for juice

1-2

tsp

kosher salt

1/4

cup

finely grated Parmesan cheese

1

tbsp

extra virgin olive oil

Fresh ground pepper

Additional Parmesan for garnish

if desired
Instructions
For the cakes:
In a medium sauce pan, heat the oil over medium heat. Add the onions and salt, sauté until soft.

Add the spices and toast for 1-2 minutes.

Add bell pepper and garlic. Sautee until pepper begins to soften.

Sprinkle oats over the vegetable mixture and stir well, toasting the oats. Slowly incorporate water, stirring constantly (similar to risotto), adding water as necessary. Only add enough water to cook the oats while keeping the mixture as dry as possible. Incorporate beans.

Pour mixture into a shallow dish. Stir in lemon juice and adjust season as necessary. At this point, the mixture can be refrigerated and stored for up to one day.
To assemble:
Pour flour into a shallow dish.

Scoop 1/4 cup portions of the mixture, roll into balls (moistening your hands with water helps prevent sticking). Lightly coat with flour and press into cakes of even thickness.

Heat a heavy sauté pan over medium-high heat. Heat 1 tablespoon coconut oil.

Place cakes in hot oil (cook in batches, replacing oil as necessary). Brown well, turn and brown second side; approximately 3 minutes per side.

Serve immediately or hold warm on paper towel lined plate.
For the shaved artichoke salad:
Prepare a medium bowl of cool water with juice of half a lemon squeezed into it; keep the lemon half handy as well.

To clean the artichokes, trim the toughest outer leaves then, using a serrated knife, trim approximately 1/4-1/2 inch from the tops to remove prickly tips. Trim the stem end to remove hard dry tip but do not remove more than necessary (that's the heart). Immediately rub the cut ends with the lemon and place in the acidulated water.

In another mixing bowl, put the juice of the remaining half lemon.

Working one at a time (to prevent oxidation), using a very sharp knife (or a serrated knife) cut each artichoke in half from stem to leaves, lay the flat side on the cutting board and cut very thin slices (again, from stem to leaves). Transfer immediately to the bowl of lemon juice and toss. Repeat until all artichokes are sliced.

Add salt, mix well and allow to stand at room temperature 5-10 minutes.

Grate Parmesan cheese with a fine grater. Add to artichoke mixture along with the extra virgin olive oil. Season to taste.

*This salad can be made up to 4 hours in advance.
For the red wine poached eggs:
Approximately 1 bottle (750 ml) wine for poaching (recommend dry red)

teaspoon salt

Fill a medium saucepan 3-inches deep with dry red wine. Bring to a low simmer (do not boil). Add approximately one teaspoon of salt.

Crack an egg into a ramekin or small bowl. Stir the simmering wine to create a whirlpool and gently lower the egg from the bowl into the moving liquid, this will help create the "egg" shape of the finished product. You can cook 2-3 eggs at a time using this technique.

Stir the liquid to keep the eggs cooking evenly. Skim away the foam and strands. Cook approximately 3 minutes per egg.

Remove from the hot liquid and hold in a warm bowl until ready to serve.
To assemble the finished plate:
Place 2 hot oat-bean cakes on a warm plate. Top with a heap of artichoke salad (approximately 1/2-3/4 cup).

If necessary, re-warm the eggs in the simmering red wine before serving.

Place the eggs on top of the artichoke salad. Garnish with fresh herbs, your choice of finishing salt, and/or fresh ground black pepper.

If desired, serve with cucumber yogurt sauce.
Pin this recipe for Red Wine Poached Eggs with Oat and Black Bean Cakes and Artichokes: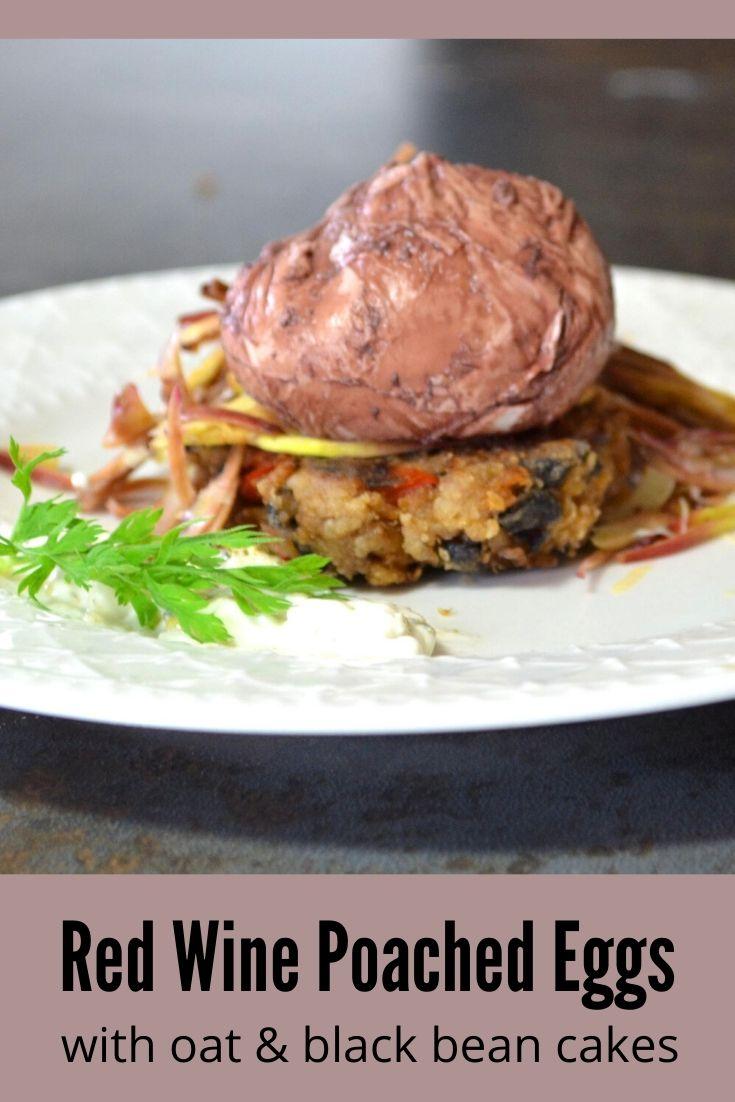 FREE APHRODISIAC NEWSLETTER
Subscribe to our free aphrodisiac newsletter