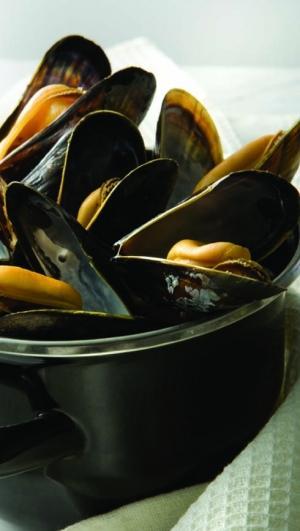 Sizzling Mussels in Exotic Broth – A Simple, Sexy & Healthy Recipe
Our articles may contain affiliate links. For more information, view our policies.
This recipe for Sizzling Mussels is one of my favorite seafood recipes. It originated in my third cookbook, Romancing the Stove. It is the kind of recipe you can reproduce without ever breaking a sweat. And it's one of those magical recipes that turns out right every time. It almost have to strain yourself to mess this one up. 
A recipe to impress
But despite how easy I make it sound–and it truly is one of my easiest recipes–this is a recipe to impress. The scent of the mussels steaming is a glorious aroma that curls tendrils through the entire kitchen. It warms your home with the aromatics of garlic and mirin. And these are the kinds of smells that instantly make one salivate.
Then, there's the presentation of Sizzling Mussels in Exotic Broth. Mussels are just one of those foods that look amazing on the plate. Their shimmering, blue and black shells catch the light and the broth cries out for a crust of dipping bread. The mussels themselves, nestled in the hug of the thin wings of their shells look like offerings from the seafood gods.
And it should be noted that these Sizzling Mussels are actually aphrodisiac powerhouses. In fact, mussels are  packed with lean protein, zinc and amino acids to help promote healthy sexual hormone levels. Read more about the aphrodisiac power of mussels. 
This recipe for Sizzling Mussels is a dish that will take you no more than 16 minutes to make, start to finish. Don't you and your lover deserve 16 minutes to aphrodisiac bliss?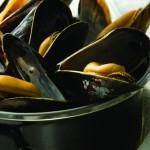 Sizzling Mussels in Exotic Broth
Print Recipe
If you love mussels, you're going to love this simple recipe for making a flavorful, steamed mussel dish at home. 
Ingredients
1

lb

mussels

2

tbsp

vegetable oil

1

clove

garlic

finely minced

1/2

cup

mirin*

sweet rice wine

1/2

cup

chicken broth

1

tsp

sriracha

hot chili sauce

2

tbsp

fish sauce

1

tbsp

fresh lemon juice

2

scallions

chopped, (optional)

1/4

cup

cilantro

(optional)
Instructions
Rinse the mussels well in cold water, discarding any that won't close when handled. If the mussels have not been de-bearded, remove the patch of seaweed, or "beard," sticking out from between the two shells by pulling with your fingers. If it's stubborn, cut it with a knife.

In a small bowl, whisk together the mirin, chicken broth, sriracha and fish sauce.

In a nonstick sauté pan or wok, heat the oil over medium-high heat.

Sauté the garlic in the oil until edges brown, about 30 seconds.

Add the liquid mixture. Bring to a boil and boil for 1 minute.

Add the mussels, reducing heat slightly, cover and cook until all the mussels are open, about 4-5 minutes. (They may open sooner.) Remove from heat. Drizzle with lemon juice and top with scallions and/or cilantro. Or, if you prefer, just eat them naked—the way I like to do it.

Divide mussels between 2 bowls and serve with a crusty baguette to sop up the juice.
For more of Amy's aphrodisiac recipes, check out Romancing the Stove: the unabridged guide to aphrodisiac foods.
Pin this Sizzling Mussels recipe: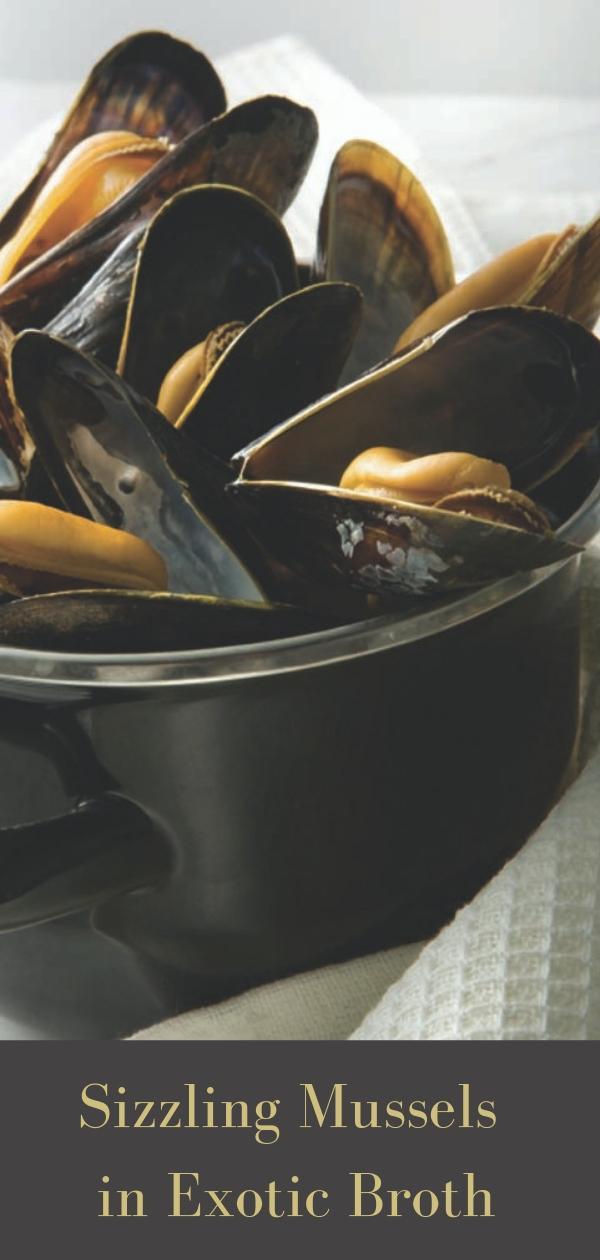 FREE APHRODISIAC NEWSLETTER
Subscribe to our free aphrodisiac newsletter