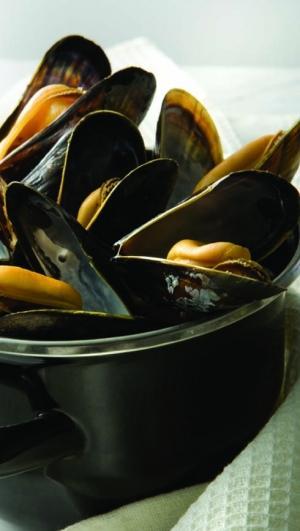 Healthy Mussels Recipe with Mirin and Sriracha
Our articles may contain affiliate links. For more information, view our policies.
I first published this healthy mussels recipe in my cookbook, Romancing the Stove. I designed it as a sexy seafood option for a romantic dinner. The simplicity of the recipe and the noted aphrodisiacs in this dish make it a great choice for date night.
But don't file this recipe away and save it for Valentine's Day. A simple and healthy seafood recipe, it's a great choice any time you're craving mussels. The scent of the mussels steaming is a glorious aroma that curls tendrils through the entire kitchen. It warms your home with the aromatics of garlic and mirin. And these are the kinds of smells that instantly make one salivate.
Why are mussels healthy?
I call this a healthy mussels recipe not just because the mussels are steamed in a combination of chicken bone broth and mirin rice wine instead of cooked in fat. Mussels are actually among the best animal sources of protein and they're rich in several other nutrients.
The protein in mussels is easy to digest, which means your body has more of a chance to get the full benefit of that protein. Mussels are a source of iron, vitamin B-12 and mood-boosting Omega-3 fatty acids.
In this recipe, the mussels are steamed with a sauce made from additional healthy ingredients, including bone broth, garlic, scallions. fresh citrus and chiles in the form of sriracha sauce.
Ingredients in this steamed mussels recipe
The main ingredient in this mussels dish is, obviously, mussels. If you've never cooked mussels before, be prepared for a little prep. (It's not hard but mussels do have to be prepped before cooking.)
How to prep your mussels
You'll want to rinse the mussels in cold water. The most important step is to remove any mussels with broken shells as well as those that don't close if you tap on the shell. These are bad mussels. Discard them immediately.
Some fishmongers sell their mussels debearded. But if you're mussels have a little, hair-like clump of fibers on the side, (the beard), you need to pull it off. Here's a detailed description of how to debeard a mussel.
Beyond the shellfish, this mussels recipe calls for a few less common ingredients, including mirin sriracha and fish sauce. Here are some details on the flavor profiles of the Asian flavorings as well as where to find them.
Mirin
If you're a fan of mussels, then you've probably tried them steamed in white wine. But for this recipe, the mussels are steamed in mirin, a subtly sweet, Japanese rice wine. Mirin has acidity, similar to a dry white wine, but it has a slightly different weight and feeling on the tongue.
You can buy mirin online if you don't know where to find it locally. I use it in the recipe because I like the way it complements the fish sauce.
Fish sauce
What is fish sauce? Fish sauce is one of the most intense flavorings I ever use. Be careful not to put too much in any dish. It is powerful!
Fish sauce is made from salted, fermented fish. It really does sound terrible put this way, but the flavor it creates is earthy, salty and addictive.
Fish sauce is sold in Thai markets, Asian grocers and some mainstream grocery stores with a good international foods section. Or you can order it online.
Sriracha
The sriracha is what makes this healthy shellfish recipe sublimely sexy in my mind. But what is sriracha?
This traditionally Thai condiment is a chili paste flavored with vinegar and sugar. It gets its heat from red jalapenos, which means that it isn't super spicy. It just adds a bold zing to whatever dish lucky enough to get a dash of this brightly colored sauce.
Although it used to be found primarily in Asian markets, sriracha is now sold pretty much everywhere. But if you can't find it at your grocery store, you can always order sriracha online.
Why this is healthy mussels recipe is right for a romantic dinner
As an expert on aphrodisiac foods, I'm asked all the time to describe a "perfect" romantic dinner. I'm always quick to answer that the meal has to be something both romantic partners enjoy. So in this case, if mussels are your thing, here's why you should serve this dish on date night.
This is an easy recipe to prepare and one that can be fun to make together. The only modestly time-consuming step is the mindless task of debearding the mussels. And that time will be cut in half if you do it together.
The rest of the prep and cooking is straightforward. Steaming is a great choice for date night because you can put a lid on the pan and forget about it while you enjoy each other for a few minutes.
Of course, this recipe is also aphrodisiac-rich, making it an excellent choice if the goal of your evening is a little seduction. Mussels, like all shellfish, are historically considered aphrodisiac – and for good reason. Mussels provide several nutrients to support sexual health.
Then there's the kiss of spice the sriracha brings to the dish. It can make the tongue tingle and help raise your body temperature. In addition, garlic, lemon and rice wine are also classified as aphrodisiac foods.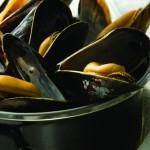 Sizzling Mussels in Exotic Broth
Print Recipe
If you love mussels, you're going to love this simple recipe for making a flavorful, steamed mussel dish at home. 
Ingredients
1

lb

mussels

2

tbsp

vegetable oil

1

clove

garlic

finely minced

1/2

cup

mirin

1/2

cup

chicken broth

1

tsp

sriracha

hot chili sauce

2

tbsp

fish sauce

1

tbsp

fresh lemon juice

2

scallions

chopped, (optional)

1/4

cup

cilantro

(optional)
Instructions
Rinse the mussels well in cold water, discarding any that won't close when handled. If the mussels have not been de-bearded, remove the fibrous patch of hairs, or "beard," sticking out from between the two shells by pulling with your fingers. If it's stubborn, cut it with a knife.

In a small bowl, whisk together the mirin, chicken broth, sriracha and fish sauce.

In a nonstick sauté pan or wok, heat the oil over medium-high heat.

Sauté the garlic in the oil until edges brown, about 30 seconds.

Add the liquid mixture. Bring to a boil and boil for 1 minute.

Add the mussels, reducing heat slightly, cover and cook until all the mussels are open, about 4-5 minutes. (They may open sooner.) Remove from heat. Drizzle with lemon juice and top with scallions and/or cilantro. Or, if you prefer, just eat them naked—the way I like to do it.

Divide mussels between 2 bowls and serve with a crusty baguette to sop up the juice.
For more of Amy's aphrodisiac recipes, check out Romancing the Stove: the unabridged guide to aphrodisiac foods.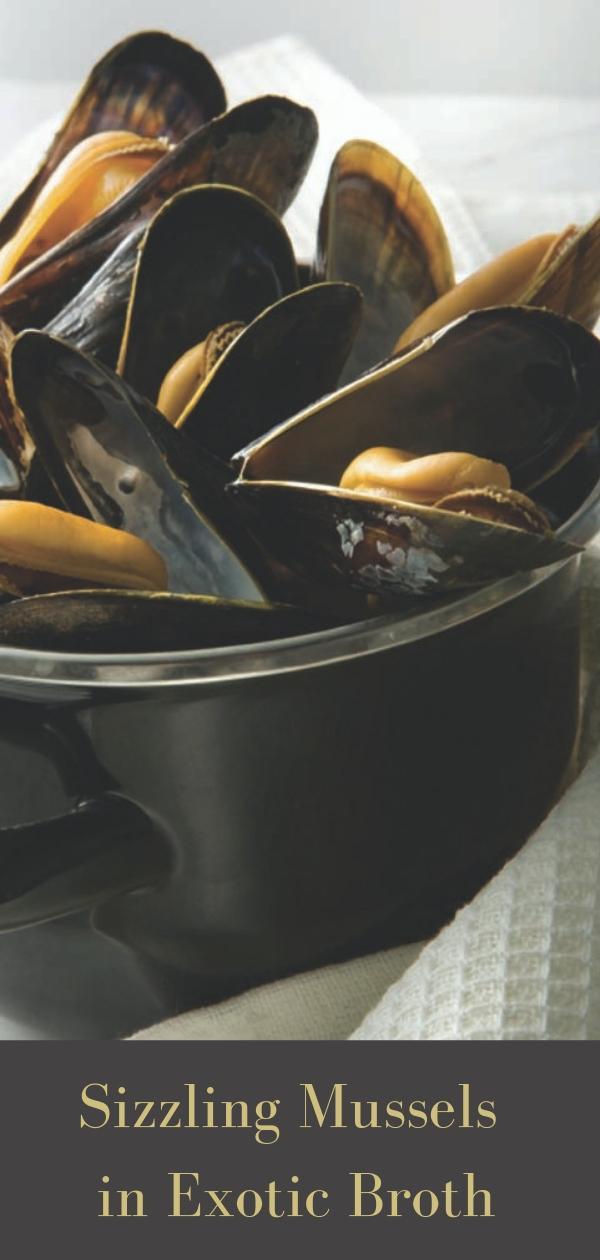 FREE APHRODISIAC NEWSLETTER
Subscribe to our free aphrodisiac newsletter