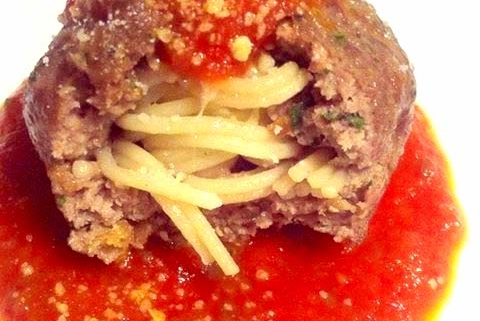 Spaghetti-Stuffed Meatballs Recipe
Our articles may contain affiliate links. For more information, view our policies.
This fun and tasty recipe has it all! It is clever, it's delicious and it's filling. This is a recipe to serve to a lover who loves surprises. But it's also a great recipe for a family dinner or a movie-themed dinner party. Whenever you decide to serve it, your spaghetti-stuffed meatballs are sure to be a hit!
A giant meatballs recipe with a surprise in every bite
Yes! You can actually bake meatballs with spaghetti hiding inside. When it comes to the ingredients, the recipe is a pretty basic version of the beloved Italian, spaghetti and meat dish. So if you're experienced with making spaghetti and meatballs, you already have the basics down. The only difference is that with this recipe, you're forming giant meatballs stuffed with spaghetti.
How do you make a giant, spaghetti-stuffed meatball?
I admit, it sounds like it might be tricky. The recipe was created by Chef Chrysta Wilson. It was originally featured on her YouTube show Dishing on Movies as a meal to enjoy while watching Cloudy with a Chance of Meatballs 2.
I think it took Chrysta some trial and error to get just the right technique. But if you follow the steps, the task of stuffing meatballs with spaghetti is surprisingly low-stress.
The trick is that you have to form the spaghetti into tight bundles. (Follow Chrysta's directions for using chopsticks for this task.) But then you must freeze these tightly wound bundles of spaghetti. Do not try to skip the step of freezing the spaghetti!
Then you just form your well-seasoned, ground beef mixture into patties. You place the frozen spaghetti in the center of the patty, top with the cheese – don't skimp on the mozzarella – and shape the ground meat mixture into a ball around the noodles. Then you just bake them and top them with warm marinara sauce and a cup of grated parmesan cheese. (For the marinara, you can either make your own or use your favorite store-bought brand.)
What you have is a large meatball filled with everything there is to love about spaghetti and meatballs only in an irresistible package. How can you not love this meatball and spaghetti recipe?
Watch a demo of this recipe for meatball with spaghetti inside
If you're still feeling unsure, you can watch Chrysta demonstrate the whole recipe on Dishing on Movies.
Why this is a stuffed meatballs and spaghetti recipe for date night
When chef and a self-described food history nerd, cookbook author Chrysta Wilson told me she created a dish inspired by the movie Cloudy with a Chance of Meatballs 2, my first thought was, "This will never work for an aphrodisiac foods website."
But then I saw her spaghetti-stuffed meatballs and I said, "We've got to have this recipe!"
I could try to sell you on the fact that this recipe is aphrodisiac because it features several ingredients with an aphrodisiac history, or nutrients proven beneficial to your sex life. After all, garlic is a noted aphrodisiac.
And although you might not suspect it, the tomato paste in your sauce is actually also a potential libido enhancer. Tomato paste contains a higher content of lycopene than a fresh tomato would. And lycopene is linked with improved libido.
TO TRY: Gnudi – The Naked Ravioli
Even parmesan cheese and parsley are all linked with romance. Here's a fun food fact: Did you know that cheese naturally improves mouth health? That's right, eating cheese can make you more kissable! (And it can cut down on gum disease.)
But the real reason I'm showcasing this stuffed meatballs and spaghetti recipe as a date night dish is more basic. Unless you're Lady & the Tramp, spaghetti can be one of the worst food choices for a date. It can be messy, it's sloppy and it can reveal a lack of coordination. So unless you're an expert in neatly rolling spaghetti on your fork, traditional spaghetti and meatballs is a dish best avoided when trying to impress a date.
But if you take that spaghetti, pre-roll it and surprise your date by hiding it in giant meatballs?… You've just turned one of the worst date foods in history into one of the best surprises ever served on a plate, haven't you?
This is one spaghetti and red sauce recipe that's virtually mess-free. And the presentation practically guarantees you get the exact right meat-to-noodle ratio with every bite.
So whether you serve Chrysta's stuffed meatball recipe to a potential romantic conquest or you just make a batch to entertain your friends and family, you're going to score huge bonus points for both creativity and humor with this meatball surprise. It really has to be one of the best spaghetti presentation ideas ever written. And by the way, did I mention that the flavor of Chrysta's fluffy, mozzarella and pasta-laced meatballs is fantastic, too?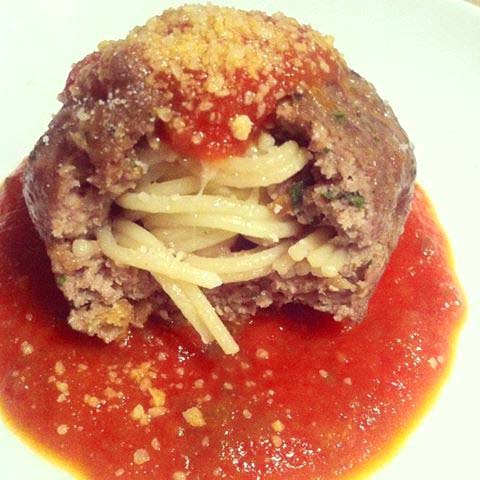 Giant Spaghetti-Stuffed Meatballs
Print Recipe
Chef Chrysta Wilson shares this clever presentation idea for stuffing homemade, giant meatballs with spaghetti for a fun and memorable, (not to mention mess-free) dish. Enjoy!
Ingredients
1/4

lb

thin spaghetti

3

oz

Mozzerella cheese

sliced into 8 rounds

1/5

lbs

ground beef

15% fat

1

tsp

crushed garlic

2

tsp

salt

2

tsp

garlic powder

1

medium shallot

minced

1/4

cup

Italian (flat-leaf) parsley

1

egg

optional

1

cup

breadcrumbs

1/2

cup

milk

1

cup

marinara sauce

homemade or use your favorite brand

1

cup

grated Parmesan cheese
Instructions
Cook spaghetti according to package instructions to al dente texture. Drain.

Put the beef into a large mixing bowl. Mix in the crushed garlic, salt, garlic powder, shallot and parsley.

If you like your meatballs moist, crack the egg into a small bowl, scramble lightly and add to the seasoned meat.

Combine milk and bread crumbs in a small bowl. Add to the ground meat mixture. Let mixture stand at room temperature while you prep the spaghetti.

Using a pair of chopsticks, swirl the spaghetti into 8 small mounds.

Freeze the noodle balls for 15 minutes.

Preheat oven to 375 degrees.

Press a slice of Mozzerella onto the top of each noodle mound.

To make the meatballs: form the ground meat into patties. Place a noodle mound at the center of each patty and wrap the meat around the noodle and cheese parcel to thoroughly enclose.

Cook for approx. 30 minutes, until golden.

Warm the marinara sauce while the meatballs bake.

To serve, top with warm marinara and grated Parmesan.
Notes
Be careful not to overcook the spaghetti before you put it in the meatballs. Cook it only to al dente or it will get overcooked when the meatballs are baking. 
Do not forget that you will need 15 minutes to freeze the spaghetti mounds before you make the meatballs. (Do this while the meatball mixture rests and the oven preheats.) This is an important step. 
A note on the provided nutrition information
The nutrition information provided has been estimated by an online nutrition calculator and is not a substitute for a professional nutritionist's advice.
Nutrition
Calories:
499
kcal
|
Carbohydrates:
52
g
|
Protein:
27
g
|
Fat:
20
g
|
Saturated Fat:
10
g
|
Polyunsaturated Fat:
2
g
|
Monounsaturated Fat:
6
g
|
Trans Fat:
0.3
g
|
Cholesterol:
99
mg
|
Sodium:
2270
mg
|
Potassium:
546
mg
|
Fiber:
4
g
|
Sugar:
7
g
|
Vitamin A:
1050
IU
|
Vitamin C:
10
mg
|
Calcium:
451
mg
|
Iron:
4
mg
Pin this recipe for spaghetti in giant meatballs:
Get Chrysta's cookbook, Kiss My Bundt: recipes from the award-winning bakery

Latest posts by Amy Reiley
(see all)
Get on our mailing list
Subscribe and get our exclusive list of Six Great Sex-Boosting Snack Foods for FREE! Unsubscribe at any time.