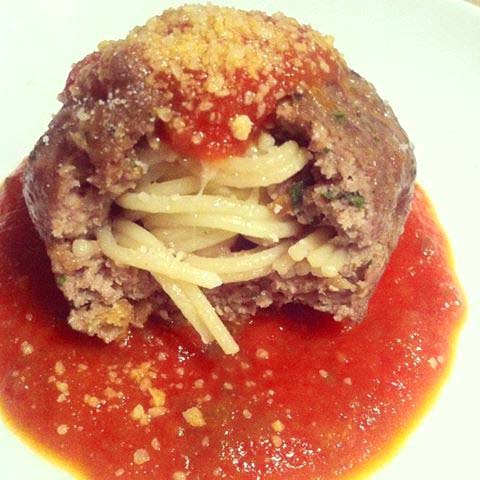 Our articles may contain affiliate links. For more information, view our policies.
A meatball dish that will have the whole table smiling
This one was brought to us by chef and a self-described food history nerd, Chrysta Wilson. Chrysta is the author of Kiss My Bundt: recipes from the award-winning bakery and one of our all-time favorite experts on cake. But Chrysta's no slouch when it comes to savory food. She's created many a memorable meal in our test kitchen. And this recipe for Spaghetti IN Meatballs is one of her best.
TO TRY: Chrysta's Balsamic-Glazed, Roasted Brussels Sprouts
Spaghetti IN Meatballs?
Yes! Chrysta puts the Spaghetti inside the meatballs!
When we saw her video on the YouTube show Dishing on Movies demonstrating how to make Spaghetti In Meatballs, we knew it would be fantastic. The recipe was inspired by a kids' movie, Cloudy With a Chance of Meatballs II. And there's probably nothing what so ever aphrodisiac about this concoction of fat and carbs, we just had to share it because…IT'S AMAZING. Ingredients including garlic–a noted aphrodisiac, Parmesan cheese and even parsley are all linked with romance and have potential to turn an ordinary weeknight dinner into a night to remember.
Look, Spaghetti IN Meatballs is a recipe for pure fun. It's not a dish for a night of seduction but one to make someone laugh. It's also a great recipe for families. However, don't think it doesn't have  something to offer in the romance department. Although you might not suspect it, the tomato paste in your sauce is actually also a potential libido enhancer. Tomato paste contains a higher content of lycopene than a fresh tomato would. And lycopene is linked with improved libido.
TO TRY: Gnudi – The Naked Ravioli
So although you probably wouldn't want to serve this dish for a grand night of seduction, it's the perfect thing for a gently romantic dinner and a movie night at home. OR, try using it to bribe the kids into going to bed early for some quality parent time.
You can see Chrysta demo the whole recipe on Dishing on Movies.
Want more of Chrysta's recipes? Not only should you buy a copy of her  cookbook, but don't miss her recipe for Buttermilk Pumpkin Spice Pancakes with Lardons.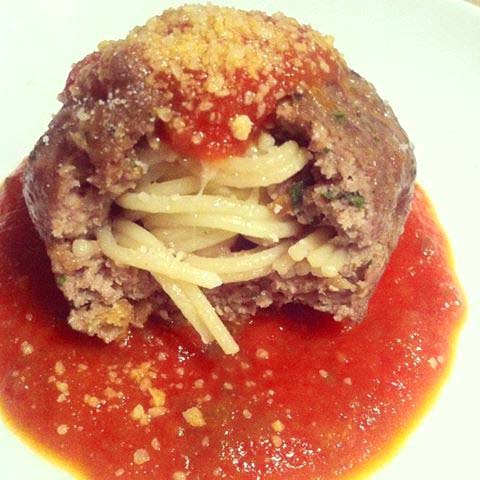 Spaghetti In Meatballs
Print Recipe
Chef Chrysta Wilson shares this clever presentation idea for stuffing homemade meatballs with spaghetti. 
Ingredients
1/4

lb

thin spaghetti

3

oz

Mozzerella cheese

sliced into 8 rounds

1/5

lbs

ground beef

15% fat

1

tsp

crushed garlic

2

tsp

salt

2

tsp

garlic powder

1

med shallot

minced

1/4

cup

Italian parsley

1

egg

optional

1

cup

breadcrumbs

1/2

cup

milk

1

cup

Marinara sauce

1

cup

grated Parmesan cheese
Instructions
Cook spaghetti according to package instructions to al dente texture. Drain.

Put the beef into a large mixing bowl. Mix in the crushed garlic, salt, garlic powder, shallot and parsley.

If you like your meatballs moist, crack the egg into a small bowl, scramble lightly and add to the seasoned meat.

Combine milk and bread crumbs in a small bowl. Add to the ground meat mixture. Let mixture stand at room temperature.

Using a pair of chopsticks, swirl the spaghetti into 8 small mounds.

Freeze the noodle balls for 15 minutes.

Preheat oven to 375 degrees.

Press a slice of Mozzerella onto the top of each noodle mound.

To make the meatballs: form the ground meat into patties. Place a noodle mound at the center of each patty and wrap the meat around the noodle and cheese parcel to thoroughly enclose.

Cook for approx. 30 minutes, until golden.

To serve, top with warm Marinara and top with Parmesan.
Pin this recipe for Spaghetti IN Meatballs:
Get Chrysta's cookbook
FREE APHRODISIAC NEWSLETTER
Subscribe to our free aphrodisiac newsletter