Easy Peach Gazpacho Recipe: a cold summer soup
Our articles may contain affiliate links. For more information, view our policies.
This delectable peach gazpacho is my favorite chilled soup recipe. To me, it tastes like the sweetness of childhood mixed with sunshine and just a hint of salt. (It's like that flavor you taste when you lick your lips after a day at the beach.)
What's so great about this chilled summer soup
This is not a peach tomato gazpacho. This recipe is a surprising combination of pure fruit goodness. Ripe peak-of-season peaches are combined with fresh basil, honeydew melon and a touch of crumbled goat cheese to create a simple-to-make but complex-flavored summer soup.
If you love gazpacho, you don't want to miss this summer peach variation sure to surprise and delight your tastebuds.
I'm sharing this peach soup recipe from my first cookbook, Fork Me, Spoon Me. And although I like to think everything you find in my book is special, this recipe is, without question, one of my favorites.
It's the one I demo when I'm asked to do live television in the summer months. And it's always a hit with everyone lucky enough to get a taste.
TRY NEXT: Don't miss my recipe for sweet corn soup
How to make the best peach summer gazpacho
The key to making a velvety peach soup is a good blender. You want a blender that can puree the fruits to a perfectly smooth, almost fluffy consistency. I typically use a Vitamix, which is my favorite blender brand. But a less expensive blender, like this one I love from Kitchenaid, will also do the job.
I don't like using a food processor to make this soup recipe. A food processor does not blend liquid ingredients as smoothly as they're combined in a blender, so you won't get the fine, velvety texture you achieve when you make this soup in a blender.
The other key to making a great peach gazpacho soup is good ingredients. You must start with juicy, perfectly ripe peaches to get a great final flavor. You also want to make sure to use ripe honeydew and fresh, not dried, basil. (If you don't like basil, you can substitute with fresh mint.)
With the right equipment and ingredients, I think you'll quickly see why this is one of my favorite cold soup recipes of all time.
To make a vegan version of this cold soup recipe
All of the ingredients in this summer peach soup recipe are vegan, with the exception of the soft goat cheese, also called chevre. To make a vegan gazpacho, simply omit the goat cheese garnish and serve the garlic crostini without the cheese.
A peach soup and wine pairing suggestion
Although I love wine and in my other career work as a wine writer and critic, I'm not usually one to recommend wine pairings. But for this soup, there just may be a perfect wine.
If you can get your hands on a bottle of Peju Winery's Provence, a red and white blended table wine from the Napa Valley, you must try it with this soup. (Serve the wine chilled.) I discovered the combination when teaching an aphrodisiac cooking class at the winery and as far as I'm concerned, the pairing of this summery peach gazpacho and Peju Provence is pure magic.
Why this is a great recipe for a summer date night
Since this recipe comes from an aphrodisiac cookbook, you've probably already figured out that it features aphrodisiac ingredients. But you might not have realized that peaches are historically aphrodisiac. Here's some additional information on what makes peaches so sexy.
And it isn't just the peaches that are considered aphrodisiac ingredients. Basil, garlic and even cheese all make the list of the world's finest aphrodisiacs.
TRY NEXT: Cold Watermelon Soup with Cacao Nibs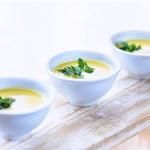 Easy Peach Gazpacho with Basil and Chevre
Print Recipe
This recipe comes from Fork Me, Spoon Me: the sensual cookbook. 
Ingredients
For the soup:
2

cups

ripe peaches

peeled and diced

1 1/4

cups

honeydew

diced

1/2

cup

orange juice

1

Tbsp

fresh basil*

coarsely chopped

sea salt to taste

1

Tbsp

chevre

crumbled

1

Tbsp

chiffonade fresh basil*
For the crostini:
1

crusty baguette

2

cloves

raw garlic

peeled and halved

2

Tbsp

chevre

softened
Instructions
In a blender, combine the peaches, honeydew, orange juice, 1 T basil and a couple pinches of salt. Blend to a smooth cream.

Divide soup among four dishes and garnish with cheese and remaining basil.

Serve the gazpacho well-chilled with chevre crostini on the side.
For the crostini:
Slice the baguette on the diagonal into ½ inch thick slices.

Lightly toast in a 325 degree oven, turning once.

Rub each side of the toasted bread with the cut side of the garlic then spread with ½ Tbsp chevre.

Serve crostini warm with the chilled soup.
Notes
*If you don't have basil, you can substitute with fresh mint. 
If you enjoy this recipe, be sure to check out Fork Me, Spoon Me: the sensual cookbook.

Pin this peach gazpacho fruit soup recipe:
Latest posts by Amy Reiley
(see all)
Get on our mailing list
Subscribe and get our exclusive list of Six Great Sex-Boosting Snack Foods for FREE! Unsubscribe at any time.