Summer Lover's Peach Gazpacho
Our articles may contain affiliate links. For more information, view our policies.
 A peach gazpacho recipe from fork me, spoon me: the sensual cookbook
If you've ever created a dish, you understand how heart wrenching it can be to part with the recipe. It feels like divulging your secrets will let the world know that you are a fraud. That everyone will realize that your skills in the kitchen have nothing to do with actual cooking talent but a knack for throwing together a bunch of ingredients. That's how I felt when I gave this peach gazpacho recipe away in my first cookbook, Fork Me, Spoon Me.  But I knew my peach gazpacho was the sort of simple yet almost magical food I was promoting in a book book that promised creating romance for any level of cook. (And that included the kind of cook who can't even boil water.) And you don't have to–know how to boil water, that is, to make this Peach Gazpacho recipe.
The quintessential summer soup
This is my go-to summer soup recipe. To me, it tastes like the sweetness of childhood mixed with sunshine and just a hint of salt. (It's like that flavor you get when you lick your lips after a day at the beach.) Although I love wine and in my other career work as a wine writer and critic, I'm not usually one to recommend wine pairings. But for this soup, there just may be a perfect wine.
A soup and wine pairing suggestion
If you can get your hands on a bottle of Peju Winery's Provence, a red and white blended table wine from the Napa Valley, you must try it with this soup. (Serve the wine chilled.) I discovered the combination when teaching an aphrodisiac cooking class at the winery and as far as I'm concerned, the pairing of Peach Gazpacho and Peju Provence is pure magic.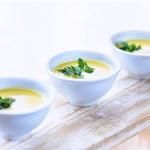 Summer Lovers' Peach Gazpacho
Print Recipe
This recipe comes from Fork Me, Spoon Me: the sensual cookbook. 
Ingredients
For the soup:
2

c

peaches

peeled and diced

1 1/4

c

honeydew

diced

1/2

c

orange juice

1

T

fresh basil

coarsely chopped

salt to taste

1

T

chevre

crumbled

1

T

fresh basil

minced
For the crostini:
1

crusty baguette

2

cloves

raw garlic

peeled and halved

2

T

chevre

softened
Instructions
In a blender, combine the peaches, honeydew, orange juice, 1 T basil and a couple pinches of salt. Blend to a smooth cream.

Divide soup among four dishes and garnish with cheese and remaining basil.

Serve cold with chevre crostini on the side.
For the crostini:
Slice the baguette on the diagonal into ½ inch thick slices.

Lightly toast in a 325 degree oven, turning once.

Rub each side of the toasted bread with the cut side of the garlic then spread with ½ T chevre.

Serve warm with the chilled soup.
For more of Amy's aphrodisiac magic, check out Fork Me, Spoon Me: the sensual cookbook.
Pin this Peach Gazpacho recipe:
FREE APHRODISIAC NEWSLETTER
Subscribe to our free aphrodisiac newsletter