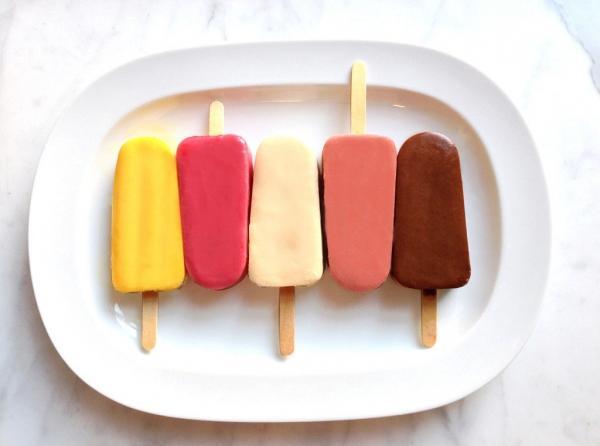 Why You Need Chloe's Popsicles (A Chloe's Pops Review)
Our articles may contain affiliate links. For more information, view our policies.
Summer may be coming to an end but a great popsicle is really a year-round treat. And when you find one made from sensual soft serve fruit with none of the artificial stuff, you know you're going to be committed to some licking all year long. That's why we're featuring Chloe's Pops. They're going to change the way you lick!
Popsicles made with natural ingredients
Want a popsicle that won't start dripping dye down your arm? We've found the frozen dessert that will let you look sexy while you lick – better yet, you'll feel sexy when you indulge in these pure and natural fruit bars.
Made with nothing more than pure fruit, water and organic cane sugar, the fruit pops from Chloe's Soft Serve Fruit Co. take icy treats to a whole new level. And the texture? These soft popsicles are as smooth and silky as a bowl of soft serve, only frozen on a stick.
Are Chloe's Pops healthy?
A Chloe's popsicle is still a dessert made with sugar. But these soft popsicles are definitely a better choice than most summer desserts if you're trying to stay healthy.
They only have 60 calories per pop. They're GMO-free and gluten-free. The regular fruit pops still contain over 10g of added sugar per serving. But Chloe's also sells no added sugar pops in strawberry and grape flavors for anyone who needs to watch sugar intake. (The Strawberry No Sugar Added Pops contain 8g of sugar.)
A RECIPE YOU SHOULDN'T MISS: Frozen Summer Semifreddo with Raspberries
Chloe's Fruit Pops also makes chocolate-dipped popsicles
Chloe's pops come in a variety of flavors. Chloe's currently offers eight flavors of fruit pops, including some of our favorite aphrodisiacs like raspberry, mango, pomegranate and even cold-pressed coffee pops.
For something more indulgent, you can try Chloe's Dipped Pops. These fruit pops are dipped in the aphrodisiac of dark chocolate. At 120 calories per bar, they're still more virtuous than your average frozen treat yet with the robe of dark chocolate, they're exceptionally satisfying. (Don't forget that dark chocolate makes our list of the 10 Best Foods for Women.)
Want to try a cocktail that tastes like a Creamsicle? We've got a recipe for you!
Check out the Oat Milk Popsicles
If you're interested in a creamy treat, Chloe's even makes pops to rival your favorite childhood ice cream bars. These plant-based treats are dairy-free and vegan-friendly.
The frozen oat milk bars come in Cookies & Cream, Mint Chocolate Chip, Chocolate Peanut Butter, Raspberry Chip, Salted Caramel and Brownie Batter Flavors. Although you won't mistake them for a traditional ice cream bar, these frozen treats have a great creamy texture and craving-worthy flavor.
Where to buy Chloe's Soft Serve Fruit Co. Fruit Pops
When we first brought you the story on these guilt-free indulgences back in June of 2017, Chloe's bars were only available through a handful of retailers. They are, of course, always found at their flagship store in Manhattan.
But Chloe's pops are also available for delivery through Amazon Fresh, Fresh Direct and Peapod. In addition, Chloe's has made some major inroads with some of America's most popular grocers. You can go to their online locator to find the store nearest you: https://www.chloesfruit.com/where-to-buy.
To get the full "scoop" on Chloe's Soft Serve Fruit Co.'s pure and delicious popsicles, visit the Chloe's website.
Get on our mailing list
Subscribe and get our exclusive list of Six Great Sex-Boosting Snack Foods for FREE! Unsubscribe at any time.