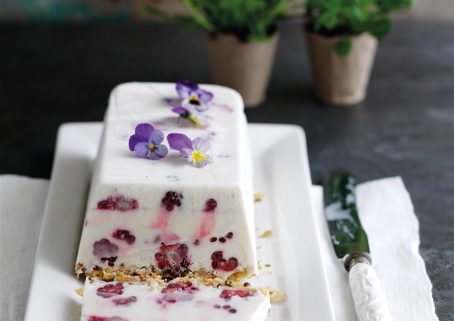 Recipe for Easy, Elegant Blackberry and Coconut Parfait
Our articles may contain affiliate links. For more information, view our policies.
Sara Lewis puts her spin on parfait
Sara Lewis, British tastemaker and author of Cooking from the Garden
 was kind enough to share her this Blackberry and Coconut Parfait recipe with us. We love that it offers a delicate, feminine appearance but delivers big flavor.
It's practically a health food
It is definitely the sort of dessert you serve to the garden club or make for Mom on Mother's Day. But those leftover slices of parfait, with their crunchy sweet crust, cold coconut body and bursts of berry flavor are going to make a midnight snack to devour with your lover. And your body will say, "Thank you!" Because for a creamy, frozen treat, this coconut parfait is practically a health food. Yes, it has its share of sugar and fat but look at the ingredient list! There are so many good-for-you ingredients on there, including ones that are great for supporting a healthy libido, including nuts, honey and blackberries.
Chef's tip
This elegant Blackberry and Coconut Parfait can be made in advance–you can even make it several days in advance–and keep it in the freezer all ready and waiting to go. Just remember to take it out of the freezer when you sit down for your main course so that it has a little time to defrost so that the flavor of the blackberries comes through and the parfait is soft enough to slice.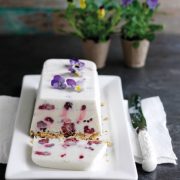 Blackberry and Coconut Parfait
Print Recipe
This elegant, frozen treat is the kind of dessert that will "wow" guests. And they'll never know how easy it is to make! 
Ingredients
For the granola base:
1 1/2

oz

butter

11/2

oz

slivered almonds

roughly crushed

1 1/2

oz

pistachio nuts

roughly chopped

1

tbsp

granulated sugar
For the parfait:
1 14

oz

can full fat coconut milk

2

limes

(zest from both, juice of 1)

4

tbsp

runny honey

3

oz

granulated sugar

16

oz

Greek style yogurt

1

c

fresh blackberries

fresh violets to decorate

optional
Instructions
Line the base and two long sides of a 2 lb non-stick loaf tin with a strip of non-stick baking paper or plastic wrap.

To make the granola topping, heat the butter in a saute pan. Stir in the slivered almonds and cook for 2-3 minutes, stirring until almonds just beginning to color. Mix in the pistachio nuts and sugar and cook for 1 minute until the sugar has dissolved. Remove from heat and leave to cool.

For the parfait, pour the coconut milk into a mixing bowl, add the lime rind and juice, honey and sugar and whisk together until smooth. Add the yogurt and whisk briefly until smooth.

Pour about one third of the parfait mixture into the base of the lined tin. Crumble about one third of the blackberries over the top, breaking up with fingertips, then spoon over half the remaining parfait mix and repeat so that all the parfait mixture and all the blackberries are added to the tin.

Level the surface of the mixture and spoon over the cooled granola in an even layer. Freeze for 6 hours or overnight, covering the top with plastic wrap as soon as it is hard.

To serve, take the parfait out of the freezer 15-25 minutes before you are ready to serve it. Allow to defrost slightly then run a wet, round-bladed knife around the sides of the parfait to loosen it. Turn out on to a plate and gently peel off the lining paper or plastic wrap. Decorate with violet flowers and cut into thick slices with a hot knife.
Pin this recipe:
FREE APHRODISIAC NEWSLETTER
Subscribe to our free aphrodisiac newsletter