World's Greatest Tarragon Chicken Salad Recipe
Our articles may contain affiliate links. For more information, view our policies.
This Tarragon Chicken Salad recipe is a summer staple in my house. But chicken salad with grapes and capers was, for my household, a tradition several decades in the making and was a staple at family reunions.
Now nothing could be less romantic than a family reunion. So I had to take the basic family recipe and spice it up for my purposes. My spin on chicken salad not only highlights the sweet pop of late summer grapes, but also the zing of Dijon mustard. You might be surprised to learn that mustard is an aphrodisiac but this zippy condiment actually has a fascinating aphrodisiac history!
Discover tarragon
In addition to Dijon, my version of chicken salad isn't complete without a sprinkling of fresh, chopped tarragon leaves. Tarragon is an aphrodisiac and an herb with some surprising nutritional benefits.
A perennial herb, tarragon is a member of the sunflower family. It is extremely aromatic but its flavor is surprisingly subtle. It offers a slightly grassy, slightly sweet, anise-like flavor. You'll know it if you taste it. It is like no other herb.
Tarragon can be more difficult to find in grocery stores than some of the more popular herbs like parsley. So you may be wondering if you can use dried tarragon in place of fresh. I've done it. But I can't really recommend it. Dried tarragon will not give the dish the right vibrancy. After all, this recipe is called Tarragon Chicken Salad. But if using dried is your only choice, use about 1/4 teaspoon in place of the teaspoon of fresh tarragon called for in the recipe.
In defense of roasting chicken on the bone
The real reason this is the world's greatest Tarragon Chicken Salad is the succulence of the chicken. Please don't ever make this recipe with boneless, skinless chicken breasts! The trick is to use white meat chicken that was roasted on the bone. I promise you, this will guarantee you a never-dry salad.
Before I roast my chicken, I slide a blend of fresh herbs herbs under the skin along with lemon and a generous seasoning of salt and pepper to give the chicken the most full flavor possible. If you start with great chicken, the dish is practically foolproof.
I know the recipe makes 8 servings. I think it tastes better on the second…and third day. But this is one you can easily halve, if you want to use as the main course for a romantic picnic.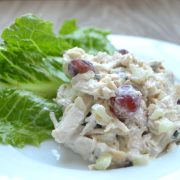 World's Greatest Tarragon Chicken Salad
Print Recipe
This simple recipe for an unforgettable chicken salad starts with great ingredients. Use quality chicken, roasted on the bone and the freshest of herbs for a truly succulent dish. 
Ingredients
4

bone-in split chicken breasts

(with skin)

1

small lemon

thinly sliced into 8 rounds

1

tbsp

various fresh herbs

roughly chopped (such as sage, thyme, tarragon, rosemary or basil), optional

salt and pepper

1

small sweet onion

finely chopped

2

celery ribs

finely chopped

1

tbsp

capers

drained

1

cup

grapes

washed and sliced in half

1

tsp

fresh tarragon

finely chopped

3-5

tbsp

mayonnaise

2

tsp

dijon mustard

salt to taste
Instructions
Preheat oven to 425 degrees.

Remove excess fat from each chicken breast and pat dry. Slide 2 lemon slices and assorted herbs (optional) under the skin of each breast. Season each breast with salt and pepper and place, skin side up, in a 9x13 baking dish.

Cover pan with foil (try to make sure foil is not touching the skin) and bake for 20 minutes. Reduce temperature to 350 degrees and cook for an additional 15 minutes. Remove foil and allow chicken to brown for an additional 15 minutes of cooking. (The chicken should be just cooked through and the bones will still have pink, even red. Once the bones are brown, the breast is overcooked.)

Remove chicken from pan and allow it to rest until cool enough to touch.

Remove and discard the chicken skin. Pull the meat from the bones into bite-sized pieces. (This is the only time-consuming part of the recipe!)

Cool chicken completely before making the salad.

In a large bowl, combine chicken, onion, celery, capers, grapes, tarragon, 2 tbsp mayonnaise and 1 tbsp dijon. Mix ingredients and add additional mayo and mustard to taste. Season with salt before serving with a loaf of great bread, a green salad, (I like romaine), and a side of the season's finest fruit.
Pin this Tarragon Chicken Salad recipe:
FREE APHRODISIAC NEWSLETTER
Subscribe to our free aphrodisiac newsletter