The Best Tarragon Chicken Salad Recipe with Grapes & Celery
Our articles may contain affiliate links. For more information, view our policies.
Chicken salad is one of the most simple summer foods but it's one that can go horribly wrong if you're not careful. Pretty much everything goes with chicken, that's true. But a successful chicken salad recipe is all about the balance of ingredients. You need just the right amount of flavors to make it interesting but it's all too tempting to go overboard, completely upsetting the balance of this light, summery dish. Chicken salad with grapes and capers is a family tradition several decades in the making. Here, I've refined it to a complex but comforting medley of fantastic summer flavors.
My spin on chicken salad not only highlights delicious tarragon but the sweet pop of grapes, as well as the zing of Dijon mustard. You might be surprised to learn that mustard is an aphrodisiac but this zippy condiment actually has a fascinating aphrodisiac history!
Why you should make chicken salad with tarragon
This chicken salad recipe really has it all from the sweetness of grapes to the crunch of celery. But it's the tarragon that really transforms this dish from ordinary to a gourmet dish. Best of all, tarragon is not only an aphrodisiac food but an herb with some surprising nutritional benefits.
What is tarragon?
A perennial herb, tarragon is a member of the sunflower family with soft leaves. It is extremely aromatic but its flavor is surprisingly subtle. It offers a slightly grassy, slightly sweet, anise-like flavor. You'll know it if you taste it. It is like no other herb. It may be less popular than some of the more common herbs like rosemary or oregano but that definitely does not make it any less fabulous.
Where can you buy tarragon?
Tarragon can be more difficult to find in grocery stores than some of the more popular herbs like parsley. Most gourmet and specialty foods markets should have it but your neighborhood grocer might not.
So you may be wondering if you can use dried tarragon in place of fresh. I've done it. But I can't really recommend it. Dried tarragon will not give the dish the right vibrancy. After all, this recipe is called tarragon chicken salad. But if using dried is your only choice, use about 1/4 teaspoon of dried tarragon in place of the teaspoon of chopped fresh tarragon in the recipe.
My best tip for making a great tarragon chicken salad
What makes this the best chicken salad recipe memorable is not only the tarragon but also the succulence of the chicken. The most important step in making this Dijon chicken salad is to use chicken that was cooked on the bone. And if you're making a gourmet chicken salad, you want to pay attention to every step that can improve the flavor.
Why should you cook chicken on the bone?
Cooking chicken on the bone does take substantially longer than cooking boneless chicken breasts. So why bother?
With the bone in and skin on, the delicate chicken breast meat has a layer of protection from the heat of the oven on both sides, helping to prevent it from drying out during cooking. Additionally, the bone will help evenly distribute the heat throughout the breast as it cooks, ensuring the most delicious chicken.
Not just that, but if you're watching your pennies, you'll appreciate that bone-in chicken breasts are a better value than boneless breasts. In other words, cooking chicken breasts on the bone saves you money and guarantees better flavor.
But almost as important as roasting the chicken on the bone is seasoning your meat. Before I roast my chicken, I slide a blend of fresh herbs under the skin along with fresh, sliced lemon. (The fresh lemon juice will flavor the meat as it cooks as well as help keep it moist.)
Lastly – and this is the most important step to roasting flavorful chicken – add generous seasoning of salt and pepper to give the chicken the fullest flavor possible. If you start making chicken salad with a foundation of great chicken, the dish is practically foolproof.
Variations and substitutions
As with most chicken salad recipes, for this recipe, you can skip the cooking and use a store-bought rotisserie chicken. It's a great shortcut, especially in warm weather when you don't want to turn on the oven in your kitchen. Obviously, it still gives you roast chicken cooked on the bone. But I prefer homemade roasted chicken.
Why? The white meat is often too dry when you purchase a rotisserie-cooked chicken at the grocery store. And the only antidote to dry chicken in your chicken salad is to add extra mayonnaise, which is not my favorite solution.
If you do use rotisserie chicken, you will need to use the whole chicken for this recipe, including the dark meat and wings. Alternatively, you can buy two pre-cooked chickens and just use the breast meat from both.
More substitutions & variations:
If you want to make this chicken salad in winter when red grapes aren't in season, you can use dried cranberries.
Try adding 1/4 cup of chopped walnut pieces for added crunch. (This variation works well either with grapes or with a cranberry chicken salad.)
If you aren't a caper fan, you can leave the capers out. But I guarantee you'll miss that salty "pop" the capers give to this homemade chicken salad.
If you don't have a sweet onion, you can substitute with finely chopped red onion. In fact, you may prefer the vibrant color of the red onion.
If you have an egg allergy, you can absolutely use egg-free mayonnaise to make this chicken salad with grapes and tarragon. Just use whatever mayonnaise is your preferred brand.
Serving suggestions
My intention with this recipe was to make chicken salad with grapes and turn this summer staple into a recipe suitable for a romantic occasion like a lunch date or picnic for two. (Yes! Chicken salad can be sexy. In fact, did you know that not only are the grapes, tarragon and Dijon mustard aphrodisiac but even the celery in this homemade chicken salad has nutrients that can increase sex drive?)
Check out more of my favorite picnic date recipes
I know the recipe makes 8 servings but that doesn't mean you need to serve it to a crowd. (That being said, I will tell you this is always a winner at potlucks, baby showers and family reunions.)
But the real reason I made this recipe for such a large amount is not that I like being the hero of the potluck but because I think the chicken salad tastes better on the second day. Of course, this is one recipe you can easily halve if you want to use as the main course for a romantic picnic or sexy midnight snack.
You can serve this easy summer recipe with crisp lettuce leaves, like romaine hearts, or make a tarragon chicken salad sandwich with sourdough or thinly sliced whole-grain bread. It can also work on toast points as a causal summer appetizer. Better yet, just scoop out a bowlful and add two forks for you and your lover to enjoy in bed.
More great roast chicken recipes
Aleppo Pepper and Apricot-Glazed, Roasted Chicken Thighs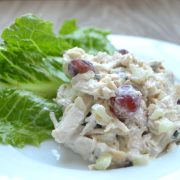 Tarragon Chicken Salad with Grapes, Capers & Celery
Print Recipe
This simple recipe for an unforgettable chicken salad starts with great ingredients. Use quality chicken, roasted on the bone and the freshest of herbs for a truly succulent dish. 
Ingredients
4

bone-in split chicken breasts

(with skin), about 3lbs in total

1

small, fresh lemon

thinly sliced into 8 rounds

1

tbsp

various fresh herbs

roughly chopped (such as sage, thyme, tarragon, rosemary or basil), optional

salt and pepper

1

small sweet onion*

finely chopped

2

celery ribs

finely chopped

1

tbsp

capers

drained

1

cup

grapes

washed and sliced in half

1

tsp

fresh tarragon leaves

finely chopped

3-5

tbsp

mayonnaise

2

tsp

dijon mustard

salt to taste
Instructions
Preheat oven to 425 degrees.

Remove excess fat from each chicken breast and pat dry. Slide 2 lemon slices and assorted herbs (optional) under the skin of each breast. Season each breast with salt and pepper and place, skin side up, in a 9x13 baking dish.

Cover pan with foil (try to make sure foil is not touching the skin) and bake for 20 minutes. Reduce temperature to 350 degrees and roast for an additional 15 minutes. Remove foil and allow the chicken to brown for an additional 10-15 minutes of cooking. (The chicken should be just cooked through and the bones will still have pink, even red. Once the bones are brown, the breast is overcooked.)

Remove chicken from pan and allow it to rest until cool enough to touch.

Remove and discard the chicken skin. Pull the meat from the bones into bite-sized pieces. (This is the only time-consuming part of the recipe.)

Cool chicken completely before making the salad.

In a large bowl, combine chicken, onion, celery, capers, grapes, tarragon, 2 tbsp mayonnaise and 1 tbsp dijon. Mix ingredients and add additional mayo and mustard to taste. Season with salt before serving with a loaf of great bread, a green salad, (such as romaine), and a side of the season's finest fruit.
Notes
*Substitute with red onion. 
Variations
Try dried cranberries in place of grapes. 
Add 1/4 cup of chopped walnut pieces for additional texture. 
Those who are sensitive to eggs should use an eggless mayonnaise or vegan mayonnaise substitute. 
Omit the Dijon for a more traditional chicken salad flavor. Use additional mayonnaise to achieve the correct consistency. 
A note on the provided nutrition information
The nutrition information provided has been estimated by an online nutrition calculator and is not a substitute for a professional nutritionist's advice.
Nutrition
Calories:
223
kcal
|
Carbohydrates:
8
g
|
Protein:
20
g
|
Fat:
12
g
|
Saturated Fat:
3
g
|
Polyunsaturated Fat:
4
g
|
Monounsaturated Fat:
4
g
|
Trans Fat:
0.1
g
|
Cholesterol:
60
mg
|
Sodium:
137
mg
|
Potassium:
319
mg
|
Fiber:
1
g
|
Sugar:
5
g
|
Vitamin A:
154
IU
|
Vitamin C:
11
mg
|
Calcium:
29
mg
|
Iron:
1
mg
Pin this recipe for tarragon chicken salad with grapes, capers and Dijonnaise:
Latest posts by Amy Reiley
(see all)
Get on our mailing list
Subscribe and get our exclusive list of Six Great Sex-Boosting Snack Foods for FREE! Unsubscribe at any time.