My Favorite Spanish Chicken and Lentils Recipe
Our articles may contain affiliate links. For more information, view our policies.
This roasted chicken and lentils recipe came out of a craving for the one-of-a-kind flavor of smoked paprika. It's a strange place to start, trying to come up with a recipe from a single spice. But Googling paprika led me to a recipe by Chef Jose Andres that combine chicken thighs and lentils with the seductive combination of bacon, paprika and sherry vinegar.
RELATED: The Health Benefits of Lentils for Women
A classic chicken and lentils dish made over with healthy ingredients
The original Spanish chicken recipe was a little heavy for my taste. So I lightened it up. Here's how I approached my makeover of a Spanish dish with healthier ingredients:
I eliminated some of the fat. (This is one of the easiest ways to lighten up a recipe.) You may notice that I do still use chicken thighs. And yes, thighs have nearly twice the saturated fat as chicken breast meat but I think chicken breast is too dry in this preparation. I also cook the thighs with the skin on. If you are really watching your fat, you can use skinless chicken, but it is not my first choice.
I added extra vegetables. If you've read my 10 Steps to Sexy Diet, then you know I believe in eating a rainbow of fruits and vegetables every day. Here, I added two shades of green vegetables, both zucchini and spinach, to the carrot and red pepper in the original recipe.
Cooking with Spanish flavors
The result is certainly not authentically Spanish but it echos many of the Spanish notes in Andres original with the tang of sherry vinegar and that seductive bottom note of smoke I was craving from the paprika.
What is smoked paprika?
If you've never worked with smoked paprika, I think you're going to enjoy your introduction to this Spanish spice. Also called pimenton or smoked Spanish paprika, it is made from chiles that are smoked and dried over an oak fire. (True pimenton is made using traditional techniques and can only be labeled as pimenton if it meets strictly controlled criteria.)
A fine powder, smoked paprika offers both sweet and smoky notes. And it is, at least as far as I'm concerned, one of the most craving-worthy spices. You probably wouldn't normally find it adding flavor to a pile of baby spinach but I love how it helps mellow the tannic notes of the greens.
So, my dish may not be distinctly Spanish. But what my roasted chicken thighs recipe is, is an easy, slow-cooked meal with a depth of sexy flavors just right for a healthy version of a romantic dinner for two.
TO TRY: Roast Chicken Breast with Chorizo New Potatoes
Tips for cooking lentils
Lentils are incredibly easy to cook and they work well with so many cuisines, from French to Indian. Before you cook any lentils, you want to rinse them and check them for any small stones or bad lentils. These should be discarded before cooking.
Lentils – and this goes for any lentil recipe – should be cooked over low heat. If they are briskly boiled, they tend to fall apart. (After you bring the liquid to a simmer, you should reduce heat to low.
Lentils love flavor. They will absorb the flavor of whatever they're cooked with, so season them generously and enjoy!
More great lentil recipes
Roasted Chicken Thighs with Golden Lentils
Print Recipe
An no-stress entree packed with Spanish flavors, this healthy chicken recipe was Inspired by Jose Andres Chicken Thighs with Lentil Stew.
Ingredients
1

tbsp

extra-virgin olive oil

2

slices

of thick-cut bacon

diced

1

small onion

finely chopped

1

quart

chicken stock or broth

3

clove

garlic, finely chopped

1

lg carrot

halved lengthwise

1

lg zucchini

halved lengthwise

1

small leek

white and pale green parts only, halved lengthwise

1

large red bell pepper

quartered

1 1/4

cup

golden lentils

substitute red lentils

1

thyme sprig

1 1/2

lbs

organic chicken thighs

with skin

salt

smoked paprika

2

cup

fresh spinach leaves

2

tsp

sherry vinegar
Instructions
Preheat the oven to 450°.

Rinse the lentils. Pick out any small stones or bad lentils.

Heat a large, non-stick saute pan over medium heat (I use a non-teflon Scan Pan).

Add the bacon and cook over moderate heat until golden brown, about 4 minutes.

Add the onion and cook, stirring, for 3 minutes.

Add the stock, whole garlic cloves, carrot, leek, bell pepper, zucchini, lentils and thyme plus 1/2 cup water and bring to a simmer. Simmer over low heat for 25-30 minutes. Lentils should be tender when cooked.

Coat a baking dish with non-stick cooking spray and arrange the chicken. Season well with salt and pepper. Roast on the top rack for about 40 minutes, until cooked through.

Discard the thyme sprig from the lentils.

Transfer the garlic, carrot, leek and bell pepper to a blender. Add 1/4 cup of the cooking liquid and puree.

Drain the lentils and return them to the pot. Stir in the pureed vegetables.

In a small skillet, heat the tablespoon of olive oil. Add the chopped garlic and cook over low heat for 1 minute.

Add 1 teaspoon of pimentón. Scrape the mixture into the lentils and simmer for 5 minutes.

Add the spinach and vinegar, stirring until the spinach is just wilted and season with salt to taste. Serve the lentils in bowls topped with the chicken.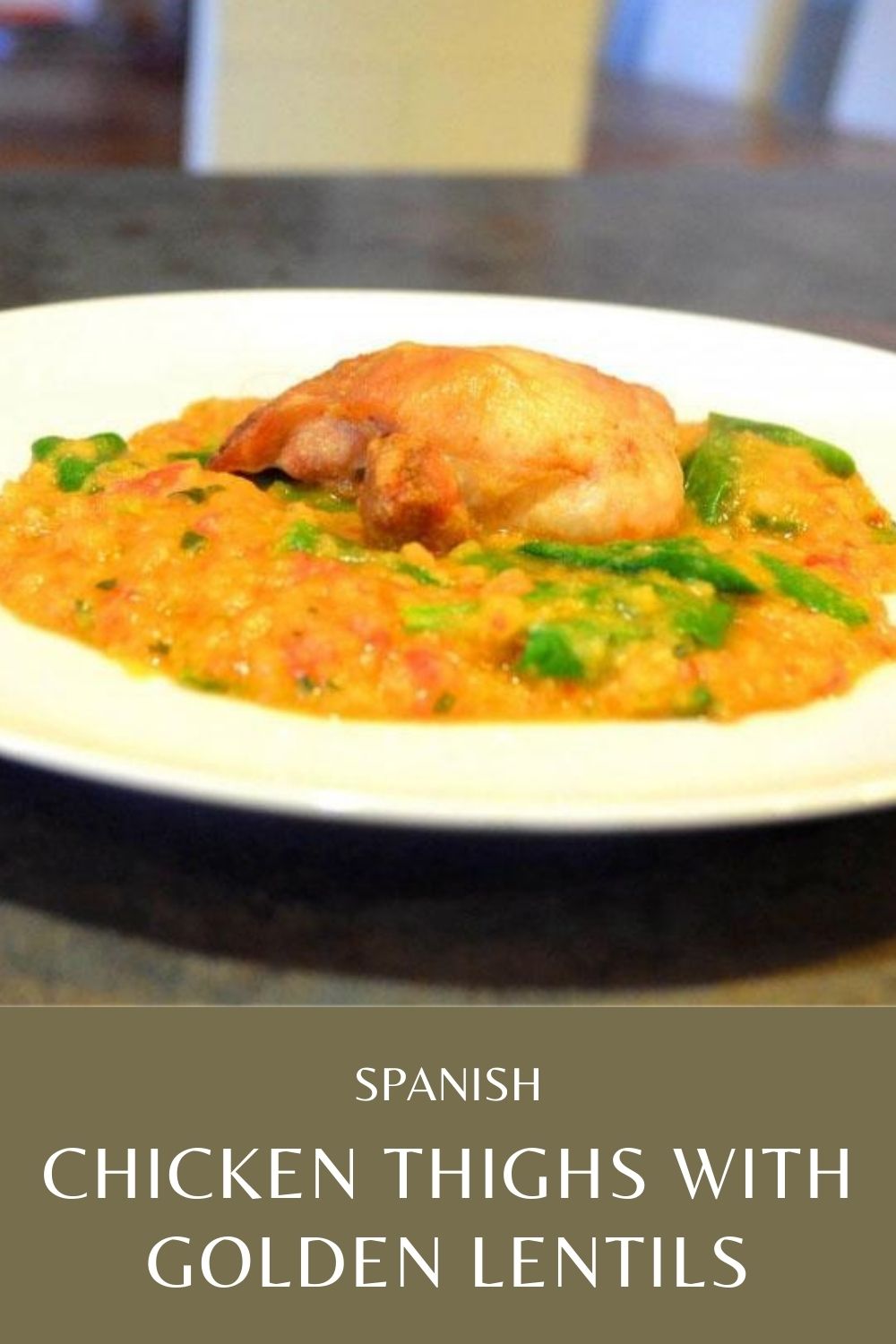 FREE APHRODISIAC NEWSLETTER
Subscribe to our free aphrodisiac newsletter