Sweet Hot Cedar Plank Oven Salmon Recipe
Our articles may contain affiliate links. For more information, view our policies.
Plank grilling is a tradition in the Pacific Northwest. It is a simple and healthy cooking method that imparts incredible flavor. But did you know you can make cedar plank oven salmon, too? If you don't have a grill – or don't want to go outdoors in the colder months, you can still enjoy plank cooking with this easy salmon recipe.
Best of all, this recipe adapts to cedar plank grilling. So we've included instructions for both cedar plank oven cooking and using cedar planks for cooking on the grill, so you can change it up depending on your equipment, mood and season.
This is a great year-round recipe for an easy but impressive main course with little cleanup.
Can you cook cedar plank salmon in the oven?
It is incredibly easy to cook cedar plank salmon in the oven. And the woodsy smell that fills your kitchen is incredible.
But don't expect cedar plank salmon in the oven to taste quite the same as plank salmon on the grill. It won't have the same smokey quality. You can expect to get moist, robustly flavored salmon with very little effort. In some ways, oven plank salmon is even better than plank-grilled salmon because this cooking method shows more of the delicate, sweet flavor of the fish.
Preparing your cedar plank
In preparation for cooking planked salmon, you want to make sure your wood planks are clean and splinter-free. (You can purchase planks specifically sold for grilling from a wide variety of retailers, including Sur la Table and Amazon
.) If necessary, give the wood a brush with sandpaper to get rid of any splinters.
Order a pair of cedar grilling planks from Sur la Table
Soaking the wood plank
Before you can grill on a cedar plank, you have to soak the wood, completely submerging it in water for a minimum of 45 minutes. For the best results, soak the wood for 3-4 hours, turning occasionally.
Remove the wood from the water and lightly pat dry when you're ready to start the recipe below.
Some cedar cooking recipes call for charring the plank before roasting or grilling. We prefer showcasing the sweetness of the wood rather than emphasizing char, so for this plank salmon recipe, skip that step. But do file it away for future experimentation!
Also, note that you're going to heat the soaked plank when you preheat the oven.
Choosing wild vs farmed salmon
For this easy salmon cedar plank recipe, any fresh salmon steak will work. But we recommend using wild salmon over farmed. You might be surprised to learn that there are both flavor and nutritional differences between wild and farmed salmon.
That's because farmed salmon are raised in a controlled environment and given feed that works to produce the largest fish possible. As a result, a farmed salmon steak has one-third more calories and twice the fat as the same amount of wild salmon.
Of course, that means that farmed salmon offers more Omega-3 fatty acids. But that's about the only nutritional edge it has over wild salmon. The wild fish is higher in zinc, potassium, calcium and magnesium than its farmed counterparts.
In addition, any chef will tell you that the flavor is more intense, more complex and simply more salmon-y in wild salmon than that which farmed salmon can offer. Its color is more intense, closer to orange than pink and even the texture is different.
Because of the high fat content, farmed salmon tends to have a more fatty, slightly mushier texture. The good thing about that is it's hard to mess up cooking farmed salmon. The higher fat content makes it hard to dry it out.
But if you just fine-tune your fish cooking skills and use both your recipe and your eyes as a guide, you'll be making flavorful, tender, cedar grilled salmon with wild fish in no time.
To make cedar plank grilled salmon
As I mentioned in the introduction, you can also make this fish recipe as a cedar grilled salmon. You will start the process by preparing the plank as you would for baked salmon.
For the grilling, preheat your grill to medium indirect heat. Pat the salmon dry and arrange it skin-side down on the plank. Cook, with the grill covered for 15-20 minutes. Keep in mind that smaller filets will cook faster.
If you're cooking more than one plank at a time, remember to leave space between the planks to provide airflow. Serve as you would baked cedar plank salmon.
Additional plank cooking ideas
The technique of using wood planks for cooking is a great one to master. You can not only cook salmon but use plank cooking with chicken or beef or even duck and bison. I also enjoy cedar-cooked veggies.
And once you get the hang of plank cooking, don't limit yourself to just cedar. There are many hardwoods suitable for this cooking method. Other popular hardwoods for cooking on the grill or in the oven include maple, hickory and cherry.
More of my favorite salmon recipes
Here are more great ways to cook this nutritious and delicious fish. By the way, did you know that salmon is among the 10 best foods for men's sexual health?
Sexy Salmon with Rosé Wine Sauce
Pomegranate-Glazed Grill-Smoked Salmon
Poached Atlantic Salmon in Irish Butter Sauce
Salmon Cakes with Truffle Mayonnaise
Sweet Hot Cedar Plank Oven Salmon
Print Recipe
Did you know you can cook with a cedar plank in the oven? This simple recipe uses the flavor from a cedar plank to subtly enhance the subtle flavor and moist texture of wild salmon. 
Equipment
Cedar Plank pre-soaked for 45 minutes-4 hours
Ingredients
1- 1 1/4

lb

wild samlon filet

skin on

1/4

cup

brown sugar

1 1/2

tbsp

grapeseed oil

1/4

tsp

salt

1/2

tsp

fresh ground black pepper

1/4

tsp

cayenne pepper
Instructions
Prepare the plank by soaking it in water for 45 minutes.

Preheat your oven to 350 degrees, placing the plank in the oven while it preheats. (If you're grilling, you want medium, indirect heat)

When the oven is preheated, remove the hot plank carefully from the oven.

Rinse salmon and pat dry. Arrange skin-side down on plank.

In a small bowl, combine brown sugar, oil, salt and peppers. Spread over salmon.

Place plank on the center rack of the oven. (You may want to line the bottom rack with foil for easy cleanup. Cook fish for about 14-16 minutes. The cooked fish will flake easily. Thinner filets may cook more quickly. A very thick filet may take up to 20 minutes to cook through. (See notes for grilling.)

Serve with a side of lemon wedges. (The fish can be served right on the plank if so desired.)
Notes
If you're grilling the salmon, cook for 15-20 minutes with the lid on. Keep in mind that smaller/thinner filets will cook faster. 
Pin this baked cedar plank salmon recipe: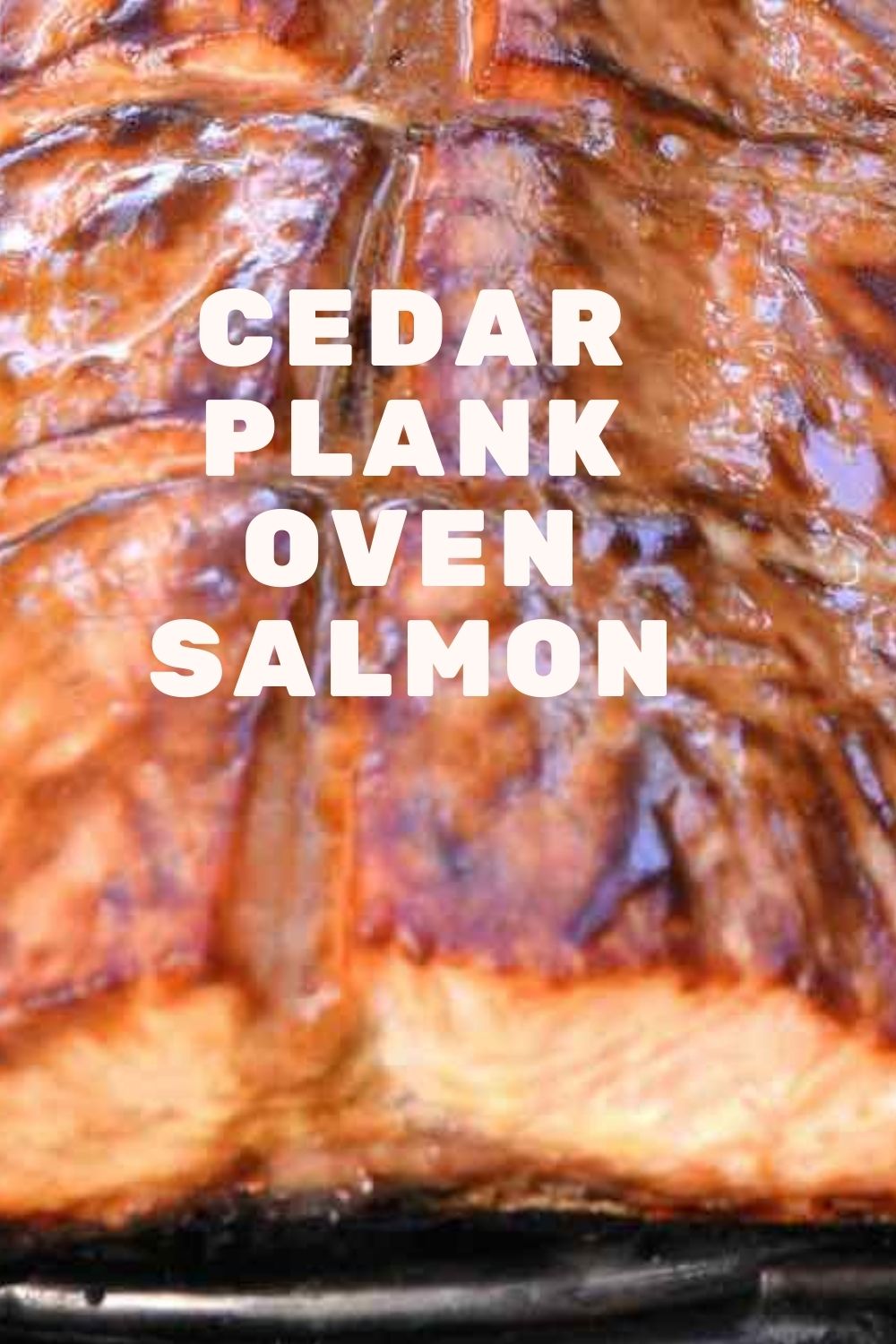 FREE APHRODISIAC NEWSLETTER
Subscribe to our free aphrodisiac newsletter