Sexy Salmon Poached with Rosé Wine Sauce
Our articles may contain affiliate links. For more information, view our policies.
This is my variation on Chef Eric Ripert's Barely Cooked Salmon with Leeks and Red Wine Butter Sauce. Ripert's original recipe for salmon poached this way is amazing. And it is an incredibly sophisticated dish for something so easy to prepare. However over the years, I've taken this recipe on an evolutionary journey to become the ultimate romantic dinner dish.
RELATED: Recipe for Sweet Hot Cedar Plank Salmon
How do you poach salmon?
What I most love about Ripert's recipe is his technique for poaching the salmon, so that only one side is submerged. The other side is served almost raw. The effect creates one filet with two different textures and temperatures in the same bite, heightening the sensuality of this easy salmon recipe.
If you've never poached salmon before, here's what normally happens. You place the salmon fillets in the poaching liquid in a skillet, almost or completely submerged. You cover the skillet with a tight-fitting lid and the water bath gently cooks the fish. But in this recipe, you cook the fish only partially submerged, without a lid, so that only the bottom side fully cooks.
Check out some of my favorite skillets on Sur La Table
So how does my recipe differ from the original poached salmon recipe? But I embrace Ripert's technique. But I make my sauce with the gently romantic, more subtle flavor of rosé wine. (And, among other things, I reduce the butter because I want your body in tip top condition for a night of passion.
RELATED: Poached Atlantic Salmon with Irish Butter Sauce
What to serve with your salmon
Ripert serves his salmon over leeks cooked in butter. I love the preparation but I've found a lot of people don't appreciate leeks. So I often serve my Sexy Poached Salmon in Rosé Wine Sauce over my Roasted Cauliflower Puree with Shallots. (The flavor is like a light and airy version of mashed potatoes with just a hint of shallot.) Of course, a more traditional potato puree is also solid – although heavier – choice.
TO TRY: Explore all of our side dish recipes
Cooking with rosé wine
You might be wondering what kind of rosé wine to use for your rosé sauce. I always recommend cooking with the wine you're going to drink. For this recipe, that's only one half cup. It can be something affordable like this Rosé of Sangiovese. Just make sure that the wine is something you enjoy drinking and a rosé you want with salmon.
Ripert flavors his dish with tarragon. I love tarragon but I've found that when you use rosé wine as opposed to red wine in the sauce, the flavor of tarragon tends to overpower the delicacy of the rosé wine sauce. If you love tarragon, you'll appreciate it. But if that's not the flavor you're going for, skip the tarragon and instead garnish with a sprinkle of fresh chives.
If you're making poached salmon fillets for two
The recipe serves four but if I'm making dinner for two, I make two filets and save half the sauce for another night. (You know I love leftovers!)
Want more seafood recipes? Here are some of our favorites
Sexy Salmon Poached with Rosé Wine Sauce
Print Recipe
This recipe offers layers of flavor in an incredibly simple salmon dish. Topped with a Rosé wine sauce, it's sophisticated and romantic. Serve it atop sauteed leeks, cauliflower puree or pureed potatoes. 
Ingredients
½

cup

rosé wine

2

tbsp

red wine vinegar

1

shallot

finely chopped

4

sprigs tarragon

(optional)*

4

tbsp

cold

unsalted butter

4

6-oz skinless salmon fillets

sea salt
To garnish:
1

tsp

sliced tarragon or chives

cracked black pepper and coarse salt
Instructions
Combine the rosé wine, red wine vinegar, chopped shallot and tarragon (if using). Bring the wine to a boil and reduce the mixture to about 5 tablespoons.

Set aside.

To make the salmon, put about ½ cup of water in a large sauté pan (just enough to cover the surface).

Season the water with salt and bring to simmer over medium heat.

Season the salmon on both sides with salt and black pepper.

Place the salmon in the pan; cook at a bare simmer, uncovered, until the top of the fish is just warm to the touch (about 5-7 minutes).

While the salmon is cooking, finish the red wine butter sauce by whisking in the remaining butter 1 tablespoon at a time over low heat. Whisk until each tablespoon is fully emulsified before adding the next.

Remove from heat and season to taste with salt and pepper while continuing to whisk.

Strain the sauce through a fine mesh sieve and keep warm.

Remove the salmon from the pan and drain each fillet on a paper towel.

Plate the salmon and sprinkle with either tarragon or chives, (see note). Sprinkle a line of ground black pepper and coarse salt over each fillet.

Spoon sauce around and serve immediately.
Notes
*If you use tarragon in the sauce, garnish the final dish with tarragon. But if you're skipping the tarragon in the sauce, garnish the filet with fresh chives.
Pin this sexy salmon recipe: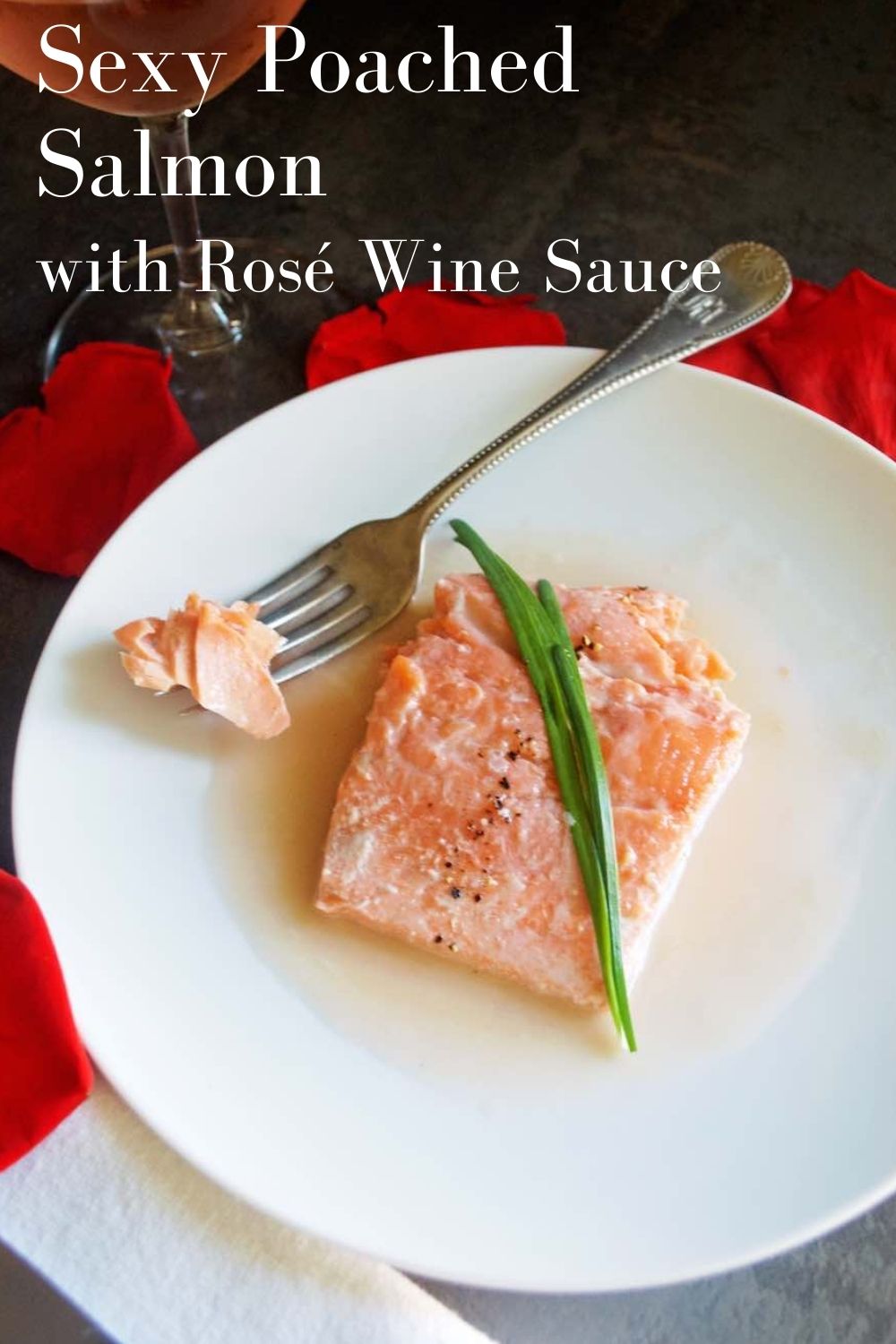 FREE APHRODISIAC NEWSLETTER
Subscribe to our free aphrodisiac newsletter