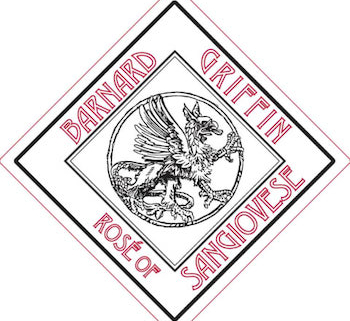 Barnard Griffin Rosé of Sangiovese
Our articles may contain affiliate links. For more information, view our policies.
Tasting Barnard Griffin Rosé for the first time is like experiencing an Italian-American love story, of sorts…
An Italian visits Washington State, decides she feels very much at home, then thrives in her new surroundings. That's a version of my own story. It also the (unlikely?) story of the Sangiovese grape.
About Washington State wine
Did you know that Washington is the second-largest wine-producing state in the country? If your only impression of the state is Seattle's reputation for rainfall, it's time for a brief geography lesson. Western Washington, west of the Cascades, makes up only a small percentage of Washington's grapes production. This is the Puget Sound AVA, near Seattle. It's not as wet as you'd expect, but that's relative. The majority of Washington's grapes grow east of the Cascade mountain range. Eastern Washington is almost desert-like. In fact, its 8-inch average annual rainfall qualifies it as such.
Washington has 14 AVAs (American Viticultural Areas). Columbia Valley is the largest. Over 70 varieties of wine grapes grow there. The number one grape, Cabernet Sauvignon, only represents 20% of total production. Merlot, the next on the list, comes in at about 9%. The category "Other Varieties" makes up 35%. The diversity of terroir, and the lower cost of land, means winemakers here have the ability to get truly creative with their craft. And they do!
Sangiovese in Washington
Sangiovese is the beloved grape of Tuscany. Synonymous with the names Chianti, Vino Nobile di Montepulciano, and Brunello di Montalcino. It didn't seem like such a far stretch to see it thrive in the Mediterranean-like climate of California, or even in Australia. But Washington?
It turns out that Italian and German immigrants planted the first wine grapes in Washington in the late 19thcentury. It's easy to imagine that some of those vines were Sangiovese. In the early 20th century, Prohibition led to ripping up wine vines and planting other fruits like pears and apples. But some people kept small vineyards for home winemaking, which was legal. Many of those, I'm sure, were Italian immigrants.
Today you'll find Sangiovese's popularity is growing. It came in sixth on the list of grapes grown according to the Washington State Wine organization. Even the esteemed Leonetti Cellar, known for its award-winning Cabernet Sauvignon, makes a very good Sangiovese. But one of the longest and most successful uses of the grape is Barnard Griffin Rosé.
Want to explore more Sangiovese wines? Here's one of my recent Wine of the Week reviews you might find interesting.
About Barnard Griffin
Barnard and Griffin were making dry rosé before rosé was cool. Deb Barnard and Rob Griffin started their Washington winery in 1983 with "borrowed fruit and a rented cellar". Over 35 years later, they are considered to be pioneers of the Washington wine world. Rob Griffin continues to oversee winemaking, which is considerably more these days. Their rosé production alone is now at nearly 14,000 cases.
My review of 2019 Barnard Griffin Rosé of Sangiovese
Barnard and Griffin make rosé on purpose. That's to say, they don't make it as a byproduct of the red wine-making process. That means the fruit is harvested with rosé in mind – earlier than for red wine. That way the acidity is still high, and the sugars are lower. That means a more summer-quaffing-friendly 12.9% ABV. It's also fermented dry. Only 3 grams/liter of residual sugar (6 is perceptible but still dry).
The color of the 2019 Barnard Griffin Rosé looks like clarified ripe watermelon juice. Mix that with some freshly picked strawberries, you get what it smells like too. On the palate, it is juicy, medium-bodied, and has well-balanced acidity. Just right. Flavors of fresh summer berries and stone fruits, tutti-frutti, and ripe watermelon are refreshing and not at all sweet.
Of course, a crisp cool rosé is a great summer sipper. But I like my wine to go with food. This one does. My first thought was sweet heirloom tomatoes, fresh mozzarella, and basil. It often is these days! Since I didn't have mozzarella in the house, I added feta and cucumber to the mix. Delicious. Next, I went homestyle Italian: risi e bisi. Rice and peas. Like risotto, but not as fussy. Garnish it with some freshly chopped mint for a summer flourish.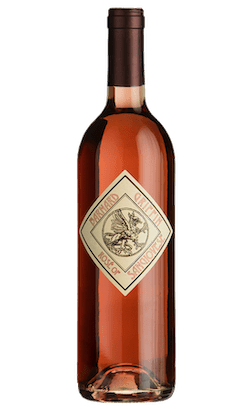 For a meatier version, try our Risotto with Sausage, Sweet Peas, and Chicory. Or, since squash season is almost here, Butternut Squash Farrotto. Make the farrotto vegan by skipping the butter and substituting liquid aminos (to taste) for the parmesan.
Where to buy Barnard Griffin Rosé
Maybe it's because I'm in Washington State, but I was able to purchase this wine at Trader Joe's. If that's not the case near you, check with your local wine shop. It's also available online. Check local availability of Drizzly.com and Wine.com, or go directly to the winery's site: BarnardGriffin.com
Latest posts by Annette Tomei
(see all)
Get on our mailing list
Subscribe and get our exclusive list of Six Great Sex-Boosting Snack Foods for FREE! Unsubscribe at any time - privacy policy