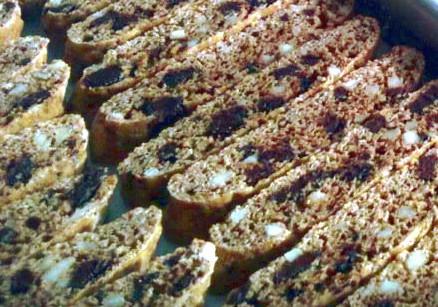 Easy Cappuccino Biscotti Recipe – an alluring cookie with the perk of caffeine
Our articles may contain affiliate links. For more information, view our policies.
A traditional biscotti recipe with a caffeinated twist
Chef Annette Tomei gave us her trusted biscotti recipe. It was adapted from a recipe originally printed in the December 1992 Gourmet magazine, although Annette made it her own with tweaks over the years.

This recipe brings together some of our favorite aphrodisiac spices with almond, chocolate and–the aphrodisiac of adrenalin–espresso. (Learn more about the aphrodisiac properties of coffee.) All of that is incorporated into a perfect dipping cookie. What more could you ask?
Making great biscotti requires patience
If you've never made biscotti before, you may not realize that these cookies take a bit of time. Although the prep time is as simple as it is for any other cookie, biscotti are baked twice. This is how you achieve an exceptionally crisp texture.
So although you don't have to allot a great deal of time for prep, be prepared for two rounds of baking and perhaps chill yourself a delicious bottle of Champagne, (it's an aphrodisiac!), to enjoy while you wait for your cookies to finish.
Easy Cappuccino Biscotti
Print Recipe
Ingredients
2

c

all-purpose flour

1

c

sugar

1/2

tsp

baking soda

1/2

tsp

baking powder

3/4

tsp

salt

1/2

tsp

cinnamon

1/4

tsp

ground cloves

1/4

c

espresso

1

tbsp

milk

2

1 large egg for the recipe PLUS 1 egg for egg wash

1

tsp

vanilla extract

1/2

c

semisweet chocolate chips

3/4

c

whole almonds
Instructions
Preheat oven to 350 degrees F and prepare a cookie sheet with either Silpat or good baking spray.

Combine the flour, sugar, baking soda, baking powder, salt, and spices in a large mixing bowl.

In a separate bowl, combine all liquid ingredients.

Gradually add the liquid to the dry ingredients mixing just until dough begins to form. Add the chopped nuts and chocolate chips near the end of the mixing (they will help bring it all together).

Empty the bowl onto a lightly floured surface, knead the dough together until it is workable (it may be a little sticky at first… it will still be a little less sticky when ready). Separate into two and roll into logs that are approximately 3-4 inches shorter than the cookie sheet. Press to flatten slightly, maintaining a consistent width of approximately 3 inches and thickness of at least 3/4 inch. Brush with egg wash.

Bake for 30 - 35 minutes or until firm to the touch (logs will spread during baking). Remove from oven and place on a wire rack to cool for about 10 minutes.

Reduce the oven temperature to 250 degrees F. (Alternatively, if using a gas oven with a pilot light, you can dry overnight in "off" gas oven, pilot light only)

On a cutting board cut the logs crosswise on a slight diagonal into 3/4 inch slices. Arrange the slices on the baking sheet (cut sides facing up/down) and bake for 5 minutes on each side, or until they are pale golden. Remove from oven and place on a wire rack to cool. Store in an airtight container.
Pin this Cappuccino Biscotti Recipe:
Latest posts by Amy Reiley
(see all)
Get on our mailing list
Don't miss out on a thing! Get news, deals & more!