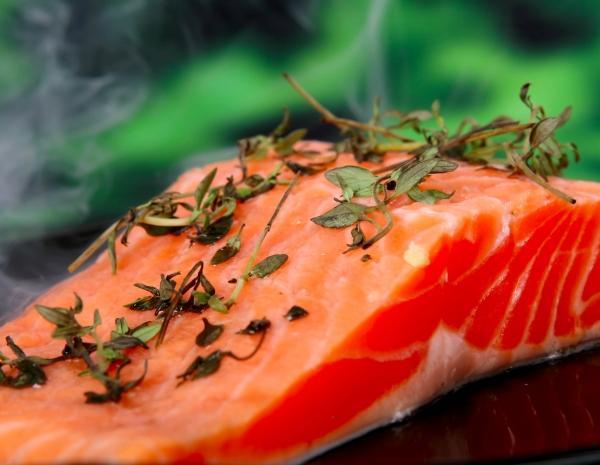 The 10 Best Foods for Men #1
Throughout history, seafoods have been among the world's most popular aphrodisiacs. One look at the nutrition and it's easy to understand how many of these foods have earned their reputation. Salmon is definitely at the head of the class. Here are just a few of the reasons you need to eat salmon for sexual health:
As a lean source of protein, salmon is converted into energy more quickly than fatty meats. (In recent years, studies have investigated the potential of salmon's bioactive peptides–a fancy name for one of salmon's protein molecules–to support joint and digestive health.)
Omega 3- rich salmon is noted for supporting heart health, keeping your blood pumping and keeping the male organ primed for action. The oily fish's DHA/EPA also strengthens your visual and mental acuity. Of particular note to men, salmon is one of the finest natural sources available for selenium, a mineral necessary for sperm production. A protein that improves your mood and creativity, gets your heart pumping and joints moving, helps you see in the dark and promotes sperm production? Now that's a sexual superfood!
More on Salmon's Aphrodisiac Powers
Some of our favorite salmon recipes:
Salmon Parmesan Cakes
North Atlantic Salmon with Irish Butter Sauce
Cedar Plank Wild Salmon
Joel Palmer House Salmon Cakes with Truffle Mayonnaise
10 Best Foods For Men
Up Next: Watermelon
FREE APHRODISIAC NEWSLETTER
Subscribe to our free aphrodisiac newsletter
https://www.eatsomethingsexy.com/wp-content/uploads/2013/01/salmon-e1553280908875.jpg
465
600
Amy Reiley
https://www.eatsomethingsexy.com/wp-content/uploads/2017/01/Amy-Reileys.png
Amy Reiley
2013-06-27 23:01:08
2018-09-19 16:46:31
Salmon for Sexual Health--discover what makes this fish a power food