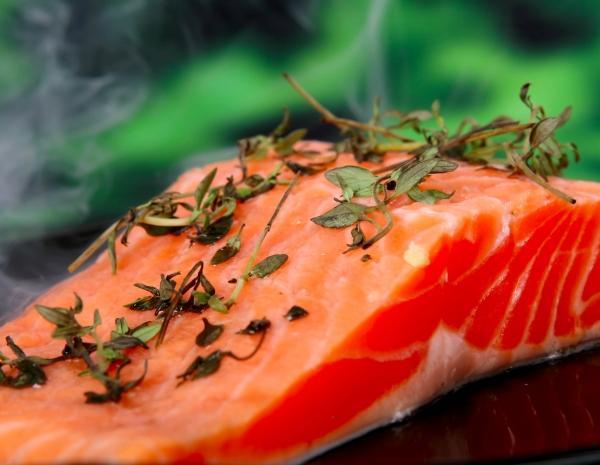 The Best Evidence-Based Salmon Fish Benefits for Men
Our articles may contain affiliate links. For more information, view our policies.
Salmon is one of the top 10 foods for men's sexual health
Various types of seafood were always thought of as aphrodisiacs. One look at the nutrition and it's easy to understand how many of these foods have earned their reputation. And salmon is definitely at the head of the class. Yes, salmon and sex are really linked, especially when it comes to salmon benefits for men!
Here are just a few of the benefits of eating salmon for sexual health.
view the list of all 10 Best Foods for Men's Sexual Health
Why is salmon good for sex?
As a lean source of protein, salmon is converted into energy more quickly than fatty meats. Although protein is important to both men and women, men do need a greater daily intake of protein. And it's best to find quality lean sources for the majority of your protein intake.
Although the exact amount of protein a man needs on a daily basis to support sexual health and overall health varies depending on activity level, the average man needs over 50 grams of protein per day. (You should seek medical advice if you are not sure how much protein you should consume.)
But why choose the nutrition in salmon over other protein sources?
Well, for one thing in recent years, studies have investigated the potential of salmon's bioactive peptides – a fancy name for one of salmon's protein molecules – to support joint and digestive health. In addition, studies show that trading steak for salmon reduces a man's risk of dying from cardiovascular disease decreases 21% just by eating salmon once each month.
Key salmon benefits for men
Among the fish benefits for male sexual health, salmon is high in Omega-3 fatty acids. Omega-3s are touted for supporting heart health. And heart health means good circulation. That means keeping your blood pumping, which helps make erection and sexual climax possible. Poor circulation is linked with erectile dysfunction. In addition, the oily fish's DHA/EPA also strengthens your visual and mental acuity.
Some experts even recommend eating salmon before sex because of the omega-3s. That's because these fatty acids not only support your heart but raise dopamine levels in the brain. And there is a potential that dopamine can trigger arousal.
Vitamins and minerals in salmon beneficial to men's health
A nutritional benefit of particular note to men, salmon is one of the finest natural sources available for selenium. This mineral is necessary for sperm production and sperm motility.
And many nutritional authorities will tell you that selenium is a trace mineral best consumed in natural food sources, rather than pills or other supplements.
The selenium content is one of the most notable reasons men should eat salmon for sexual health, particularly when the man and his partner are trying to conceive.
RELATED: 5 Foods to Eat for Fertility
Salmon is also a great source of potassium. A three-ounce serving of cooked, wild salmon offers about 13% of the recommended daily value. And potassium is so important to men's sexual health that we even dedicated an entire article to the ways potassium can impact your sex life.
This fatty fish is also rich in vitamin B12 and vitamin B6. These vitamins are linked with helping maintain energy levels. And a little extra energy can never hurt when you're hoping to improve your performance in the bedroom.
Salmon sex benefits at-a-glance
So to sum it up, salmon is good for more than just sexual health but its benefits to your sex life are remarkable. That's because:
Salmon contains protein to improve your energy level.
This fish gets your heart pumping and joints moving.
Salmon helps you see in the dark for some impressive night moves,
It can improve your creativity and mood.
It promotes sperm production.
It may trigger arousal.
You can see why we're celebrating salmon benefits for men!
Learn more about salmon as an aphrodisiac for both women and men, including the advantages of wild vs farmed salmon
Some of our favorite salmon recipes
North Atlantic Salmon with Irish Butter Sauce
Cedar Plank Wild Salmon
Salmon Cakes with White Truffle Mayonnaise
Smoked Salmon Egg Salad
Poached Salmon in Rosé Wine Sauce
10 Best Foods For Men
Up Next: Watermelon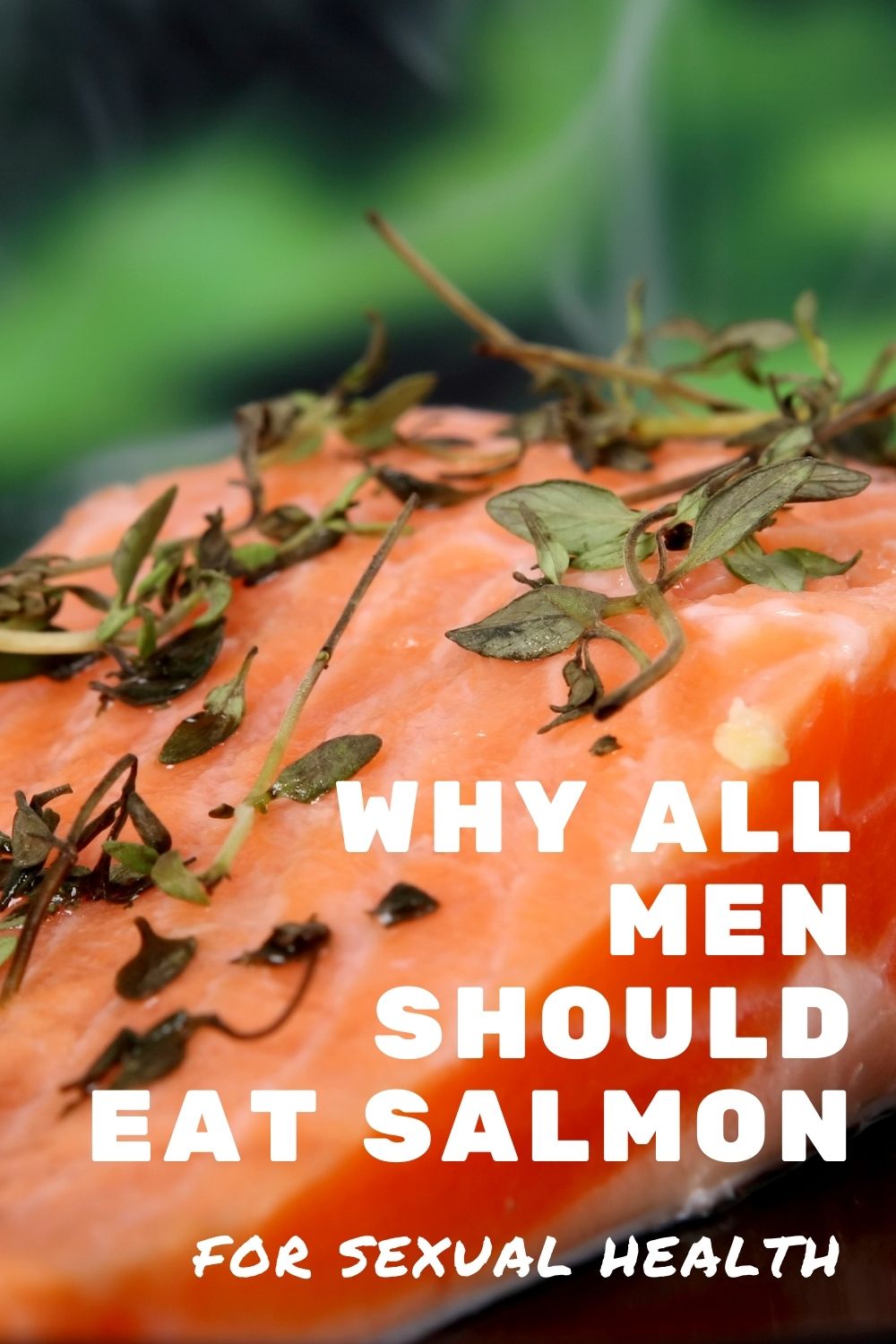 Edited by Delahna Flagg – This article was reviewed and additional research provided by Center for Mind-Body Medicine certified practitioner and Eat Something Sexy Nutrition Director Delahna Flagg.
Please note that this information is intended for informational purposes only. It is important to consult your physician before making dietary changes. 
Latest posts by Amy Reiley
(see all)
Get on our mailing list
Subscribe and get our exclusive list of Six Great Sex-Boosting Snack Foods for FREE! Unsubscribe at any time - privacy policy