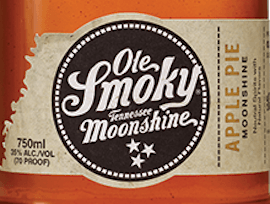 Why You Should Try Ole Smoky Apple Pie Moonshine (Review)
Our articles may contain affiliate links. For more information, view our policies.
Moonshine is an aphrodisiac? Well, we don't exactly have a wealth of folkloric history pointing to this truth. But, in essence, all alcohol is aphrodisiac (consumed in moderation). This means moonshine can be confirmed as an aphrodisiac. (Learn more about the aphrodisiac potential of moonshine.) But the fact that it may help you get lucky is not the only reason to love this moonshine. Here's a review of Ole Smoky Apple Pie Moonshine.
My Ole Smoky Apple Pie Moonshine Review
The flavor of Ole Smoky Apple Pie Moonshine is created naturally. Their traditional, corn-based moonshine is blended with pure apple juice and a proprietary blend of baking spices. (And by the way, the baking spices are also known as the warming spices because of their ability to bring body heat.)
The moonshine's aromas are a delicious blend of fall baking scents. A whiff from a glass of Ole Smoky served neat transports you to a warm kitchen filled with the aroma of baking apple and pumpkin pies.
But how does it taste?
I've got to be honest, as a wine and spirits writer for several high-end publications, I never thought I'd be sitting down to taste flavored moonshine – and wholeheartedly recommending it. I love it. It's like the essence of autumn in a bottle, more accurately, a mason jar. Its flavors are rich and balanced with the sweetness and tartness of apples coming through along with just the right injection of spice. The heat of the alcohol is subtle. There's no burn. (ABV is 35%.)
A 750ml mason jar of the moonshine retails for a reasonable $25. And at that price, it seems rather inexpensive for a potential aphrodisiac. But is can moonshine really serve as a prelude to romance? Well, with its essence of famously aphrodisiac apples, hints of cinnamon and golden baked, buttery crust?… This moonshine definitely tickles the taste buds – and the erogenous zones – in a whole new way.
RELATED: Are you adventurous enough to try the aphrodisiac of Absinthe?
How to serve this apple pie whiskey
Because of its robust, balanced flavors, I prefer drinking this apple pie-flavored moonshine neat or on the rocks. I find that it's delicious both icy cold and at room temperature. Keep in mind that Ole Smoky's apple pie moonshine is about 70 proof, so sip in moderation.
But if you want to dilute it a bit, you can use it as the base of a cocktail. Ole Smoky offers several recipes on their website to get you started, including an apple pie mule and a caramel apple martini. You can also serve something as simple as apple moonshine with sprite or ginger ale. And if you want to throw back an even stronger drink, Ole Smokey recommends Jack and Shine.
About the Ole Smoky distillery
While you might wonder if an apple pie moonshine isn't little more than a (pardon the pun) pie-in the-sky idea, Ole Smoky actually holds a place in Tennessee history. It is the first federally licensed distillery in eastern Tennessee.
So, although it doesn't lend to the prohibition-era allure of bootleg moonshine, you can rest assured that these folks are doing things right. In addition to their apple pie moonshine, Ole Smoky makes Tennessee whiskies in a variety of oddball flavors. We can't vouch for them but if your taste runs toward the eclectic, flavors like Salty Watermelon or Vanilla Bean Whiskey might be worth checking out.
Ole Smoky also makes a serious, limited edition bourbon whiskey called Ownby Whiskey as well as a simple, unflavored, blended whiskey for purists. For more information or to learn where you can get yourself a mason jar of this body-warming brew, visit the Ole Smoky website.
Shop for apple pie-flavored whiskey and other Ole Smoky products with Drizly, my favorite alcohol delivery service.
Latest posts by Amy Reiley
(see all)
Get on our mailing list
Subscribe and get our exclusive list of Six Great Sex-Boosting Snack Foods for FREE! Unsubscribe at any time - privacy policy