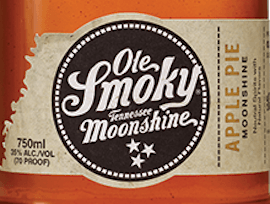 Ole Smoky Apple Pie Moonshine
Our articles may contain affiliate links. For more information, view our policies.
Moonshine is an aphrodisiac? Well, we don't exactly have a wealth of folkloric history pointing to this truth. But, in essence, all alcohol is aphrodisiac (consumed in moderation). Which means moonshine can be confirmed as aphrodisiac. (Learn more about the aphrodisiac potential of moonshine.) 
Enter Ole Smoky Apple Pie Moonshine
Now the drink on its own may not conjure fantasies of satin sheets and sensual indulgences. But when a Tennessee distillery transforms their moonshine with the essence of famously aphrodisiac apples, hints of cinnamon and golden baked, buttery crust? Well, the resulting apple pie moonshine just tickles the taste buds–and the erogenous zones–in a whole new way.
Natural apple pie flavor
The flavor of Ole Smoky Apple Pie Moonshine is created naturally. Their traditional moonshine is blended with pure apple juice and a proprietary blend of baking spices. (And by the way, the baking spices are also known as the warming spices.) The result plays with the mind, conjuring memories of sweet, pie-filled nights.
Thank you, Ole Smoky, for warming us from the inside out.
Are you adventurous enough to try Absinthe? 
About the Ole Smoky distillery
While you might wonder if an apple pie moonshine isn't little more than a (pardon the pun) pie in the sky idea, Ole Smoky actually holds a place in Tennessee history. It is the first federally licensed distillery in eastern Tennessee.
So, although it doesn't lend to the prohibition-era allure of bootleg moonshine, you can rest assured that these folks are doing things right. In addition to their Apple Pie Moonshine, Ole Smoky makes Tennessee Whiskies in a variety of oddball flavors. We can't vouch for them but if you're taste runs toward the eclectic, flavors like Salty Watermelon or Vanilla Bean Whiskey might be worth checking  out.
For more information or to learn where you can get yourself a mason jar of this body warming brew, visit the Ole Smoky website.
FREE APHRODISIAC NEWSLETTER
Subscribe to our free aphrodisiac newsletter