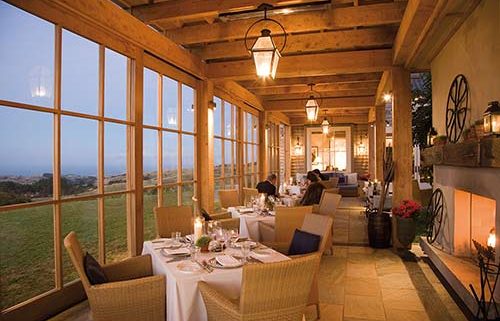 New Zealand Resorts Worth the Distance
Our articles may contain affiliate links. For more information, view our policies.
Life in the Land of the Long White Cloud is colorful indeed, especially when you consider New Zealand has more species of ferns, flightless birds and baying sheep per square mile than most cities have people. So it's not surprising that many New Zealand resorts on these north-south isles will encompass views that barely contain roads or cars, much less humans.
Getting away from it all is what a trip to New Zealand offers, even if that means escapes to the Middle Earth or the lands of Aslan. In real terms, visitors opt to visit such places as 90-Mile Beach, Bay of Islands, Rotorua, the Remarkables and Franz Josef Glacier. New Zealand is roughly 1,550 miles north to south on two great swaths of land. Some 15 hours flight from the U.S., arrival happens in what seems to be a parallel universe but the differences pop out amid colossal Kauri trees as old as the Bible and volcanic lakes that boil and blow – as if viewing the world from inside a time traveler's mirror.
Kurtz-Ahlers & Associates, with its exclusive collection of hotels and resorts around the world, offers an exclusive New Zealand vacation package that allows the visitor to New Zealand to view the land as nature at its purest. New Zealand is nature left to do what it does as humans stay on the sidelines and watch the marvels unfold. Kurtz-Ahlers offers the freewheeling visitor to New Zealand a package of three places where luxurious accommodations, fine dining and pampering all play a part in perfecting the best ways to take in this unyielding performance.
The Farm at Cape Kidnappers on the North Island, a six-hour drive from Auckland (although private flights and heli-transfers are at the ready), overlooks Hawkes Bay with 180-degree views of the roiling South Pacific. It's all about the land here, 6,000 undulating acres of it on a working farm that supports an award-winning wine cellar along with gourmet dining, spa (ever had a jade and crystal facial?) and golf (par 71 and considered #27 on Golf Magazine's "Best" list) amid flocks of sheep on a seemingly endless spread. But this New Zealand farm stay is a Relais & Chateaux presentation that combines the rustic and the modern, the craggy and the comfortable, the wide spaces and the 22 cozy cottages along rocky cliffs overlooking relentless crashing waves. Check out the four-bedroom Owner's Cottage, a world unto itself.
Tel: +011 64 6 875 1900
Email: reservations@capekidnappers.com
Website: www.capekidnappers.com
Sister property at the Bay of Islands, less than four hours drive from Auckland with air options cutting that time down to one hour, the Lodge at Kauri Cliffs presents a similar setting with astounding pans of the Pacific and its islands off the coast, and more than 6,000 acres of prime New Zealand landscapes to wander. Another property by Relais & Chateaux, Kauri Cliffs is hunting territory. Sheep are nowhere to be found. Rather, wild boar, possum and other wildlife can be found in a place where mountain biking, bushwalking, beach combing, golf and tennis are part of the daily activities menu. Kauri Cliffs offers New Zealand on a platter, leaving little not done. Tours to New Zealand nature reserves near and far come givens, as do swimming in the ocean, sunning by the pool and old-fashioned picnics on some magical scenic spot of choice.
Find 22 guest suites at this New Zealand Resort (plus two-bedroom Owner's Suite), each with its own private porch, bedroom with sitting area and open fireplace, abutting a native forest and overlooking the golf course and the Pacific.
Tel: +011 64 9 407 0010
Email: reservations@kauricliffs.com
Website: www.kauricliffs.com
Ah, but sweet stays here come in "threes." Rounding this trio of New Zealand resorts is Matakauri Lodge on New Zealand's south island just minutes from downtown Queenstown on stunning Lake Wakatipu. While this area along the Remarkables and Walter and Cecil Peaks is considered the New Zealand capital of adventure travel with its plethora of bungee jump off spots, hiking trails, New Zealand mountain biking tours, jet boating, paragliding, and river runs, the lodge lasers in on the scenery as a modern oasis of calm.
Unlike its more traditional sisters, Matakauri's design and layout makes a statement. The New Zealand resort is an art piece carefully crafted by celebrated Kiwi designer Virginia Fisher. Lines are clean, light is given a stage and each of the Lodge's eleven cottage suites is a testament to the blending of high style with comfort, convenience and the complete agreement between the elements — inside and out. The scenery is the star here and the riveting interiors only serve to give natural New Zealand her close-up.
Dining means fine New Zealand wines and menus that change daily with the weather and the word about what's fresh. Unlike other parts of the country, town and what comes with civilization is an easy walk away. And getting away from it all is just as simple, whether that means water, peaks or a forest of virgin pines.
Tel: +011 64 3 441 1008
Email: reservations@matakaurilodge.com
Website: www.matakaurilodge.com
This faraway country need not confound. Rather it can be a cozy and comfortable portal to some of the most dramatic nature on earth. In the Land of the Long White Cloud, Kurtz-Ahlers' trio of Relais & Chateaux resorts provides shelter from the storm.
FREE APHRODISIAC NEWSLETTER
Subscribe to our free aphrodisiac newsletter