Mind in a maelstrom over Mexico? The choices for resorts in Mexico are as heady and varied as notes on a perfumer's palette. But one Mexico travel experience deserves a spot of its own, a golden distillation in a menagerie of sensual possibilities: Imanta Punta de Mita.
Find Imanta along the length of a long forested road. You'll see rocky cliffs jutting out from the jungle leading to nowhere but the crashing ocean beyond. Imanta's pre-Columbian castle lair presides above the waves, its own kingdom of eight "casas" and "casonas." It's a Mexico travel secret that unfolds in moment to moment, much like the life of a sacred scent or a perfect glass of wine.
For all its privacy and quietude, civilization comes easily here. Imanta in Punta de Mita is less than an hour's drive from Old Town Puerto Vallarta and even closer to the Puerto Vallarta International Airport (PVR). Not to be confused with Punta Mita, a private resort community of golf and manses anchored up by the Four Seasons and St. Regis, Punta de Mita is the town. This is the area found at the base of Riviera Nayarit where some of the best beaches in Mexico stretch northward along the Bay of Banderas: Mexico's largest natural bay. At the top end is the lazy seaside village of San Blas and nearby find the bustling beach town of Sayulita and the artsy community of San Pancho.
But the Mexico travel experience to be found at Imanta is a world of its own, protected by 250 hike-able acres of pristine tropical forests and enhanced by magical spa treatments and seductive accommodations opening onto a smooth, private beach that extends for two miles.
If jungle, ocean, mountains and aesthetic vision have a meeting place it is at Imanta. Coming into the resort is like happening on a hidden Aztec temple. From the outside the architecture blends tastefully with the land and its history while interior and settings are laced with modern wows: private infinity pools, outdoor showers, wired entertainment and Internet systems, private chef options, wood and stone flooring, terraces overlooking jungle and ocean, and windows opening to air and light in all directions.
To retreat to Imanta is to know spa treatments, such as the Prehispanic Hot Stone massage delivered on the beach or under crackling palms. Or have a vision deep in the jungle where a temascal, or sweat lodge, aids the meditation. Yoga is only one of the classes one can experience during a stay. This is relaxation and rejuvenation at its word with immersions in biking, hiking, birding, snorkeling, horseback riding, surfing, diving and even turtle and whale watching for the asking. Tour nearby villages or watch the action of nature unfold right where you are.
Imanta is a Punta de Mita resort that requires nothing else. While you may want to explore local cuisine at area restaurants in Punta de Mita, the catch of the day is waiting for you under a shady palapa on your private Mexico beach. Order up a secluded romantic dinner at water's edge or a sun-dappled breakfast in the jungle. Even dining is a complete Mexico travel experience to be imagined, created and savored at Imanta.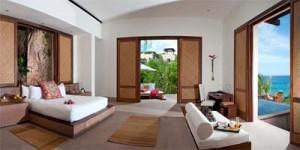 Reserve a casa, big enough for three as these expansive one-bedroom suites larger than most homes.
Or make it a casona with multiple master bedrooms connecting to a private Olympic-size pool over the ocean and roaming room for large families. A wedding at Imanta need not concern itself with uninvited guests when the whole intimate resort can be booked par tout for quite the affair.
But for those who want to luxuriate and linger, or those who want to saturate themselves in a sense of place, Imanta has two packages ready to whisk travelers to their own private paradise.
Divine Packages at Imanta include such indulgences as:
The Romantic Package at Imanta
Five nights
All meals (no alcohol)
Champagne upon arrival
Romantic dinner
Two 60-minute spa treatments per stay
Non-motorized water sports
One guided hiking tour
One guided kayak tour

refer to website for current rate
To plan your Mexico travel to Imanta
(52) 329 298 4200
Website: www.imantaresorts.com
FREE APHRODISIAC NEWSLETTER
Subscribe to our free aphrodisiac newsletter