Chevre Apple Bread Pudding Recipe with Champagne
Our articles may contain affiliate links. For more information, view our policies.
Apple desserts are always a hit in autumn and winter. The crimson fruit offers both sweetness and tang that shines in turnovers, crisps and pies. But my favorite apple dessert is this goat cheese and apple bread pudding flavored with a hint of Champagne.
Lisa Peju of Peju Winery and Pastry Chef Chrysta Wilson, author of my favorite cake book, Kiss My Bundt: recipes from the award-winning bakery, created this version of an apple bread pudding for a community-building cooking class we hosted in our test kitchen. We gave the ladies 6 ingredients, an oven and a bottle of Cava. And this bread pudding recipe is what they created.
Apple bread pudding ingredients
The main ingredient in this winter bread pudding recipe is, obviously, bread. The recipe calls for a french country loaf, but I've tried making this apple and goat cheese bread pudding with everything from whole wheat to a baguette. Every bread makes a slightly different pudding both in texture and flavor.
Just use what you like and maybe try something different next time.
The ingredients that give the pudding its primary flavors are the apples and the crumbles of soft goat cheese. The recipe uses Gala apples, which offer medium sweetness and just a hint of tart apple flavor.
The other main flavoring agent of this sweet apple bread pudding is sparkling wine. It is the ingredient that makes this bread pudding stand out from all other apple dessert recipes.
Do you have to use Champagne?
You don't have to use an expensive bottle of Champagne to make this bread pudding. In fact, Chrysta and Lisa created the recipe with an inexpensive bottle of Cava.
However, keep in mind that you'll only use 1/2 cup of the sparkling wine in the recipe, so you'll want to select a bottle of Brut-style bubbly that you'll want to drink. Because, as the chef suggests, the most fun way to enjoy this dish is to imbibe in the rest of the wine while you wait for your bread pudding to bake.
What makes this bread pudding recipe a date night dessert?
You will be absolutely shocked by the rich flavor of this relatively figure-friendly dish. You'll swear it was made with gobs of golden butter. But the moisture comes from the sparkling wine and, of course, the juicy autumn fruit that stars in this simple dish.
As the original fruit of temptation, the apple is one of the world's most interesting aphrodisiacs. And we are thrilled to bring you this unique and crave-able recipe for feeding your lover this sensual fruit.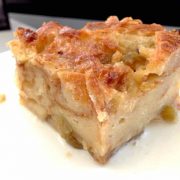 Chevre-Apple Bread Pudding
Print Recipe
A simple and fun recipe with the flavors of fall, this is sure to become your go-to autumn dessert. Leftover slices are perfect for breakfast. 
Ingredients
2

cup

chopped french bread

approx

3

eggs

1 1/4

cup

unsweetened soy milk

4

oz

chevre

(soft goat cheese)

1

cup

white sugar

1

bottle Cava or Brut Sparkling Wine

1

medium gala apple

cubed
Instructions
Preheat oven to 350 degrees.

Coat a small baking dish with canola oil.

Chop baguette into bite-sized pieces.

In a large mixing bowl, whisk eggs. Add in soy milk, chevre, sugar and 1/2 c Cava to make a custard.

Put bread and apples in oiled baking dish and cover with the custard. Let stand for 10 min while you drink rest of Cava.

Bake for 25-30 min or until custard is set.

Serve with additional Cava.
FREE APHRODISIAC NEWSLETTER
Subscribe to our free aphrodisiac newsletter