Homemade Hazelnut Creamer Recipe
Our articles may contain affiliate links. For more information, view our policies.
One thing we can all agree upon is that coffee is a beverage that people around the world enjoy. But for some, coffee is even more enjoyable when paired with a deliciously sweet and smooth creamer, like this easy recipe for homemade hazelnut creamer. You're going to love it!
Why DIY hazelnut coffee creamer?
According to research, 62% of coffee drinkers use creamer in their cups of morning joe. So it only makes sense for us to suggest some homemade coffee creamer ideas you can make at home to replace the unnatural versions many of us are tempted to splash into our daily brew.
My coffee creamer recipe uses natural flavorings and pure maple syrup for sweetness. I've included a recipe for hazelnut creamer but it can be adapted to make a homemade creamer in just about any flavor you crave. (If you're looking for a good source of natural flavor extracts, we recommend Nielsen-Massey.)
And for chocoholics, don't miss my other creamer recipe, a Chocolate Almond Creamer made with almond milk that can easily be adapted for a vegan diet.
How to make the best homemade hazelnut creamer
This easy creamer recipe contains only three ingredients and takes less than five minutes to make. It's fast, easy and less expensive than store-bought creamer. What could be better?
First, assemble all three ingredients:
Heavy cream or half-and-half – If you're sensitive to dairy, you can substitute with lactose-free half-and-half. (See my vegan coffee creamer notes below for making a dairy-free, plant-based creamer using unsweetened oat, soy or even coconut milk.)
Maple syrup – This natural sweetener blends easily into liquids and earns bonus points for offering aphrodisiac properties.
Hazelnut extract – This flavoring extract is sold like vanilla extract. You can find it at gourmet grocers and baking supply stores. Or simply order hazelnut extract online.
Combine them in a mason jar, seal it tight and shake to blend. That's all you need to do to make a delicious, flavored coffee creamer.
How to make a vegan hazelnut coffee creamer
As I mentioned earlier, this homemade hazelnut coffee creamer recipe adapts easily for a vegan diet. Simply replace the cream or half-and-half with your favorite plant-based milk. I prefer coconut but you can also use your favorite nut milk or other favorite non-dairy beverage.
You also want to double-check the ingredients on your bottle of maple syrup. Some maple syrup brands are processed using animal products.
Can you make this homemade coffee creamer sugar-free?
If you're looking to save calories or reduce your sugar intake, you may be wondering if you can make this recipe a sugar-free creamer. You could use a sugar-free sweetener in place of maple syrup but you'd have to experiment with the proportions. (Most sugarless sweeteners are extremely sweet.)
I recommend just sticking with this hazelnut creamer recipe as written. And if you really need to reduce sugar consumption, pass on sodas and fruit juices.
What kind of coffee should you use with flavored creamer?
You can use a flavored creamer with any kind of coffee you like. (I'm personally not a fan of flavored creamer in cold brew. But everyone has their own favorite way to drink coffee.)
To me, the best way to enjoy this hazelnut creamer is in a classic, medium-roast drip coffee. The coffee shouldn't be too light but the brew shouldn't be so strong it overpowers the hazelnut flavor.
Also, I recommend not using hazelnut creamer in flavored hazelnut coffee. It is possible to have too much of a good thing!
Our office recently tasted samples from Fire Dept. Coffee and I can say that their Donut Shop coffee is a well-balanced kind of brew that works incredibly well with flavored creamers.
(Incidentally, this new-ish coffee company is a great choice of java source for another reason. Fire Dept. Coffee is an American brand run by active and retired firefighters. Also, they make a rum-infused coffee, which we're pretty sure doubles the aphrodisiac potential of the brew.)
Why coffee is my favorite pick-me-up (it's an aphrodisiac!)
As you know by now if you're a regular visitor to this site, coffee is one of our favorite aphrodisiacs. Not only does coffee give you energy for games of love (and just about everything else you need to do in a day), but it's known to stimulate the pleasure system of the brain. It can give your mood a serious lift, all while tasting so good and going down easy.
Not everyone reacts the same to coffee. There are those who are so sensitive to its effects that they will end up awake all night. For others, a cup offers just the perfect "lift."
Ultimately, there are several factors that come into play when caffeine works in your body, like how hydrated you are and what you have eaten. In order to prevent the 'afternoon slump' that can come from drinking coffee, experts suggest you try drinking one glass of water for every cup of coffee you drink.
More great coffee recipes
If you love coffee as much as I do, here are more coffee recipes to keep you fueled:
Homemade Chocolate Almond Coffee Creamer
Tia Maria Espresso Martini
Coffee-Kissed Bison Burgers
Espresso Chocolate Peanut Butter Chip Cookies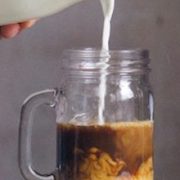 Homemade Hazelnut Creamer
Print Recipe
This simple recipe demonstrates how easy it is to make homemade creamer from natural ingredients. Try other variations using your favorite pure extracts. (See the notes at the end of the recipe for how to make a vegan creamer.)
Ingredients
2

c

of half-and-half or heavy cream

1/4

c

maple syrup

2

tsp

pure hazelnut extract
Instructions
Combine the half-and-half or cream with the maple syrup and hazelnut extract in a jar or sealed container.

Cover tightly and shake until just combined.

Store, tightly sealed, in the refrigerator for up to 10 days.
Notes
Use your favorite plant-based milk to make a vegan creamer. Also, be sure to check the ingredients on your maple syrup to ensure it is free of animal products. 
A note on the provided nutrition information
The nutrition information provided has been estimated by an online nutrition calculator and is not a substitute for a professional nutritionist's advice.
Nutrition
Calories:
52
kcal
|
Carbohydrates:
2
g
|
Protein:
0.4
g
|
Fat:
5
g
|
Saturated Fat:
3
g
|
Polyunsaturated Fat:
0.2
g
|
Monounsaturated Fat:
1
g
|
Cholesterol:
15
mg
|
Sodium:
4
mg
|
Potassium:
18
mg
|
Sugar:
2
g
|
Vitamin A:
194
IU
|
Vitamin C:
0.1
mg
|
Calcium:
11
mg
|
Iron:
0.02
mg
Photo by Alberto Bogo
Get on our mailing list
Subscribe and get our exclusive list of Six Great Sex-Boosting Snack Foods for FREE! Unsubscribe at any time.