Catalina Island Camping For a Great Romantic Getaway
Our articles may contain affiliate links. For more information, view our policies.
Catalina Island is a popular destination for "escaping it all." One of California's Channel Islands situated just off the southern coast of Los Angeles, Catalina is a destination surrounded by glamour thanks to its popularity with filmmakers and celebrities. But it is even better known for its perfectly preserved natural landscapes, thanks to extraordinary efforts by conservationists. As a result, it is a destination with breathtaking views everywhere you turn. That's why Catalina Island camping is among the most romantic experiences in Southern California.
Why camping is one of the most romantic things to do in Catalina Island
There are plenty of inns and small hotels on Catalina for anyone looking to book a traditional experience. (Click here to compare prices and check availability.)
But if escaping it all to spend some one-on-one time with that special person in your life is your goal, camping may be your best bet for a truly memorable romantic escape. And if you don't like the rugged parts of the adventure, don't worry! There's still a romantic Catalina camping experience for you.
You can even rent your equipment on the island in advance of your trip and hire a company to set it up for you. Just show up with your essentials, (which hopefully include just the right wine), and start enjoying your romantic escape from it all.
Which are the best Catalina campsites for romance?
Catalina boasts five established campsites. There are also a number of primitive, boat-in campsites. More on that later…But if what you have in mind is a quick, romantic getaway, these are the two most accessible campgrounds in Catalina.
Need a sleeping bag for two? (Yes! This really is a thing!) 
Hermit Gulch Campground in Avalon
The campsites in Avalon and Two Harbors both also offer tent cabins. Although the Hermit Gulch Campground in Avalon is known as one of the best for families, it can still provide you with some private time and some pretty spectacular scenery of the nearby hills. Tent cabins at this site come with cots and a 2-burner propane stove. This convenient campsite is close to hiking trails but also close to Catalina's largest town, which means easy access to provisions. But it isn't the best choice if you're looking for seclusion.
Two Harbors Campground, Catalina
If you want comfort and a view of the ocean, this might be the campsite for you. At Two Harbors, you can reserve a tent cabin. But there's another upgraded option of arranging glamping gear rentals for your campsite. This really is about as close to glamping Catalina Island as you'll get right now. But as long as a bottle of Champagne fits in the provided cooler, you should be doing ok.
RELATED: Why savoring the moment is one of the steps to being sexy
Only a quarter-mile outside of the small town of Two Harbors this Catalina camping option is the quieter of the two highest amenity campsites. For couples looking to steal a few kisses with a view, look into booking transportation to Two Harbors instead of the more popular Avalon.
Other Catalina Islands campsites require hiking, biking or a bus ride. If you're interested in any of the more remote campgrounds for future reference, VisitCatalinaIsland.com has information on all the campsites as well as reservation information.
Can you stay overnight on Catalina Island in a more secluded location?
There are several campsites on Catalina's leeward shore that are accessed only by boat. If social distancing is your primary goal, this is the way to camp Catalina! You just need to get the boat.
What you need to know about boat-in campsites on Catalina
Just keep in mind that these more secluded campsites are totally self-catered and have no running water. You will need to bring your own portable restroom and pack out any trash. Despite the fact that you may be entirely alone at one of these campsites, you do need to reserve your spot and obtain a camping/hiking permit in advance.
Here's a map of all the Catalina campgrounds.
How to get to Catalina Island
You can get to either Avalon or Two Harbors by high-speed ferry. Boats leave from three southern California ports: Long Beach, Dana Point and San Pedro with Catalina Express. They offer ferries into both Avalon and Two Harbors. (A second ferry service from Newport Beach, Catalina Flyer, is currently out of service due to Covid restrictions).
The ferry service is following local and state guidelines for social distancing but if you want more distance on your romantic escape, you can rent a private boat to deliver you to your destination – unless you already happen to have your own boat! Travelers in a hurry can also travel to Avalon by helicopter. (You will then have to ride by taxi to your camping destination.)
Make your reservations to camp Catalina
You will want to make your camping reservations in advance. Due to current regulations, you will need to pack masks and hand sanitizer for your trip but without a doubt, you will feel welcome on Catalina Island. Be sure to check all of the current campsite restrictions as well as the specifics on luggage size for the ferry.
Get up-to-the-minute tips on Catalina Island Camping
You can book online and check the latest travel requirements on the Catalina Island Company's website. Don't forget to pack all of your favorite aphrodisiac foods, a sleeping bag for two and perhaps a pair of binoculars. Then prepare to enjoy some quality time together under the stars.
Check out all of our latest romantic travel news stories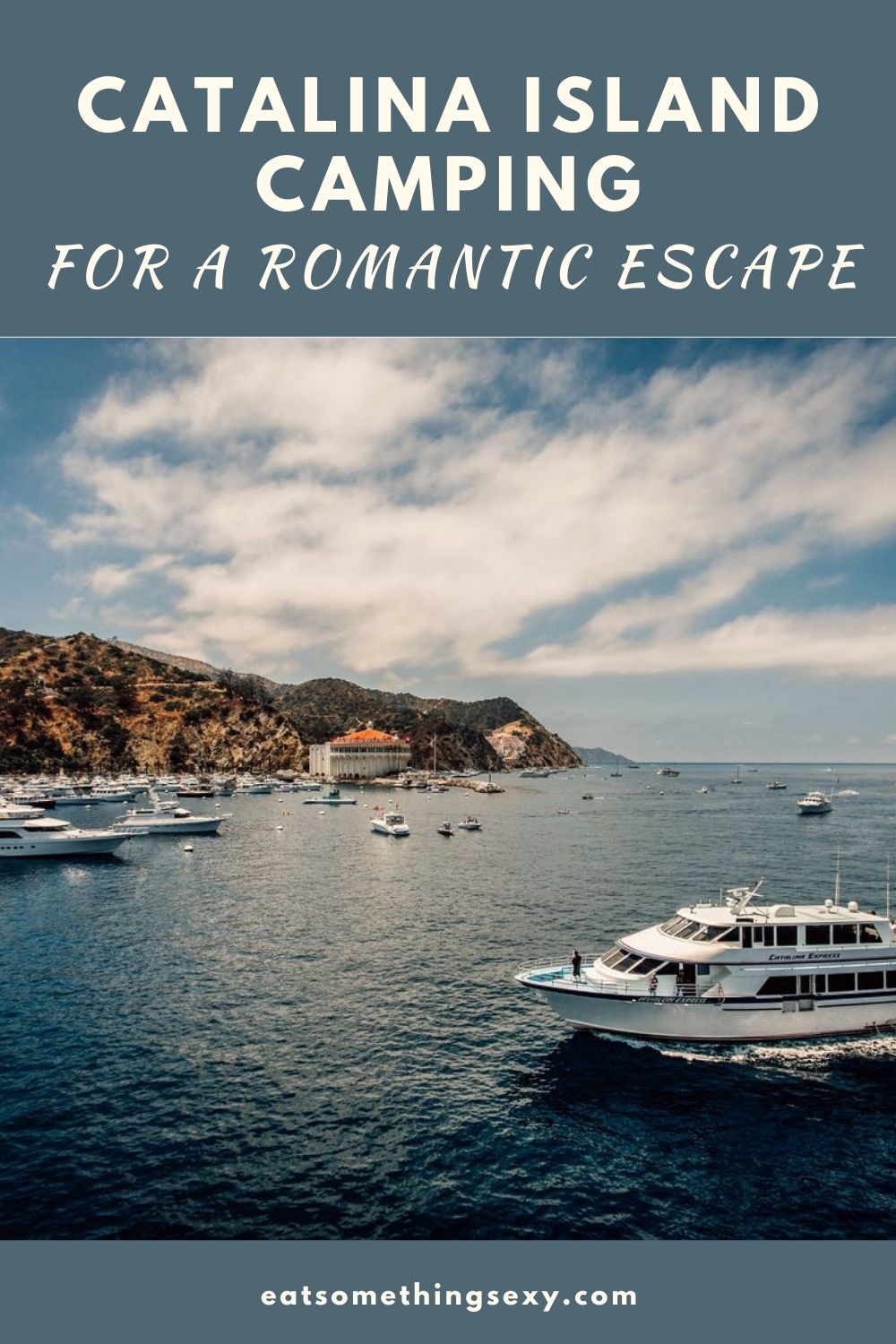 This article was written in 2021 and most recently updated in May 2023. 
Latest posts by Amy Reiley
(see all)
Get on our mailing list
Subscribe and get our exclusive list of Six Great Sex-Boosting Snack Foods for FREE! Unsubscribe at any time - privacy policy