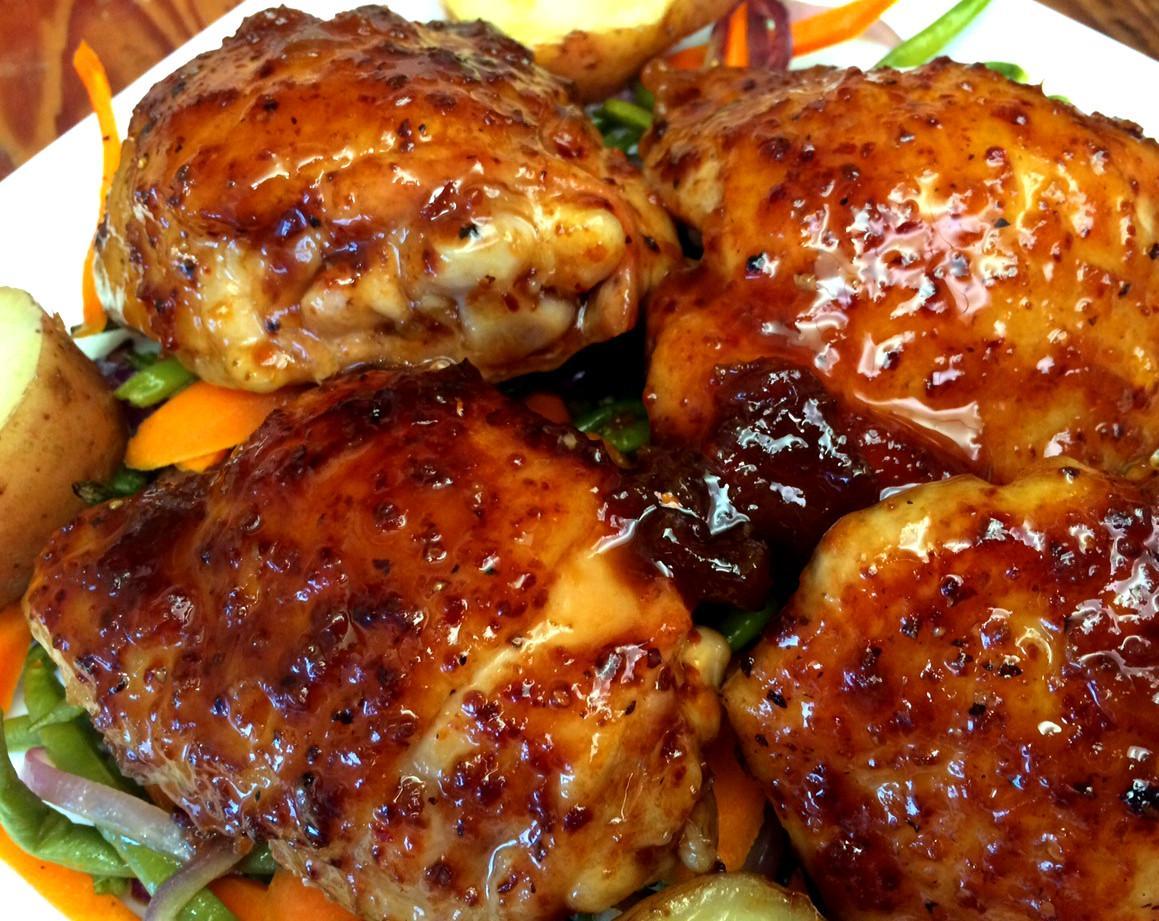 Aleppo Pepper and Apricot Glazed Chicken Thigh Recipe
Our articles may contain affiliate links. For more information, view our policies.
An exploration of spice
One of the intriguing ingredients that made the Spice Routes the stuff of legends, Aleppo pepper brings complexity to dishes with a perfect kiss of heat. Sadly, today the Aleppo is considered an endangered ingredient.That is, of course, because its homeland a battleground. That's right, Aleppo pepper originated in northern Syrian, in the countryside surrounding the city of Aleppo. But because Aleppo is such a special ingredient, demand has caused an industry to crop up in neighboring Turkey. True, the Turkish peppers are not genuine Aleppo peppers but are referred to as Aleppo-style peppers. They are, however, the very same variety and offer the robust flavor of sweet heat and an alluringly fruity tang.
Thanks to Diane Scalia of Los Angeles' Melting Pot Tours, we're able to share the magic of the Aleppo with you in a very compelling glazed chicken thigh dish. The heat of the pepper, combine with the sweet tang of apricot and succulent chicken thighs in a recipe that is simple, sexy and so satisfying.
RELATED: Learn to cook with more Middle Eastern spices
What makes this pepper so compelling?
But what makes it an aphrodisiac? Although Aleppo pepper, (or Aleppo-style pepper) doesn't carry the heat of say a habanero or even a jalapeno, it still offers enough heat to have aphrodisiac effects. Learn more about the romantic promise of chiles.
Layers of aphrodisiacs
And then, of course, there's apricot. This small, fuzz-skinned stone fruit has a tangy sweetness that matches the faint sweetness of Aleppo pepper beautifully. Here, it forms the base of the glaze that gives these glazed chicken thighs their succulent moisture. As an aphrodisiac, apricot hasn't received the notoriety of other fruits like apple and pomegranate. But it has much to offer in the games of love.
A glazed chicken thigh recipe that's a study in simplicity
But what we love most about this glazed chicken thigh recipe is the simplicity. There is many a chef who will turn up their nose at chicken because it fails to excite the senses. But here Diane shows how easily you can add layers of sweetness and spice to transform ordinary chicken into a food to remember.
Apricot-Aleppo Pepper Glazed Chicken Thighs
Print Recipe
This easy recipe for chicken thighs is layered with flavors of sweetness and spice. 
Ingredients
1 1/2

cups

apricot preserves

3

tbsp

soy sauce

1/3

cup

balsamic vinegar

1

tbsp

Aleppo pepper

8

bone-in chicken thighs

extra-virgin olive oil

sea salt
Instructions
Preheat oven to 375F.

In a small bowl, combine the preserves, soy sauce, balsamic and Aleppo pepper for the glaze. Set aside.

Place chicken thighs in single layer in shallow baking dish, drizzle lightly with olive oil, sprinkle lightly with salt.

Roast chicken pieces for 45 minutes, then drain off most of pan juices.

Brush thighs generously with glaze, and roast for an additional 15-20 minutes.

Serve with any remaining glaze spooned over chicken.
Pin this Aleppo Pepper Glazed Chicken Thigh recipe: