Easy Shredded Veggie Chicken Bowl with Peanut Sauce
Our articles may contain affiliate links. For more information, view our policies.
The world seems to be obsessed with food in a bowl. You might also know this trend as a Buddha Bowl. But since the name has absolutely nothing to do with Buddha, I prefer just sticking to the simpler name of "bowl," or in this case, chicken bowl. More on this later…
An easy chicken and rice recipe that's fast, healthy and delicious
I was a late adopter to the bowl trend but I get the appeal. Food in a bowl is food for people who don't have time. It's a smart recipe for a lunch box and eating on the road. Everything is bite-sized, no cutting necessary. So you can eat this chicken power bowl wherever and whenever. Although I don't like being the kind of person who needs that convenience, I am. That's why I invented a bowl recipe of my own that's high in both nutrition and big on flavor, my chicken and rice bowl with peanut sauce.
The secret to this bowl recipe is the peanut sauce
Even if you're trying to watch calories, don't skip on the peanut sauce! Why? Imagine a satay chicken bowl, (only one that's loaded with the crunch of veggies). That's the effect I want you to get from this easy bowl recipe.
Traditional peanut sauce vs peanut butter sauce
I should note here that mine is not a traditional Southeast Asian peanut sauce recipe. These are made from a base of fresh, whole peanuts. I've simplified the steps to make this dressing to help it fit with the notion of a convenience food. So mine is more of a peanut butter sauce. But it is made with a similar balance of salty and spicy notes to what you might find in a more exotic sauce, including soy sauce and chilies, to give an effect much like a satisfyingly sweet and spicy Thai peanut sauce.
The brief history of the Buddha Bowl
As I mentioned, there's a name that's caught fire for these bowls, Buddha Bowls. I didn't really understand the name when I first read it, did the concept originate with Buddhist monks? Before I started working on my chicken bowl recipe, I did a little research. According to the Bon Appetit magazine website, it is simply a misappropriation of a spiritual term and has no historical or cultural meaning.
So my "Thai chicken bowl" recipe, like all other bowl recipes out there, does not belong to Buddha but to harried professionals looking to pack in some nutrition in a manner that strikes a balance between flavor and convenience.
Shortcuts for making the best chicken rice bowl when you're in a hurry
Since my shredded veggie chicken protein bowl is a meal of convenience, I thought the recipe should represent a similar level of convenience.
Using store-bought, rotisserie chicken
Although I highly recommend making each component from scratch, you can easily assemble the bowl using store-bought rotisserie chicken.
RELATED: 5 Best Ways to Use Rotisserie Chicken
The convenience of pre-packaged coleslaw
Nothing beat fresh, shredded veggies for the best nutrition, vibrancy of color, flavor and crunch. But when you're in a hurry, a package of pre-shredded coleslaw mix will cut your prep time in half. (Did you know that pre-cut vegetables offer less vitamins than freshly cut vegetables? However, most nutritionists will encourage you to choose them if you don't have time for fresh. After all, a little loss in vitamins is far better than getting no vegetables at all!)
TO TRY: Check out all of my favorite chicken recipes
Shredded Veggie Chicken Bowl with Peanut Sauce
Print Recipe
Ingredients
For the Peanut Sauce
1/4

cup

salted

all-natural peanut butter

1

Tbsp

soy sauce

1

Tbsp

fish sauce

1

tsp

sweet chili sauce

1

tsp

grated ginger

2-4

Tbsp

water
For the Bowl
1

cup

Jasmine Rice

6

cup

shredded vegetables

including carrots, Napa cabbage or a mix of Green, Savoy and/or Red cabbage

2

cup

shredded roast chicken

2

Persian cucumbers

3

scallions
Instructions
To make the Peanut Sauce
In a small mixing bowl, whisk together the peanut butter, soy sauce, fish sauce, sweet chili sauce and grater ginger.

Add two tablespoons of water and whisk to make a creamy sauce consistency.

If the mixture is too thick, add up to two additional tablespoons of water, one tablespoon at a time, until the sauce is your desired thickness.

Let the sauce rest for at least 30 minutes before serving. (Can be made a day in advance.)

Whisk the sauce just before adding it to the bowl.
To make the Bowl
Cook the rice according to package instructions.

While the rice is cooking, halve the cucumbers lengthwise and slice into thin half moons.

Slice the scallions into thin rounds.

When the rice is cooked, divide between six large serving bowls.

Top the rice with the cabbage.

Sprinkle with the cucumber slices and scallions and top with the shredded chicken.

Drizzle each bowl with a generous serving of the Peanut Sauce and serve.
Pin my favorite chicken and peanut sauce recipe: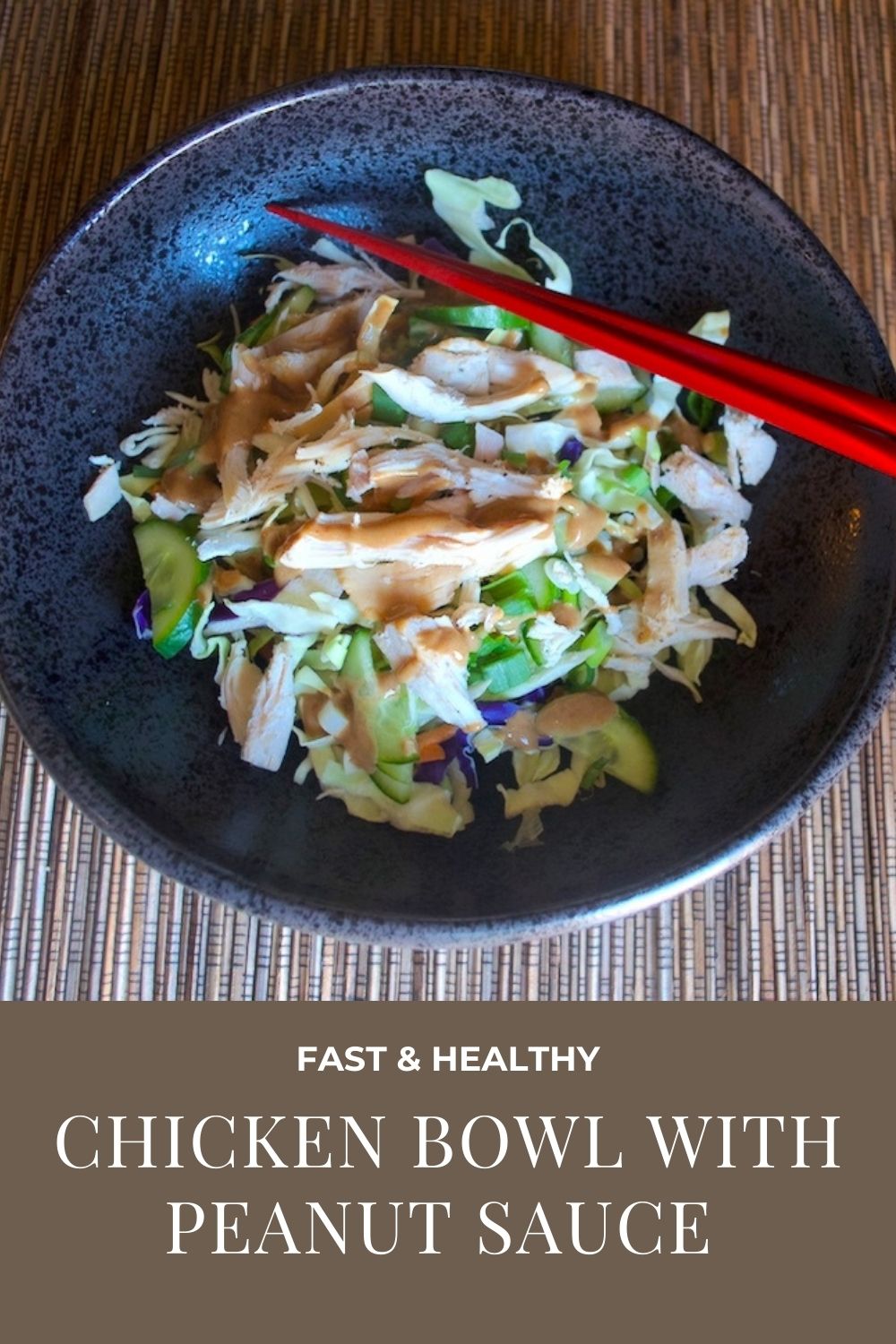 FREE APHRODISIAC NEWSLETTER
Subscribe to our free aphrodisiac newsletter