Easy Chicken Rice Bowl Recipe with Peanut Sauce
Our articles may contain affiliate links. For more information, view our policies.
If you like making flavorful meals fast, you're going to love this chicken rice bowl recipe. Shredded rotisserie chicken is tossed with a healthy veggie slaw, then topped with a decadent peanut sauce for a decadent but nutritious weeknight dinner. Best of all, it can be made in the time it takes to cook a pot of rice!
An easy rice bowl recipe for home or on the go
This Asian chicken bowl recipe also makes a great on-the-go meal for lunch boxes or picnics. Once you try this fast and easy chicken recipe, I have a feeling you'll find even more uses for this tasty dish.
I was a late adopter of the bowl trend but I get the appeal. Chicken in a bowl is portable and fuss-free. You can pack it up to eat on the road for an on-the-go meal that doesn't sacrifice flavor or nutrition since everything is bite-sized, no cutting necessary. So you can eat this chicken power bowl wherever and whenever. So don't limit yourself to the dining table.
Check out all of my favorite chicken recipes
Ingredients in this flavorful chicken rice bowl recipe
The combination of ingredients in this healthy chicken rice bowl recipe offer a variety of flavors and textures in every bite. It's an incredible sensory pleasure. However, in order to achieve this effect, this chicken bowl recipe calls for more ingredients than many of the recipes we feature.
In order to help you be able to assemble them quickly, let's run through everything you need to make these easy rice bowls.
Long-grain rice – First of all, make a pot of fragrant rice, such as Thai jasmine rice. Jasmine rice is long-grain white rice that has a fluffy texture when cooked, not to mention a beautiful fragrance.
Roasted chicken – You will also need pre-cooked chicken. You can use the leftovers from a roast chicken or chicken parts you roast in advance. If you prefer all white meat or just chicken thighs, you can just roast the parts you prefer. (You can also use a store-bought rotisserie chicken. See the notes on shortcuts for details.)
Shredded vegetables – I recommend a combination of carrots and cabbages. (I like to use red and Napa for a variety of colors.) But you can also use shredded broccoli, cauliflower, zucchini, kale or bell peppers. Just choose your favorites.
Persian cucumbers – Although you wouldn't traditionally see these in an Asian slaw, I love the sweet, mild flavor of Persian cucumbers paired with the other flavors in this veggie bowl. (Incidentally, did you know there's a link between cucumbers and sex?)
Scallions – Although they might seem like little more than a garnish, the scallions should not be skipped. Use both the white and green parts, trimming only the ends.
Peanut sauce – This is where you get the punch of flavor that makes this dish craving-worthy. It's important to note that you must let the sauce rest for 30 minutes after you make it, so plan accordingly.
How to make a tasty peanut sauce
The secret sauce that pulls this whole Asian rice bowl recipe together is, well, the sauce! So even if you're trying to watch calories, don't skimp on the peanut sauce! The sauce gives the effect of a chicken satay bowl but one that is loaded with healthy, crunchy vegetables.
The peanut sauce really plays the role of a sauce for the chicken and a dressing for the slaw. When you think of it that way, it's easy to understand why a great peanut sauce is key.
There are a couple of ingredients you may not know if you don't cook a lot of Southeast Asian dishes. Fish sauce is one of those ingredients rarely used in Western cooking but it can deliver phenomenal flavor. It's made from salt-packed, fermented fish.
That may not sound appealing but the resulting flavor is like the love child of tomato paste, oyster sauce roasted mushrooms and soy sauce. It's seriously complex and potent. As you can guess, a little bit of this flavor goes a long way, so measure your ingredients carefully for this sauce recipe!
It's also important that you use fresh ginger for this sauce, not powdered ginger. The vibrancy of fresh ginger gives the peanut sauce a lovely fragrance and a tingling bite.
Like fish sauce, sweet chili sauce may not be among your pantry staples. But this sweet and tangy sauce gives the dish just the right touch of heat. You can find both sweet chili sauce and fish sauce at Asian markets but many large supermarkets now carry these Southeast Asian ingredients.
Lastly, it's important to make this peanut sauce recipe with unsweetened, natural peanut butter, not the classic grocery store kind.
Traditional peanut sauce vs peanut butter sauce
I should note here that this peanut sauce is not a traditional Southeast Asian peanut sauce recipe. These are made from a base of fresh, whole peanuts.
I've simplified the steps to make this dressing to help it fit with the notion of convenience food. So mine is more of a peanut butter sauce. But it is made with a similar balance of salty and spicy notes to what you might find in a more exotic sauce, including soy sauce and chilies, to give an effect much like a satisfyingly sweet and spicy Thai peanut sauce.
Asian chicken bowl recipe shortcuts
Since my shredded veggie chicken protein bowl is a meal of convenience, I thought the recipe should represent a similar level of convenience.
Store-bought, rotisserie chicken
Although nothing beats homemade roast chicken, you can use store-bought rotisserie chicken to make the prep of these chicken rice bowls even easier.  Just shred the chicken breast meat, thigh meat or a combination of white and dark meat.
Pre-packaged coleslaw
Nothing beat fresh, shredded veggies for the best nutrition, vibrancy of color, flavor and crunch. But when you're in a hurry, a package of pre-shredded coleslaw mix will cut your prep time in half.
You should know that pre-cut vegetables offer less vitamins than freshly cut vegetables? However, most nutritionists will encourage you to choose them if you don't have time for fresh. After all, a little loss in vitamins is far better than getting no vegetables at all!
Pre-cooked rice
I don't love pre-cooked rice but if you really don't have time to simmer a pot of rice, you can use pre-cooked frozen rice. And if you want to increase the nutritional value of your rice bowl dinner, you can use brown rice.
But don't call it a Buddha Bowl
You might have heard bowl recipes called Buddha Bowls. I didn't really understand the name when I first read it, did the concept originate with Buddhist monks? Before I started working on my chicken bowl recipe, I did a little research. According to the Bon Appetit magazine website, it is simply a misappropriation of a spiritual term and has no historical or cultural meaning.
So this delicious chicken bowl recipe, like all other rice bowl recipes out there, does not belong to Buddha but to harried professionals looking to pack in some nutrition in a manner that strikes a balance between flavor and convenience.
Easy Peanut Chicken Rice Bowls with Shredded Veggies
Print Recipe
Ingredients
For the Peanut Sauce
1/4

cup

salted

all-natural peanut butter

1

Tbsp

soy sauce

1

Tbsp

fish sauce

1

tsp

sweet chili sauce

1

tsp

grated ginger

2-4

Tbsp

water
For the Bowl
1

cup

Jasmine Rice

6

cup

shredded vegetables

including carrots, Napa cabbage or a mix of Green, Savoy and/or Red cabbage

2

cup

shredded roast chicken

2

Persian cucumbers

3

scallions
Instructions
To make the Peanut Sauce
In a small mixing bowl, whisk together the peanut butter, soy sauce, fish sauce, sweet chili sauce and grater ginger.

Add two tablespoons of water and whisk to make a creamy sauce consistency.

If the mixture is too thick, add up to two additional tablespoons of water, one tablespoon at a time, until the sauce is your desired thickness.

Let the sauce rest for at least 30 minutes before serving. (Can be made a day in advance.)

Whisk the sauce just before adding it to the bowl.
To make the Bowl
Cook the rice according to package instructions.

While the rice is cooking, halve the cucumbers lengthwise and slice into thin half moons.

Slice the scallions into thin rounds.

When the rice is cooked, divide between six large serving bowls.

Top the rice with the cabbage.

Sprinkle with the cucumber slices and scallions and top with the shredded chicken.

Drizzle each bowl with a generous serving of the peanut sauce and serve.
Pin my favorite recipe for chicken peanut rice bowls: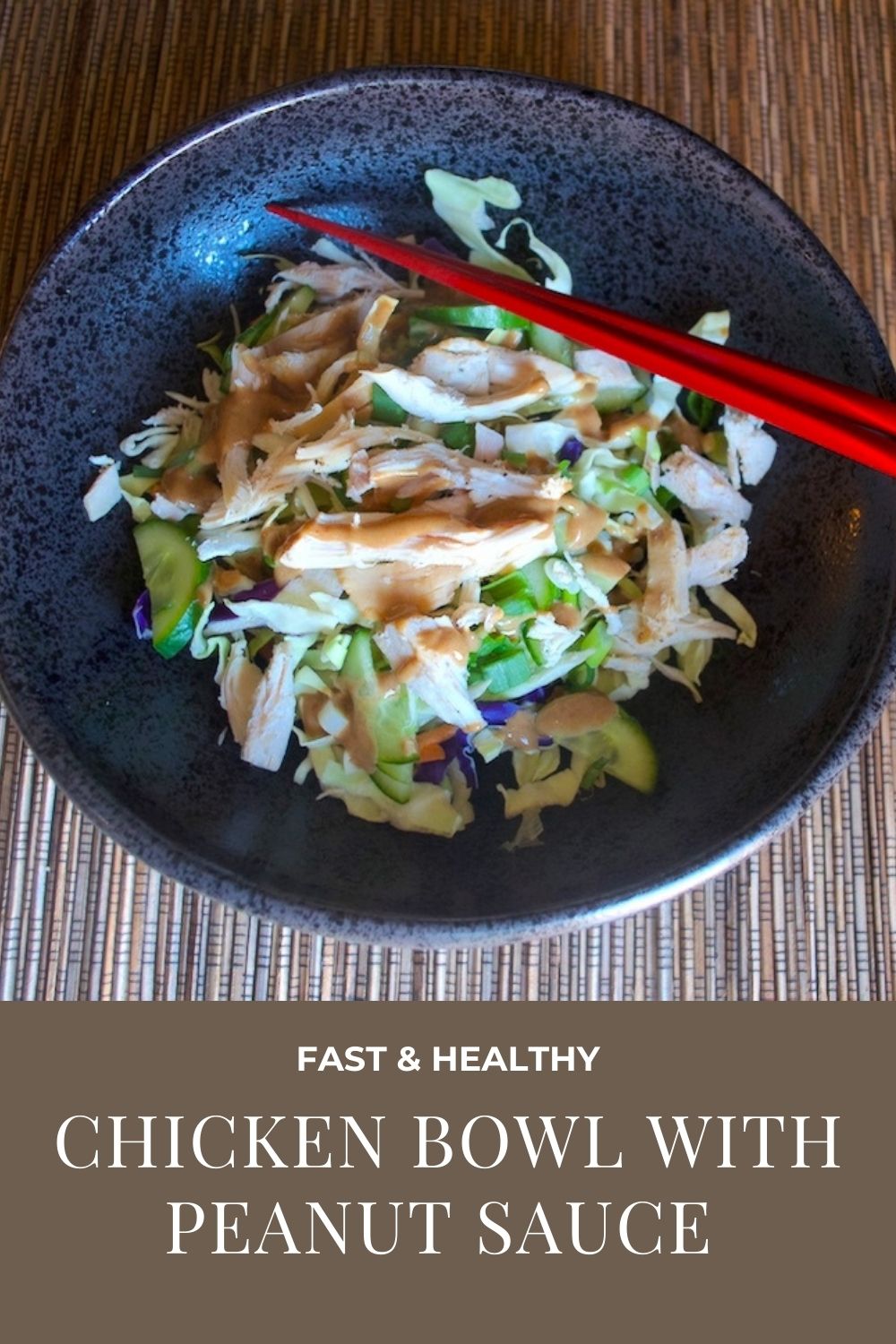 Latest posts by Amy Reiley
(see all)
Get on our mailing list
Subscribe and get our exclusive list of Six Great Sex-Boosting Snack Foods for FREE! Unsubscribe at any time - privacy policy