The Best Stay at Home Valentine's Day Ideas: Expert Tips & Suggestions
Our articles may contain affiliate links. For more information, view our policies.
As an authority on aphrodisiac foods, I'm asked the same question by both professional chefs and home cooks: What do you put on the menu for a memorable Valentine's Day romantic dinner? In this article, I've put together my best at home Valentine's Day ideas for a truly romantic experience. Best of all, these tips don't have to be saved for Valentine's Day dinner. You can use these date night ideas all year to keep the romance alive.
RELATED: Best Inexpensive Champagnes for Valentine's Day
The most important tip for Valentine's Day meals at home
My advice is simple and perhaps a little surprising. No single recipe or ingredient is right for every couple.
What do I mean? Well, for example, oysters would always be on my romantic menu. They can be served simply, on the half shell, without the stress of cooking. And this shellfish's delicate, briny flavor and creamy, voluptuous texture can tune the mind into experiencing this sensual pleasure.
Best of all, nutritionally speaking, oysters deliver lean protein, perfect for giving the diner sustained energy for a long night of passion. And they're a great source of zinc, which promotes good blood flow. And without the blood flowing at its optimal rate, matters of sexual excitement may be unachievable.
So what's the problem with recommending oysters as the stars of your Valentine's Day dinner menu? For starters, too many diners have allergies to these plump jewels of the sea. (Nothing kills a stay-at-home Valentine's Day experience faster than a trip to urgent care.)  And an even greater number of food lovers–even among the adventurous – have an aversion to the glistening flesh and slippery texture of the sensual bivalve.
But someone wishing to avoid oysters may feel the stir of romance from angel hair pasta with vegan pesto for two. After all, most of the world's greatest aphrodisiac ingredients are plant-based.
RELATED: Sexy Cooking for Valentine's Day
Plan a menu with special meaning
If what you are planning is an intimate, Valentine's Day menu for two, think of ingredients that may have special meaning to you both. This is one of the easiest and best ways to make Valentine's Day special. But don't just limit it to ingredients.
Plan a whole experience from the music to the decor with things that give you shared joy. You don't have to sit at the dining table, either. Does your lover like getting cozy in front of a fire in the living room? What about a picnic in bed or an adventure in the backyard?
The biggest mistake couples make when planning a romantic evening
Another important consideration? Do not weigh down your Valentine's Day menu with heavy foods. What do most of us want to do after devouring a big, succulent steak? We want to take a big nap. But that is not the result we are working toward with a Valentine's Day menu! You want that satisfaction to occur after the meal, not at the dining table.
So consider skipping or limiting portions of heavy foods like beef and lamb, cream sauces, pastas and bottomless potent cocktails on your romantic home date. You'll be better off sticking with light seafood, pork or vegetarian dishes. If you want to serve steak, make it a small portion accompanied by lighter foods. Or, for something exotic, try wild game instead.
Here are more details on what NOT to serve on Valentine's Day
Serving sensual foods
I recommend composing dishes with more than one texture or temperature to give a variety of tactile sensations. Things like spice-rubbed, seared scallops over a creamy celery root puree garnished with toasted bread crumbs or pumpkin seeds excite the tongue with more than just flavor.
Here are a few recipes that offer these sensory pleasures:

Scallops with Hazelnut Butter, Watercress & Pea Shoots
Fennel, Asparagus and Artichoke Bottom Empanadas
Decadent Lobster Stew with White Wine
Soba Noodle Salad with Mango, Cucumber and Peanuts
Authentic Japanese Shrimp Tempura
Red Wine Poached Eggs with Black Bean Cakes
Roasted Winter Squash with Whole Grains
Drunken Flank Steak Fajitas
More Valentine's Day dinner ideas
You know what you don't have to do on Valentine's Day or any date night at home? Cook! Although cooking together can be a very romantic experience if both you and your loved one have a passion for cooking, making a fancy meal on a night when you're supposed to devote your attention to one another can be stressful, not to mention unproductive!
There's no shame in Valentine's Day takeout
What can you do instead? Order delivery or pickup takeout. But don't just eat it out of the to-go containers. Dress up the table to make it feel like a special night. Make the food your own by transferring it to your favorite serving dishes. Maybe garnish it with a little parsley or – even more romantic – edible flower petals.
Make the evening more special with aphrodisiac drinks
Champagne makes a great starter for the meal. And it has many aphrodisiac effects, some of which you may already know and some that will probably surprise–and hopefully excite–you. Just make sure you have the bottle chilling before you're ready to start your romantic celebration.
Or, if you both love cocktails, you could make Valentine's night a mixology date. Gather the ingredients for an aphrodisiac cocktail or two and make the main event of your evening shaking cocktails and sipping together. Instead of dinner, you could just do nibbles, like nuts, cheeses and fresh fruit. Or just take a look at our recommendations for building a charcuterie board for two.
Aphrodisiac cocktail recipes
Here are a few of my favorite aphrodisiac cocktails to inspire you: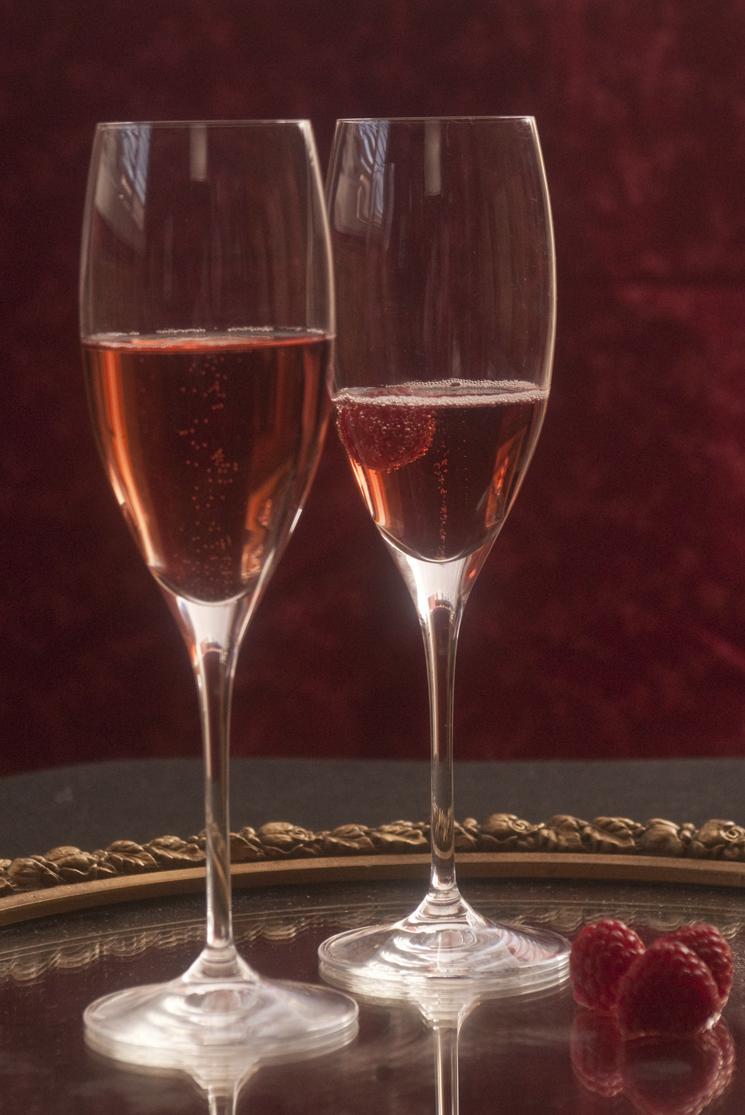 Cupid's Kiss Champagne Cocktail
Lavender Lemon Drop Shots
Lychee and Chocolate Martini
Cupid's CBD Fizz
Hibiscus Hot Toddy
Tia Maria Espresso Martini
Also, if you and your partner both enjoy the intense, hot brew, end your meal with coffee. Why? Because coffee is an aphrodisiac with mood-enhancing properties. Of course, it will also give you a surge of energy after the meal, which (will hopefully) inspire some serious stay-at-home Valentine's Day fun.
More at home Valentine's Day ideas
Love photo by Jesse Goll, Backyard photo by Jonathan Borba
Latest posts by Amy Reiley
(see all)
Get on our mailing list
Subscribe and get our exclusive list of Six Great Sex-Boosting Snack Foods for FREE! Unsubscribe at any time - privacy policy