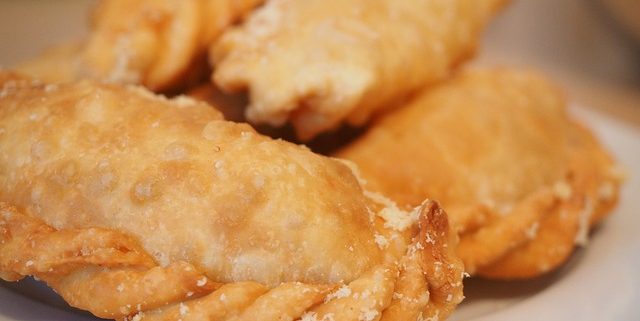 Fennel, Asparagus and Artichoke Bottom Empanadas Recipe
This beautiful recipe is a part of a larger story I created for us on aphrodisiac tapas. Empanadas are savory bundles found in Spanish and many Latin cultures. The name "Empanada" comes from the Spanish word empanar, roughly meaning to wrap or coat in bread. My version of these little savory bundles combine three outstanding aphrodisiacs: fennel, asparagus and artichoke. What could be better than this aphrodisiac trifecta wrapped in a golden pastry crust?
Chef's Tip
You can always make your own pastry dough if you prefer. Nothing says "love" like homemade pastry. However, most of us don't always have the time for such luxuries. That's why I use a store-bought puff pastry dough for the recipe. Whichever way you go, you're going to have a warming, vegetarian meal packed with aphrodisiac ingredients.

Fennel, Asparagus and Artichoke Bottom Empanadas
This recipe for vegetarian empanadas uses puff pastry dough to save time while creating satisfying, savory pastries.
Ingredients
1

tbsp

olive oil

1/4

cup

white onion

diced

1

shallot

chopped fine

1

small fennel bulb

diced

6

asparagus spears

cut into _ inch pieces

6

artichoke bottoms

canned in oil, chopped

1

tsp

fresh tarragon

chopped fine

1

sheet puffed pastry dough
Instructions
In a sauté pan, heat olive oil to a sizzle over a medium-high heat. Add onion, shallot, fennel, and asparagus. Cook until tender. Add artichoke bottoms and tarragon, tossing ingredients lightly to incorporate. Remove from heat and cool.

Roll out puffed pastry dough onto cutting board. Fill each section with one tablespoon of filling. Fold over and seal by pressing with fork tines.

Bake for 15 minutes. Serve hot.
view more of Diane's aphrodisiac tapas recipes:
Mussels in Sailor's Sauce
Quick Paella with Shrimp and Sausage
The Latin Lover Napoleon
Diane Brown is author of The Seduction Cookbook: Culinary Creations For Lovers.Like this recipe? Get her cookbook!

FREE APHRODISIAC NEWSLETTER
Subscribe to our free aphrodisiac newsletter