Tapas Recipes for a Romantic Tapas Dinner
Our articles may contain affiliate links. For more information, view our policies.
I've always had a thing for toreadors. I don't know if it's the vivid red cape, the machismo or the tights; my fantasy is fueled by the romance of Spain. Another fetish? Perhaps, but it's how I explain my obsession with tapas recipes.
Why a tapas menu is right for a romantic dinner
An intensely flavored, minuscule dish that captures the passion of the Spanish culture in only one bite: Red-hot tapas. Consider this: tapas is a part of a lifestyle where the evening starts at a languorous pace and heats up to a frenzied sizzle dampened only by dawn's break. That's why I view these small bites as the perfect seduction. Are you ready for a Spanish date night?
Indeed, tapas are more a way of life than a particular type of food. Stepping into a Spanish tapas bar is a journey into a sybaritic, animated, and convivial game filled with intriguing smells, affable pats on the back, and captivating sights. The conversation ranges from mundane to philosophical. And the tapas foods ranges from simple tomato-rubbed toast to complex seafood stews.
Need some small plates for serving tapas? Check out these great tapas serving dishes:


What is tapas?
Truly, any type of food can be tapas, if it is served on a small plate from the kitchen of a bar. Originally called tapa, meaning lid, to cover the top of a glass in order to keep out dirt and insects, bars offered tapas dishes to attract customers. Not meant to replace a meal, they are tiny bites intended to pique the appetite. And I believe they're an ideal way to tempt and tease a lover. (Although we often think of the best tapas dishes as involving meat, there are plenty of vegetarian tapas recipes, including my artichoke empanadas in the link below.)
The tradition of these Spanish starters was said to have started in southern Spain but today you'll find it around the world. Tapas can be used as a savory snack to enhance the experience of drinking wine. Or these Spanish recipes can be served, as often is today, as a meal made up of samplings of many different foods.
RELATED: How to Build a Charcuterie Plate for Two
Types of tapas
Spanish tapas dishes are grouped into three categories, based on how they are eaten: cosas de picar (meaning "things to nibble), are finger foods, such as olives, cheeses or toasts. Pinchos, like albondigas (meatballs), require a utensil or toothpick for eating. If the tapa comes in a sauce, such as garlicky fried shrimp, it is called cazuelas.
Say "I'm serving tapas tonight" quickly, and you may get a bemused reaction as your guest imagines you with a small plate in one hand, a glass of a tempting elixir in the other and nothing on from the waist up. And speaking of tempting elixirs, include a glass of wine or fine sherry, or even your favorite mixed cocktail with your tapas menu.
For an easy tapas food, serve a small plate of olives and almonds and remember the Spanish proverb: Comiendo, comiendo el apetito se va abriendo – appetite increases with constant eating.
My easy Spanish recipes for a tapas date night at home
My romantic tapas recipes are all hot dishes but you can mix it up with a few cold tapas recipes like melon slices with Serrano ham or my favorite of the easy tapas dishes, marinated olives with fresh herbs.
Fennel, Asparagus and Artichoke Bottom Empanadas
Mussels in Sailor's Sauce
Quick Paella with Shrimp and Sausage
The Latin Lover Napoleon
Diane Brown is the author of The Seduction Cookbook: Culinary Creations For Lovers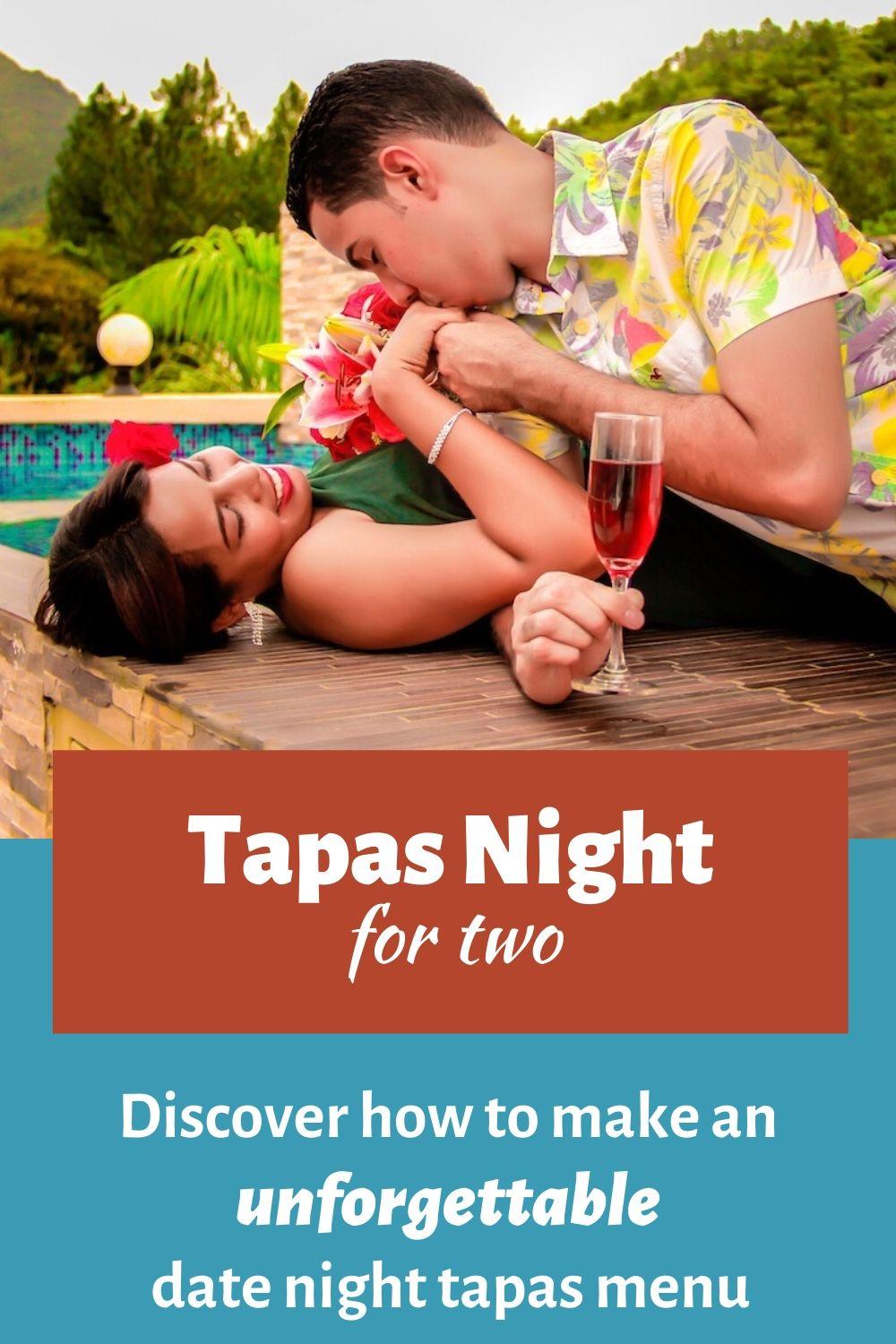 Latest posts by Diane Brown
(see all)
Get on our mailing list
Subscribe and get our exclusive list of Six Great Sex-Boosting Snack Foods for FREE! Unsubscribe at any time.