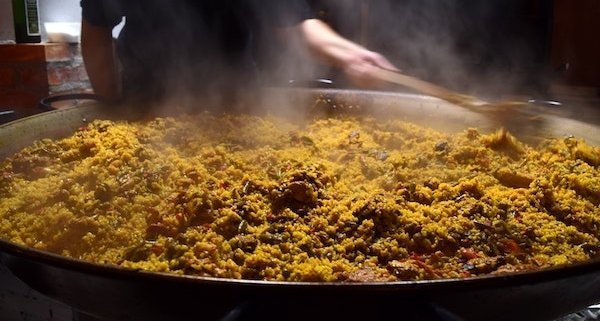 An untraditional version of a very traditional dish
This beautiful recipe is a part of a larger story Diane created for us on aphrodisiac tapas. Whether you're hosting an aphrodisiac tapas night or just want a quick and satisfying meal for the family, this paella recipe will do the trick. It incorporates one of my favorite aphrodisiac seafoods, shrimp. But it also showcases the sensual aromas and seductive golden hue of saffron.  
A brief history of paella
Paella comes from Valencia. It started as a humble dish to feed farm workers with a little rice and whatever else was on hand. The origin of the dish's name is unclear. Most historians assume that it derives from the Latin word for pan. But one story of the name's origin is that it was that this dish was first made by a man to impress his lover. And the name paella is really a corruption of 'para ella' meaning 'for her.'
The dish is traditionally cooked over an open flame in a special, dimpled pan. But my version is adapted for home cooks, using both the stovetop and oven in an attempt to produce great flavor and texture–and in a relatively short amount of time. It is for the same reason that this paella calls for commercially available long grain rice instead of the shorter, fatter rice used in Spain.
If you want to eat it the traditional way, you put the rice dish right in the center of the table and let everyone serve themself. But if your lover likes being waited on, I say by all means plate the paella before serving.
Quick Paella with Shrimp and Sausage
This easy and elegant recipe is a good choice for feeding a crowd.
Ingredient:
chorizo, shrimp
Servings
:
8
servings as tapas
Ingredients
1

tbsp

olive oil

1

garlic clove

chopped

1/2

medium onion

diced

1

red pepper

ribs and seeds removed diced

1/2

lb

chorizo sausage

quartered lengthwise and cut crosswise into 1/2-inch thick slices

1

cup

long-grain rice

1/2

cup

white wine

1 1/2

cups

water or chicken broth

pinch crumbled saffron threads

1/2

lb

cleaned raw medium shrimp

1/2

cups

frozen peas

2

tbsp

small pimiento-stuffed green olives

plus additional slice olives for garnish
Instructions
Heat oil in a 12-inch heavy skillet or stockpot over high heat until just smoking, then sauté garlic, onions and peppers, stirring, until garlic and onions are golden, about 2 minutes.

Add chorizo and cook, stirring, until it is lightly browned, about 2 minutes.

Add rice, wine, broth, and saffron and cook, covered and undisturbed, over high heat until most of liquid is absorbed.

Stir in shrimp, peas, and olives and divide into two individual baking dishes or a large baking dish, cover and put in heated 350 degree oven for 10 minutes, until the shrimp is cooked through and the rice has a toasted crust.

Garnish with sliced olives and serve.
Check out more of Diane's tapas recipes:
Fennel, Asparagus and Artichoke Bottom Empanadas
Mussels in Sailor's Sauce
The Latin Lover Napoleon
Diane Brown is author of The Seduction Cookbook: Culinary Creations For Lovers
Pin this recipe: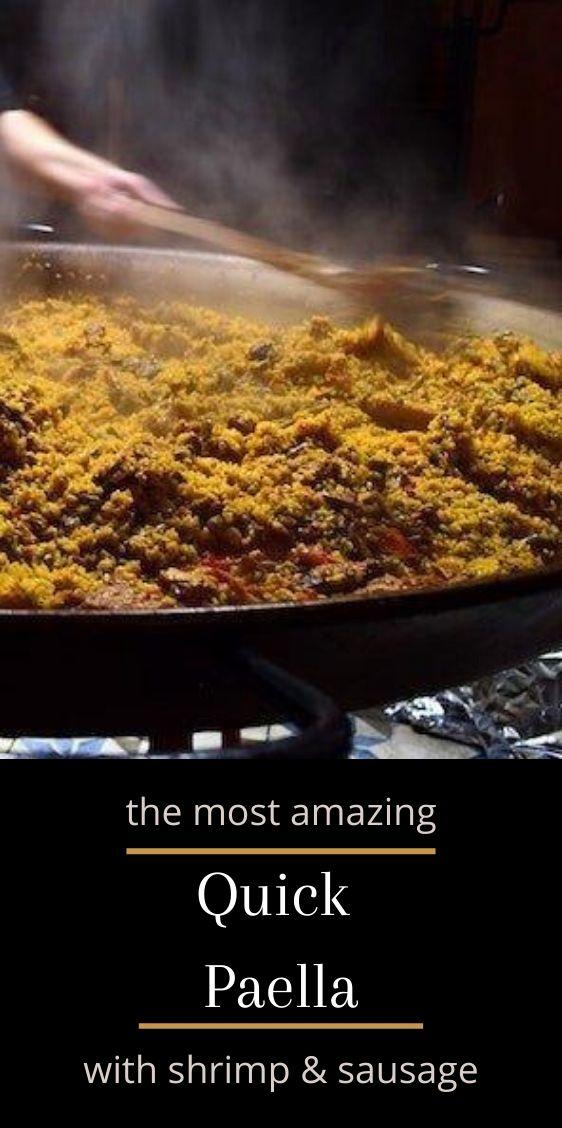 FREE APHRODISIAC NEWSLETTER
Subscribe to our free aphrodisiac newsletter