Recipe for Scallops with Hazelnut Butter, Watercress & Pea Shoots
Our articles may contain affiliate links. For more information, view our policies.
A recipe for scallops for a romantic dinner
We spotted a this photo from the U.K.'s Watercress Website promoting their Valentine's Day menu and we begged to have the recipe. This recipe for scallops with watercress is so beautiful, so romantic and so sexy we cannot resist – and we don't think anyone else will be able to either!
This is a low-stress seafood recipe
This recipe is deceptively simple, which is what we most love about it. The scallop preparation is low stress. They simply cook under the broiler for a mere few minutes. (This is a very simple method for cooking scallops. The only trick with broiled scallops is to make sure you don't overcook them.)
TO TRY: Homemade Scallop Pizza
With only 15 minutes of prep and 15 minutes cooking time, this easy scallop recipe a surprisingly fast recipe for something so stunning on the plate. And we love that it not only features scallop, a legendary aphrodisiac of the sea but also the aphrodisiacs of hazelnut, mustard and watercress.
RELATED: Scallops Aphrodisiac & Health Benefits
You might be surprised to learn that watercress is considered one of the most nutritious greens. It's packed with antioxidants. In addition, watercress is noted for promoting heart and eye health. You can learn more about its nutritional benefits on the Watercress Website.
And although it does a wonderful job of layering aphrodisiacs, where this sexy scallops recipe truly shines is in its teasing blend of flavors and textures. Soft, plump scallop with it's sweet, ocean flavor mingles with the fresh, faintly peppery flavor of watercress and the bitter crunch of pea shoots.
How to plate your grilled scallops for the best presentation
The recipe recommends serving on small plates like side plates or dessert plates but we love the presentation in the photo with the scallops served in the shell. It really is one of the most impressive scallop presentations we've seen. If you don't happen to have a pair of scallop shells laying around, you can order a quartet of food-safe shells from Amazon. (The recipe includes instructions for how to prep the shells.)
Just be prepared for your lover's reaction. We think that anyone served a plate of food this sensually enticing will have a hard time controlling his or herself from devouring (the food and possibly the chef as well).
Scallops Grilled with Hazelnut Butter, Watercress and Pea Shoots
Print Recipe
This sensual recipe for scallops is an ideal starter to a romantic dinner for two. A light, seafood dish with a salad of watercress and pea shoots, it can be prepared in just half an hour. 
Ingredients
6

large scallops

cleaned (shells optional for presentation)

1

tsp

olive oil

1 1/2

oz

hazelnuts

1

shallot

5

tbsp

butter

softened

Zest of half a lemon

1

tbsp.

chopped chervil

Salt and pepper
For the salad:
½

tbsp.

wholegrain mustard

½

tbsp.

white wine vinegar

1 ½

tbsp.

sunflower oil

1

handful pea shoots

1

handful watercress
Instructions
Place a frying pan on a low-medium heat until warm. Finely slice the shallot, then fry gently with the olive oil until softened. Remove from heat and allow to cool.

Add the hazelnuts to a food processor and pulse until chopped quite finely. Be careful not to blend for too long so that they do not form a paste.

Into a bowl add the soft butter, hazelnuts, softened shallots, lemon zest, and chervil. Mix and season to taste with salt and pepper.

Preheat the broiler to high. If using scallop shells, place each scallop on an individual shell on your sheet pan (aka cookie sheet or baking tray). If not the scallops can be placed directly onto the sheet pan. Top each scallop with a spoonful of the hazelnut and butter mixture. Once the broiler is ready, place the scallops underneath for 3-4 minutes, then remove and set aside to rest for one minute. Do not overcook.

Make the salad by whisking the mustard, vinegar and vegetable oil together in a bowl. Taste and add salt if necessary, then add in the watercress and pea shoots and toss together.

Serve the rested scallops on two serving plates with the salad on the side.
Scallop photo by Lara Jane Thorpe
Pin this aphrodisiac scallop dish: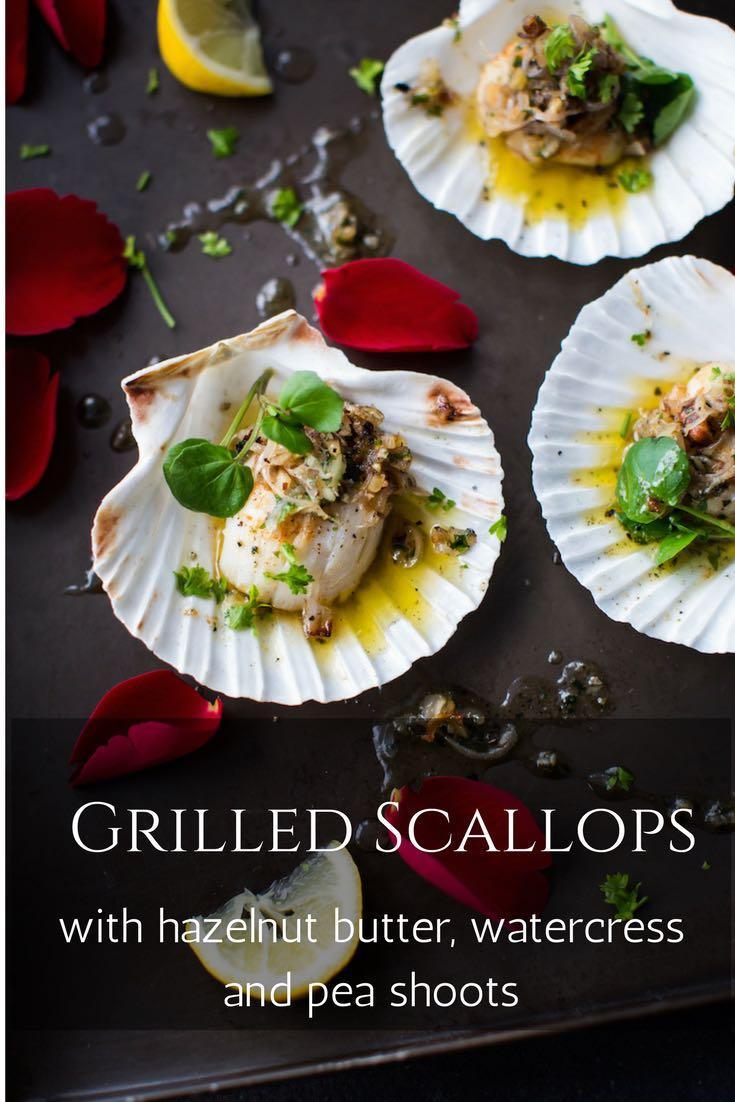 Latest posts by Amy Reiley
(see all)
Get on our mailing list
Subscribe and get our exclusive list of Six Great Sex-Boosting Snack Foods for FREE! Unsubscribe at any time.