Good Clean Love Indian Spice Love Oil
Our articles may contain affiliate links. For more information, view our policies.
A massage oil with a sensual impact
Indian Spice Love Oil is a massage and bath oil designed for romance. Manufactured by Good Clean Love, this oil for couples is designed to respond to each user's unique body chemistry.
How does it work? Instead of masking your pheromones, which is the problem with many perfumes and body products, this body oil's subtle sent enhances the user's natural scent, to heighten the sense of attraction. As the oil soothes the skin with its silky formula of essential oils, its aromas play on you and your partner's emotional connection.
RELATED: The Impact of Pheromones on Sexual Attraction
What is in this Love Oil?
The love oil is made with a base of organic apricot kernel and jojoba oils with the addition of vitamin E, also known as the sex vitamin. (Learn more about vitamin E and your sexual health.) The base oil is then layered with a proprietary blend of essential oils.
I assume most users buy the love oil as a massage oil. And it is an excellent, lightweight oil for massage. (As a certified massage therapist, I should know.) However, its uses are only limited by the imagination. This love oil is organic and edible. Try it as a bath oil, lip moisturizer for kissing or body moisturizer…potentially also for kissing.
RELATED: Try a DIY Turmeric Face Mask
Get to know Good Clean Love
The manufacturer of this sensual body oil is an interesting company. In fact, I would go so far as to say that, if you're a woman, Good Clean Love is a company you need to know.
Good Clean Love is dedicated to making women's hygiene products and personal lubricants from the best available natural ingredients. Their products are all paraben and petrochemical-free. And they use only natural fragrances and flavorings. The company's mission is to improve the user's sexual health with intimacy products free of harmful ingredients.
RELATED: Why We Use All-Natural Cleaning Products in Our Kitchen
And although the company is dedicated to women's hygiene, Good Clean Love makes intimacy products suitable for both sexes. In fact, the Indian Spice Love Oil is designed for men and women and gets a big thumbs up from partners of both genders.
For information on where to buy Indian Spice Love Oil and to discover more things to love in this organic and natural hygiene line, visit Good Clean Love.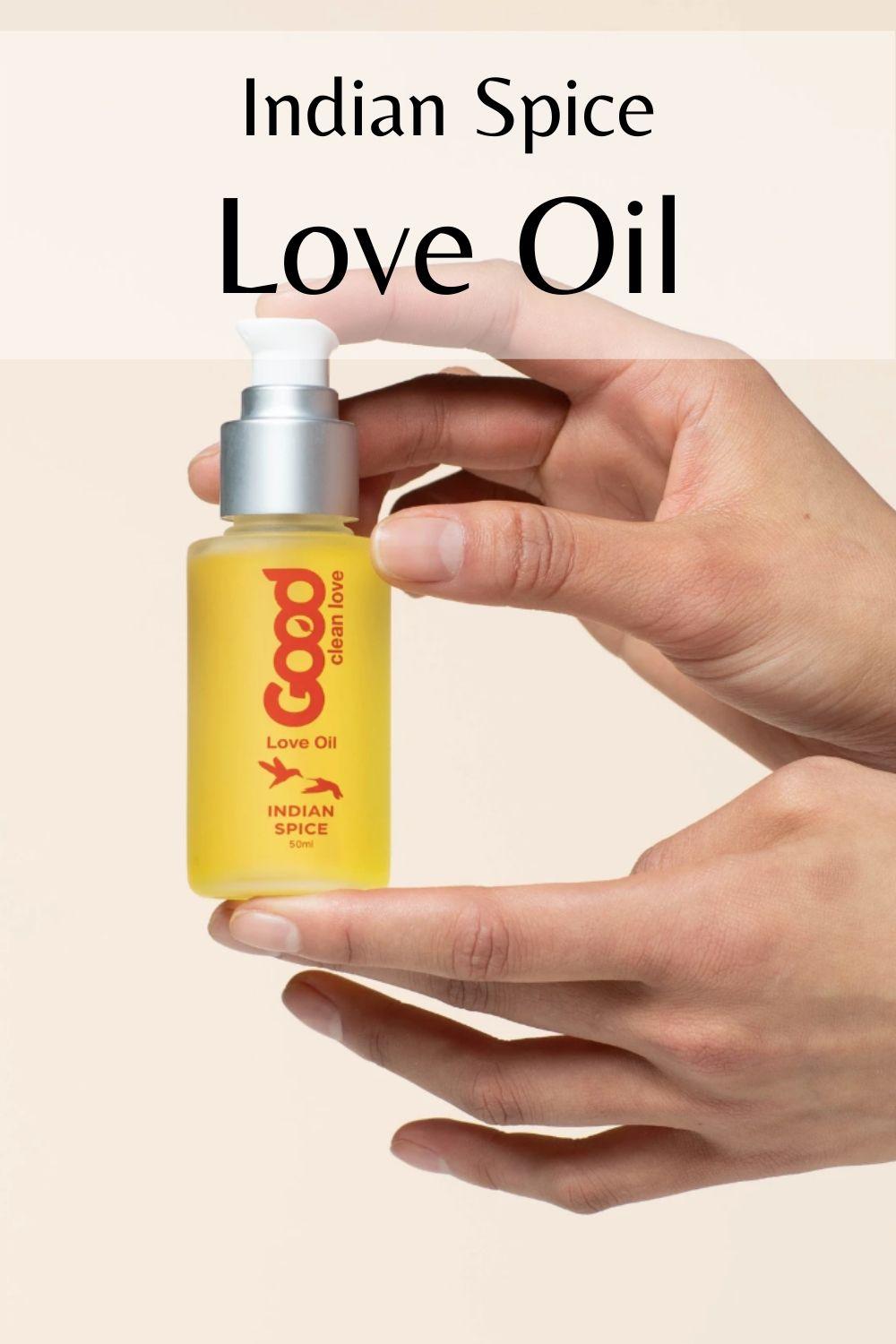 We originally published this article in 2018. We've updated in 2020 to reflect the change in bottle size and packaging. 
Latest posts by Amy Reiley
(see all)
Get on our mailing list
Subscribe and get our exclusive list of Six Great Sex-Boosting Snack Foods for FREE! Unsubscribe at any time.